President's Report
From the President of Your Alumni Council
James O'Connell, MD '82
Winter 2017
It is an unexpected honor to serve as president of the Harvard Medical School Alumni Council. I look forward to a year of learning more about our School, and, together with all members of the Council, representing the interests of all HMS alumni.  
This has been a year marked by stunning changes, although none more celebrated than the appointment of our new dean, George Q. Daley '91. The Council looks forward to working with Dean Daley to help him achieve his ambitious vision for HMS.
At our Alumni Council meeting in November 2016, I proposed a change in governance to maximize the volunteer efforts of Council officers and to increase opportunities for alumni to serve on the Council and become more involved with the School. Our school needs us now more than ever, and we seek your thoughts and ideas on how to infuse the Council with new projects and ignite enthusiasm among our diverse alumni.  
We promise to keep in touch throughout this year of change. Please email me if you are interested in serving the School: hmsalum@hms.harvard.edu.
Alumni Council Report
Autumn 2016
Council members attending the May 2016 meeting heard updates on several HMS programs, including reports from Ed Hundert '84, dean for medical education, and Stephanie Hunt, director of financial aid, on how the implementation of the School's Pathways curriculum is progressing, on the state of student financial aid, and on efforts to meet the financial needs of students in a time of fiscal concern. 
The curriculum rollout is getting excellent reviews from students, Hundert said. Hunt outlined the status of the aid available to students and the increasing challenge to match the competitive financial packages being offered to HMS candidates by peer schools. Calls were made to better market the aid program and to encourage alumni to continue to support it. 
Nancy Oriol '79 and Dea Angiolillo '79, co-chairs of the Student Alumni Advisor Network, reported on efforts to improve connections between alumni and new graduates, and Carolyn Walsh '09 updated attendees on the Welcome to Your City program, which links alumni with residents new to their cities.
Alumni Fund Chair Tamara Fountain '88 told attendees that alumni donations were on track to exceed the year's $2.6 million goal.
The meeting was marked by good-byes, too. Departing Dean Jeffrey S. Flier recounted some of the highlights of his years as dean, and Michael LaCombe '68 received the Council's thanks for his year of service as its president. James J. O'Connell '82 is the incoming Council president. 
Alumni Council Report
Spring 2016
At the Winter meeting of the Alumni Council, Dean Flier gave a compelling, passionate, honest, and most welcome report on the School, one that resulted in several Council members reemphasizing the need to "help the dean raise money." 
The Council's efforts to strengthen support for HMS students continue and are now under the leadership of Tamara Fountain, MD '88. Tamara presented the Council with her vision for her role as the new chair of the Alumni Fund. The need to support the fund has never been greater, so Tamara's passion and skill are welcome.
In his update to the Council on the School's educational outreach programs, David Roberts, MD '95, dean for external education, outlined his department's efforts to bring the expertise of HMS faculty to a worldwide audience. Carolyn Walsh, MD '09 reported on the liaison project she's leading for alumni and recent graduates, and Harold Burstein AB '86, MD '90, AM '94, PhD '94, the Council's liaison to the Harvard Alumni Association, presented news on pan-Harvard alumni efforts. To further inform the Council on efforts to bring forward the stories of women at HMS, Julia Haller, MD '80 presented early details of an October event marking contributions by women physicians and researchers at HMS. Council members also learned more about the academic research arm of the School through talks presented by two faculty researchers. 
Michael LaCombe, MD '68
Winter 2016
The Alumni Council's October meeting was quite a busy one.
The MAVEN project gave us an update on its use of telehealth and alumni to consult in underserved areas of the country. Reports on the student online publications, Harvard Medical Student Review and Thirdspace, showed they complement each other—and decidedly compliment HMS. Following Dean Flier's report to us regarding the School's first executive education course with Google and Apple, there was a suggestion from Phil Landrigan, MD '67 to explore methods of monetizing HMS educational pursuits.
With so much change afoot, and so much talent residing in the Council, Barbara McNeil, MD '66, PhD '72, AMP '86 suggested, and Council members solidly agreed, that the Council should promote subcommittees to work on various initiatives between its meetings. These subcommittees could tackle such issues as lessening student debt, researching discounts on CME courses for alumni, developing the listserve initiative, promoting global use of the School's external education program, and expanding access to electronic journals.
Finally, and just as importantly, Carolyn Walsh, MD '09 leads a project to reach out to fourth-year students as they move to residencies.
I welcome your thoughts and suggestions. 
Barbara McNeil, MD '66, PhD '72, AMP '86
Autumn 2015
When last I wrote, I mentioned that the Alumni Council's principal theme for the foreseeable future is "Connections with HMS." To help make those connections, we asked alumni to host local alumni in their homes on a Sunday afternoon. Thus far, open houses have been held in Ann Arbor, Michigan; Orlando, Florida; Cleveland, Ohio; Santa Fe, New Mexico; and Wilmington, North Carolina. Similar events are scheduled in five different cities this fall. To spark other connections, we asked alumni to reach out to new HMS graduates who are interning in their area. This initiative is being led by Carolyn Olson Walsh '09. I'm pleased to report that several alumni have already volunteered.
Another accomplishment of this year's Alumni Council has been to gain alumni access to several online educational resources. Alumni can now use EBSCO's Academic Search Alumni Edition at hms.harvard.edu/alumni/lifelong-learning/online-resources. A username and password are required for access. This comprehensive database provides full text as well as indexing and abstracts for thousands of peer-reviewed journals and general periodicals. 
Welcome to Michael LaCombe, MD '68, the Council's new president!
Spring 2015
A series of blizzards in February led to the cancelation of the Winter Alumni Council meeting in Boston. We plan to make up for lost time in May. After reviewing alumni survey responses and talking with and receiving ideas from alumni through email, the Council decided that its emphasis this coming year should be on fostering greater alumni involvement in HMS. There will be five approaches to this. The first involves helping alumni get access to journals commonly used in medical practice. We encourage you to access them here. A second celebrates women at HMS, an effort that will underscore the upcoming seventy-fifth anniversary of the first cohort of women being accepted to HMS. Another approach involves local wine and cheese events, hosted by alumni throughout the country. In early March, Gil Omenn '65, PhD, and his wife, Martha, held the first such event in Ann Arbor, Michigan. These efforts will be complemented by two others: completing the class listservs so that class members can contact one another easily, and enhancing communication between the Office for Resource Development and donors.
Winter 2015
The first meeting of the 2014–15 Alumni Council took place in October. Among the many items discussed were ideas for enhancing communication between HMS and its graduates. One way this could happen on a local level would be through small informal wine and cheese events. Five pilot events have been scheduled already. Please write to me if you are interested in hosting one in your area.
A second item involved planning for the seventy-fifth anniversary of women being accepted as students at HMS. We hope that all graduates, but especially all female graduates, will be engaged in activities celebrating this milestone. Stay tuned!
The council also heard from Rick Shea, associate dean for campus planning and facilities, about a proposed redevelopment of the Longwood campus. Everything is being looked at carefully, with an eye to the future needs of research and education at HMS
Laurie Green, MD '76
Summer 2014
The Alumni Council's 2014 goal was to identify new programs to serve alumni. Your responses to the alumni interest survey have allowed us to better understand how you wish to interact with the School, each other, and students. 
To help address the interest in student mentoring, expressed by many, we are further developing an online community to foster student-alumni connections. We also are developing a marketplace where alumni can share and learn about existing ways to volunteer, such as telehealth opportunities to help the medically underserved. 
The alumni relations staff is updating our communications strategy to provide you with more personally relevant and accessible information, starting with a more visible alumni link on the HMS home page. And we are happy to announce upcoming access, through Countway, to several e-journals. 
It has been a great pleasure to serve as your Council president this past year and—as a California-based full-time clinician—a privilege to renew connections with the remarkable alumni, staff, and students of HMS. 
Winter/Spring 2014
By now, we've all been touched by the profound transformations occurring in health care. Students and alumni face many uncertainties, underscoring the need to strengthen our bonds as a community. To meet this need, your Alumni Council has identified several worthy initiatives designed to connect alumni with students, with each other, and with patients in need.
A survey to gauge your thoughts on and interest in these options was part of this year's Alumni Council ballot. Based on your feedback, we hope to launch alumni–student mentorship opportunities, alumni affinity groups, and a project using technology and telemedicine platforms to link volunteers to clinics for the underserved.
We hope you filled out the survey and allowed your voice to be heard. If you did, thanks so much. But if you missed the survey, you may still be able to access it here http://www.surveymonkey.com/s/aluminvolvement. We look forward to reporting its results in an upcoming issue of Harvard Medicine magazine.
Autumn 2013
As a Quad "outsider"—a practicing obstetrician as well as  a Californian—I'm excited about being the Alumni Council's president and having an opportunity to return to HMS and learn about the richness of  the current student body and the faculty, and about our alumni, who represent diverse interests, geographies, and talents. 
Bringing these groups closer together, and developing new avenues of volunteerism that alumni can tap to serve the public good, are the Council's core goals for the year ahead. Building on the program put in place by our past president, Nancy Rigotti '78, we will identify mutually beneficial initiatives that connect students with alumni across the nation. And we will look at ways HMS can provide learning, volunteer, and re-engagement opportunities to alumni across the country. 
In my next report, I hope to share exciting new developments with you. In the meantime, I hope you will share your ideas with me at hmsalum@hms.harvard.edu. It would be my privilege to hear from you.
Nancy Rigotti, MD '78

Summer 2013
Welcome, Class of 2013, to the community of HMS alumni, linked by the shared experience of starting our journeys as physicians at HMS. The welfare of today's HMS students is an enduring concern of the Alumni Council, your elected representatives. Three times each year, we meet with everyone from the Dean to current students to monitor the School's activities and to seek ways to engage alumni in them.
At our spring meeting, we heard about the ongoing review of the preclinical curriculum and about renovations to the Tosteson Medical Education Center. The curriculum review may bring changes to the design of the first two years of study.
The Council has been collaborating with the Center for Primary Care, which offers HMS a new opportunity for alumni involvement. We are exploring opportunities that would link alumni with HMS students interested in careers in primary care.
It's been my honor to have served as Alumni Council president, and I salute my successor, Laurie Green MD '76.
Winter 2013
When it comes to alumni associations, size certainly matters. But for the Harvard Medical Alumni Association (HMAA), our true strength is found in the effects that our collective perspective can have not just on the School but on the future of science and medicine. That's why your voice is so important. With so much happening at HMS—from the revisions to the preclerkship curriculum to the new team-science initiatives—your involvement in the HMAA has never been more valuable. The Alumni Council is the connective tissue between the HMAA and the School. This group of elected volunteers serves as an advisory group to Dean Jeffrey S. Flier. For this current election, we have 12 candidates for six Council positions. Cast your vote online or by using the ballot mailed to your home. Candidate bios and personal statements are available online; winners will be announced May 31 during the HMAA's annual meeting.
Autumn 2012
The HMS Alumni Council's first meeting of the 2012–13 academic year was a lively one, packed with information on the School. It also was a welcome to five newly elected members: Barbara McNeil, MD '66, PhD '72, AMP '86, president-elect; L.D. Britt MD '77, MPH '77 treasurer; and Eleanor Shore AB '51, MD '55, MPH '70; Mary Mullen AB '83, MD '87, AM '87, PhD '91, and Stephen Martin EDM '96, MD '01, councilors.
During the past two years, members of the Council have watched the emergence of the HMS Center for Primary Care with great interest. The Center aims both to fill a gap in HMS students' exposure to primary care careers and to bring more attention at HMS to the central role that primary care plays in any well-functioning, socially responsible, high-value health care delivery system. As a primary care physician and HMS faculty member myself, the new Center is an exciting and welcome initiative. The Alumni Council has previously expressed its support of the Center to Dean Flier and will continue to monitor the Center's progress as its programs develop in the coming year.
---
Phyllis Gardner, MD '76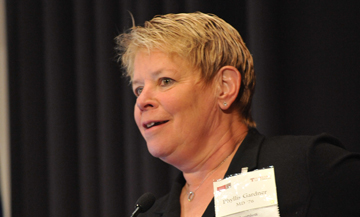 Spring 2012
The Harvard Medical Alumni Council is fresh from a highly productive winter meeting. On the day preceding the regularly scheduled meeting, we gathered off site to hear David Hirsh describe the HMS Cambridge Integrated Clerkship. According to scores from shelf and board exams, this year-long clerkship appears to better support learning among participating third-year students than the traditional block clerkship approach does. Through an integrated and longitudinal patient-care approach, the CIC fosters scientific, leadership, practice, and professional skills that transcend any medical discipline. The HMS Alumni Council has unanimously voted to recommend pilot longitudinal integrated curriculum experiments in the other major Harvard-affiliated hospitals. In addition, the Council heard about the tremendous advances in electronic communications that will supplement this exciting magazine, and will be detailed in our upcoming report. We came away with a sense of pride about the advancements at HMS.
Winter 2012
This year's Alumni Council got off to a great start with the October meeting. In addition to updates on the School from Dean Jeffrey Flier, including information on the new Center for Primary Care and the new Initiative in Systems Pharmacology, we had lively discussions around the Council's role in the coming years. Two areas of interest emerged, the first concrete and the second abstract.
First, we are going to address the issue of presentation of class notes, which are currently published three times a year in Harvard Medicine. The Council believes that new approaches that span generations and use multiple technologies should be implemented. We will survey the broader alumni group for ideas. Second, we want to address continuity of idealism, professionalism, and curiosity as students move through their clinical years. The Council will conduct a strategic planning session before the fiscal year's end to begin to refine these concepts. All thoughts are welcome.
Summer 2011
During the new academic year, the Alumni Council will explore two themes in depth: the continuity of idealism and the culture of innovation. Idealism and innovation represent the best of the Harvard spirit, but they are qualities easily lost in today's challenging health care environment. The Council will learn more about the longitudinal third-year health care experiences that Cambridge Health Alliance pioneered and other Harvard hospitals launched, followed by medical schools around the world. This longitudinal experience has been shown to enhance rather than sap the innate idealism of third-year students. We will also look at the best models for innovation in medical education. We welcome input from alumni on these new initiatives. Finally, the Alumni Council salutes Paula Byron for her dozen years as editor of this magazine and congratulates her on her new position at Virginia Tech. Her touch with Harvard Medicine will be sorely missed. She is a force hard, if not impossible, to replicate.
2018 Alumni Council
Nominations
Those elected would "take office" for a three year term and are expected to attend three, all-day meetings in Boston each year and possess a willingness to listen to fellow alumni and bring their interests and concerns to the Alumni Council. If you would like to recommend an HMS alumna or alumnus (including yourself), please send your nomination via email to hmsalum@hms.harvard.edu.