Getting Involved
We value alumni involvement.
There's still time to make an impact before the Campaign closes on June 30, 2018. Make your gift today »
Alumni
Council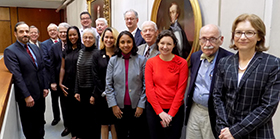 The Council is composed of 15 members, representing alumni by pentads, elected to a three-year term and meeting three times annually. The Council serves a consultative and advisory role to the Dean of the Faculty of Medicine at Harvard Medical School by listening and responding to current issues. It also appoints, in consultation with the Dean, the Chair of Alumni Relations and the Chair of the Alumni Fund.
2019 Alumni Council
Nominations
Those elected would take office for a three-year term and are expected to attend three, all-day meetings in Boston each year and possess a willingness to listen to fellow alumni and bring their interests and concerns to the Alumni Council. If you would like to recommend an HMS alumna or alumnus (including yourself), please send your nomination via email to hmsalum@hms.harvard.edu.