Alumni Week
REGISTRATION IS OPEN!
$90 (through May 27) | $100 (after May 27)
Includes breakfast, lunch, and satellite parking for both days
Click here to view the full schedule.
There are two easy ways to register:
Online, by credit card:
Click here to access the secure registration site. You will need to claim your HarvardKey using your 10-digit HAA ID and visiting key.harvard.edu
Mail, by check:
Click here to print out the registration form and return it with a check to the address indicated.
THURSDAY, JUNE 2
8:30 a.m. - 4 p.m. | New Research Building (NRB)
Highlights include:
Scientific Symposium
HMS and Discovery: Award Winners
Class of the 1991 25th Reunion Symposium 
From Faking It to Making It: Look Where the New Pathway has Taken Us
Lunch Seminar
Family, Finance, and Philanthropy
FRIDAY, JUNE 3 | ALUMNI DAY
8:30 a.m. - 3 p.m. | New Research Building (NRB)
Highlights include:
Annual Business Meeting
Harvard Medical Alumni Association
Alumni Day Symposium
Medical Schools: Challenges and Opportunities
Dean's Address
Dean Jeffrey S. Flier, MD
HMS Clinical Skills Center Tour
Questions? Email hmsalum@hms.harvard.edu or call Emma Hastings in the Office of Alumni Relations at 617-384-8520
2015 Reunion
Recap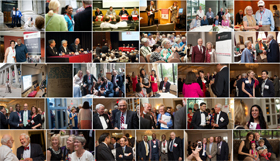 If you weren't able to return to the Quad, or if you want to relive the fun, event photographers were there to capture all the special moments. Videos are also available from the Alumni Day Symposium, the Dean's State of the School, and the Annual Business Meeting of the HMAA.