Alumni Honor Roll of Donors
Fiscal Year 2014
Select a link below to see who gave from your class.
Thank you for your gift supporting the dreams of extraordinary HMS students like Karly, Megan, Mac, and Hailu.

"My conversations with the patients motivated me to study harder and to help me become the clinician I want to be." —Karly Burke, Woodbury, Minn., Class of 2014
"Over the next 5-10 years, I hope to have a position as an internal medicine hospitalist caring for patients who have been admitted to the hospital and coordinating their care teams." —Megan Koster, PharmD, Buffalo, N.Y., Class of 2014

"I am so pleased with HMS's commitment to make education affordable to anybody. It's about who's qualified and committed to making a difference. Ability to pay is not a factor." —Davis "Mac" Stephen, Fayetteville, Ark., Class of 2015

"Growing up in Ethiopia and seeing the suffering of a lot of people, I really wanted to make a difference. I actually saw it as my duty." —Hailu Tilahun, Addis Ababa, Ethiopia, Class of 2014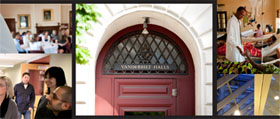 Honor Roll of Donors
Thank you to the thousands of individuals and organizations whose gifts in fiscal year 2014 are transforming education, driving discovery, strengthening health systems, and incubating innovation and leadership to improve human health.
View the complete Honor Roll of Donors, which lists gifts by dollar amount from all alumni and friends of HMS, as well as corporations and foundations »
Alumni
Website
The Harvard Medical Alumni Assocation is keeping nearly 10,000 living alumni connected. What can we do for you?
Visit the HMAA online for information about keeping connected, getting involved, events, and lifelong learning. Click here »