Hollis L. Albright, MD '31 Symposium
Hollis L. Albright, MD '31 Symposium
The Power and Promise of Harvard Medicine
Featuring:
David M. Altshuler, MD '90, PhD '90
Executive Vice President of Global Research and Chief Scientific Officer, Vertex Pharmaceuticals
Laurie H. Glimcher, AB '72, MD '76
President and CEO, Dana-Farber Cancer Institute
Moderator:
Tenley E. Albright, MD '61
Highlighting: "What's New at Harvard Medical School?"
George Q. Daley, AB '82, MD '91, PhD
Dean, Harvard Medical School
Caroline Shields Walker Professor of Medicine
Presentation of the 2017 Albright Scholar Award to Irene Y. Zhang, HMS '17
RSVP now to albright@hms.harvard.edu
---
Speaker Biographies

George Q. Daley is the 22nd dean of Harvard Medical School and the Caroline Shields Walker Professor of Medicine. An internationally recognized leader in stem cell science and cancer biology, his work spans the fields of basic science and clinical medicine. Daley's lab aims to define fundamental principles of how stem cells contribute to tissue regeneration and repair and improve drug and transplantation therapies for patients with malignant and genetic bone marrow disease. Beyond his research, he has helped to lead the development of international guidelines for conducting stem cell research and for the clinical translation of stem cells.

David M. Altshuler is executive vice president of global research and chief scientific officer at Vertex Pharmaceuticals. He leads Vertex's research efforts aimed at discovering new medicines for the treatment of cystic fibrosis and other serious diseases. Previously, he was one of four founding members, deputy director, and chief academic officer at The Broad Institute of Harvard and MIT, a professor at Harvard and MIT, and a physician at Massachusetts General Hospital. A leader of the SNP Consortium, HapMap, and 1,000 Genome Projects, he has discovered more than 100 gene variants associated with type 2 diabetes and other common diseases.

Laurie H. Glimcher is president and CEO of Dana-Farber Cancer Institute and principal investigator and director of Dana-Farber/Harvard Cancer Center. Previously, she was the Stephen and Suzanne Weiss Dean and Professor of Medicine of Weill Cornell Medical College and the Irene Heinz Given Professor of Immunology at the Harvard T.H. Chan School of Public Health, where she headed one of the top immunology programs in the world. As an immunologist, her primary research interests are elucidating the molecular pathways that regulate the immune system, critical for both the development of protective immunity and for the pathophysiologic immune responses underlying autoimmune, infectious, and malignant diseases.
Hollis L.
Albright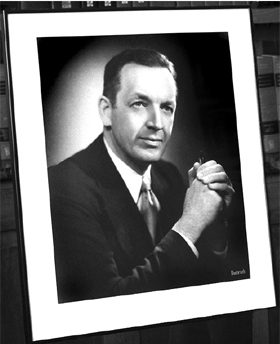 For more than 60 years, Hollis L. Albright, MD '31, dedicated his life to surgery, patient care, and the students he mentored.
 
In recognition of his lifelong achievements and to foster the values he cherished most, his children—Tenley E. Albright, MD '61, and Nile L. Albright, AB '61, MD—have established an endowed symposium, highlighting new scientific initiatives at Harvard Medical School.
In addition, the Hollis L. Albright, MD '31 Award is presented at the annual symposium to an outstanding medical or surgical student at Harvard Medical School.

2016: Dennis A. Ausiello, AM  '67, MD, and Nancy E. Oriol, MD '79
2015: Edward M. Hundert, MD '84, and George Q. Daley, AB '82, MD '91, PhD
2013: Lewis C. Cantley, PhD and Peter K. Sorger, AB '83, PhD
2012: Elizabeth G. Nabel, MD, and John A. Parrish, MD
2011: Eric S. Lander, PhD, and Vamsi K. Mootha, MD '98
2010: Robert S. Langer Jr., PhD, ScD, and David T. Scadden, MD
2009: Edward J. Benz Jr., MD '72, and Robert A. Weinberg, PhD
2008: Atul A. Gawande, MD '94, MPH '99, Tom J. Brady, MD, and John E. Abele
2007: Peter Libby, MD, and Michael B. Brenner, MD
2006: Judah M. Folkman, MD '57, and Robert S. Langer Jr., PhD, ScD
2005: Edward M. Scolnick, MD '65, and Todd R. Golub, MD
2004: George Q. Daley, AB '82, MD '91, PhD, David T. Scadden, MD, and Rudolf Jaenisch, MD
2003: Gary J. Nabel, MD '79, PhD '82
2002: Steven E. Hyman, MD '80, and Carla J. Shatz, PhD '76, MPhil
2001: Eric S. Lander, PhD, and Raju Kucherlapati, MD, PhD

2016: Derek S. Stenquist, MD '16
2015: Shakina Elmore, MD '14
2013: Sophia K. McKinley, MD '14
2012: Benedict U. Nwachukwu, MBA '13, MD '13
2011: Dayron Rodriguez, MD '12, MPH '12
2010: Regan Bergmark, MD '11
2009: Carolyn Schook, MD '11
2008: Theodore Nyame, MD '09
2007: Eric Feins, MD '08
2006: Sarah Psutka, AB '03, MD '07
2005: Dzifa Kpodzo, MD '05, MPH '06
2004: Elisabeth Tomlinson Tracy, AB '99, MD '05
2003: Coleen Sabatini, MD '03, MPH '04
2002: Jeffrey Edwards, MD '03
2001: Melody Hou, MD '03, MPH '08