Hollis L. Albright, MD '31 Symposium
Hollis L. Albright, MD '31 Symposium
Tuesday, March 1, 2016
5–7 p.m. | Doors open at 4:30 p.m. Reception to follow.
Harvard Medical School
New Research Building
77 Avenue Louis Pasteur
Remarks by
Jeffrey S. Flier, MD
Dean of Harvard Medical School
Discussion moderated by
George Q. Daley, AB '82, MD '91, PhD
Samuel E. Lux, IV Professor of Hematology/Oncology, Boston Children's Hospital
Professor of Biological Chemistry/Molecular Pharmacology and Pediatrics, Harvard Medical School
Featuring
Dennis A. Ausiello, AB '67, MD
Director, Center for Assessment Technology and Continuous Health (CATCH)
Physician-in-Chief, Emeritus, Massachusetts General Hospital
Nancy E. Oriol, MD '79
Dean for Students, Harvard Medical School
Presentation of the 2016 Albright Scholar Award
RSVP to 617-384-8596 or albright@hms.harvard.edu
---
Speaker Biographies

Jeffrey S. Flier, MD, is the 21st dean of Harvard Medical School and the Caroline Shields Walker Professor of Medicine. A leading investigator of obesity and diabetes, he has produced major insights into the molecular mechanisms of insulin action and insulin resistance in human disease and the molecular pathophysiology of obesity. Among his many honors, Flier is an elected member of the Institute of Medicine, a fellow of the American Academy of Arts and Sciences, and recipient of the 2005 Banting Medal from the American Diabetes Association, its highest scientific honor.

George Q. Daley, AB '82, MD '91, PhD, is the Samuel E. Lux IV Professor of Hematology/Oncology, professor of biological chemistry and molecular pharmacology and pediatrics at Harvard Medical School, director of the Stem Cell Transplantation Program at Boston Children's Hospital, and an investigator at the Howard Hughes Medical Institute. His research exploits mouse and human disease models to identify mechanisms that underlie cancer and blood disease. A few of his many honors include election to the Institute of Medicine of the National Academies and American Association for the Advancement of Science, and he has received the NIH Director's Pioneer Award.

Dennis A. Ausiello, AB '67, MD, is the Jackson Distinguished Professor of Clinical Medicine and director emeritus of the MD/PhD Program at Harvard Medical School and chairman of medicine emeritus and director of the Center for Assessment Technology and Continuous Health at the Massachusetts General Hospital. Ausiello has made substantial contributions to the knowledge of epithelial biology in the areas of membrane protein trafficking, ion channel regulation, and signal transduction. A nationally recognized leader in academic medicine, Ausiello's writings have been widely published on topics concerning medical education and biomedical research, including human genetics, clinical trials, the inquisitive physician, and the relationship between academic medicine and the private sector.
Nancy E. Oriol, MD '79, is dean for students and lecturer in social medicine in the Department of Global Health and Social Medicine at Harvard Medical School and associate professor of anaesthesia in the Department of Anesthesia, Critical Care, and Pain Medicine at Beth Israel Deaconess Medical Center. Oriol's research interests include studying new techniques of obstetric anesthesia, pioneering a technique of labor pain relief known as the "walking epidural," designing a device for resuscitating newborns, and inventing a process for interpreting fetal monitor data. Throughout her career, Oriol has also been active in medical education—lecturing and creating new educational programs for which she has received several teaching awards. Oriol is co-founder and former executive director of the Family Van, a public health outreach program of HMS, which has inspired similar programs across the country. It is also the home of MobileHealthMap.org, a web-based research collaboration of mobile health clinics.
Hollis L.
Albright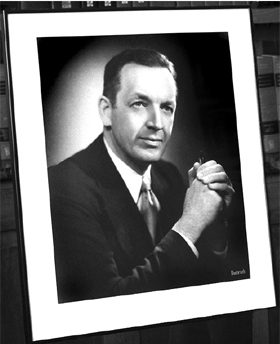 For more than 60 years, Hollis L. Albright, MD '31, dedicated his life to surgery, patient care, and the students he mentored.
 
In recognition of his lifelong achievements and to foster the values he cherished most, his children—Tenley E. Albright, MD '61, and Nile L. Albright, AB '61, MD—have established an endowed symposium, highlighting new scientific initiatives at Harvard Medical School.
In addition, the Hollis L. Albright, MD '31 Award is presented at the annual symposium to an outstanding medical or surgical student at Harvard Medical School.

2015: Edward M. Hundert, MD '84, and George Q. Daley, AB '82, MD '91, PhD
2013: Lewis C. Cantley, PhD and Peter K. Sorger, AB '83, PhD
2012: Elizabeth G. Nabel, MD, and John A. Parrish, MD
2011: Eric S. Lander, PhD, and Vamsi K. Mootha, MD '98
2010: Robert S. Langer Jr., PhD, ScD, and David T. Scadden, MD
2009: Edward J. Benz Jr., MD '72, and Robert A. Weinberg, PhD
2008: Atul A. Gawande, MD '94, MPH '99, Tom J. Brady, MD, and John E. Abele
2007: Peter Libby, MD, and Michael B. Brenner, MD
2006: Judah M. Folkman, MD '57, and Robert S. Langer Jr., PhD, ScD
2005: Edward M. Scolnick, MD '65, and Todd R. Golub, MD
2004: George Q. Daley, AB '82, MD '91, PhD, David T. Scadden, MD, and Rudolf Jaenisch, MD
2003: Gary J. Nabel, MD '79, PhD '82
2002: Steven E. Hyman, MD '80, and Carla J. Shatz, PhD '76, MPhil
2001: Eric S. Lander, PhD, and Raju Kucherlapati, MD, PhD

2015: Shakina Elmore, MD '14
2013: Sophia K. McKinley, MD '14
2012: Benedict U. Nwachukwu, MBA '13, MD '13
2011: Dayron Rodriguez, MD '12, MPH '12
2010: Regan Bergmark, MD '11
2009: Carolyn Schook, MD '11
2008: Theodore Nyame, MD '09
2007: Eric Feins, MD '08
2006: Sarah Psutka, AB '03, MD '07
2005: Dzifa Kpodzo, MD '05, MPH '06
2004: Elisabeth Tomlinson Tracy, AB '99, MD '05
2003: Coleen Sabatini, MD '03, MPH '04
2002: Jeffrey Edwards, MD '03
2001: Melody Hou, MD '03, MPH '08