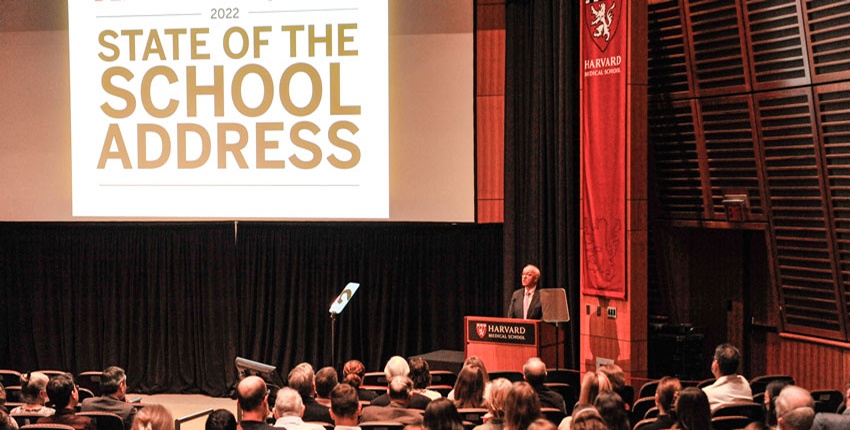 2022 HARVARD MEDICAL SCHOOL STATE OF THE SCHOOL ADDRESS
Dean George Q. Daley addressed members of the HMS community on Sept. 28, 2022. The following is a transcript of his remarks.
Good afternoon!
There's a lot of energy in this room. I mean, there's a lot of energy for anticipation of a speech. Anyway, it's really wonderful to be with you as we look forward and kick off a new academic year.
But before I get started, I want to recognize that just about an hour and a half ago, it was announced that our colleague Tim Springer has been awarded the 2022 Albert Lasker Basic Medical Research prize.
I don't think Tim is here. I think he's probably out partying already. But as many of you know, this is one of the world's most prestigious honors. And Tim's work elucidating the fundamental role of integrins really, really teaches us how deep insights into cell biology can translate into new treatments for a variety of disorders. So we should be congratulating Tim and expecting that he's going to throw another great party sometime in the future.
This is my first State of the School speech since before the pandemic, and let me say, it is an absolute gift to be able to speak with you directly. And also, obviously, I'm looking forward to gathering with all of you on the Quadrangle this afternoon.
And I want to say — and it's wonderful to be able to say face-to-face — thank you, to express my heartfelt gratitude to each and every one of you for all that you have done to keep this institution alive and well during a most challenging time. And for those who are joining via Livestream, I hope that we'll be able to see you in person sometime soon.
Now many of you, including our dedicated post-docs or graduate students or technicians have actually remained at the bench throughout the pandemic. And many of you — animal care workers, facilities maintenance staff — you have regularly come to campus to support our research activities and our mission.
And many of you have and will continue to contribute to HMS from home, working hard to ensure that our school and its people flourish. Now, as we emerge from the pandemic — and I think we are emerging from the pandemic — we have to reengage.
We have to rededicate ourselves to our mission at Harvard Medical School to lead the region, the nation, and the world in biomedical research. And as our mission statement says, to nurture a diverse, inclusive community dedicated to alleviating suffering and improving health and well-being for all through excellence in teaching and learning, discovery and scholarship, and service and leadership.
Now, I've been Dean now for 5 years, 8 months, 27 days, 14 hours, 5 minutes, 32 seconds. But about half that time has been spent managing the effects of a pandemic while supporting the efforts of a very large community of clinical affiliates who have been delivering life-saving care.
Now, as we begin to emerge from the pandemic and set our sights once again on the future, it's important that you understand where I want to take the school in the coming years. I would like to have you with me on this journey. I'd like us to be aligned and working collectively to make Harvard Medical School the most impactful research, education, and clinical care community in the world.
Now first, let me start by stating what I hope every one of you believes, and that is we are foremost a community dedicated to excellence. Harvard Medical School draws the most outstanding students, recruits the most illustrious faculty, and embraces the most dedicated and supportive staff of any institution of its kind.
And today, I will share with you how we have invested in fostering excellence and achievement with the goal of ensuring that each and every individual in our community can thrive. Now, we'll also share how in addition to investing in individual excellence and achievement, we have been strategically promoting collaboration and community building, and how we've been assembling an infrastructure to enhance opportunities for our fundamental scientific discoveries to become the treatments and the cures that actually impact people's lives.
Let me state this most clearly. My aspiration for Harvard Medical School, my goal and vision, is to ensure that our community is an unparalleled leader in biomedical research and education, and every day I wake up imagining how I can mobilize people, invest resources, and build infrastructure to make your science more successful and our collective impact much greater.
So today, I'd like to share with you some of the key investments we've made stimulating cutting-edge science, promoting greater collaboration, and resulting in a more fortified, networked, and supremely productive community.
Now, with each of these investments, we're creating a future that is worthy of our responsibilities as a great institution. First and foremost, we have had to secure our financial health. I'm happy to tell you that despite all the pandemic challenges and more than a decade of recurring budget deficits, which threatened to weaken our prospects, this year, HMS has balanced its books and is more financially stable than at any time in recent history.
As this slide indicates, we reduced our budget shortfall every year except for this blip in FY20 — that was the first year of the pandemic — when in solidarity with our hospital affiliates, we waived their annual contribution.
But every year, our fiscal health has steadily improved. And in FY22, we broke even on our discretionary cash flows for the first time since 2009, a milestone that we actually achieved a year of our predicted schedule.
I want to acknowledge Lisa Muto, who is my administrative partner in managing the HMS enterprise, without whom this major milestone would not have been possible, and the cracker jack financial team led by CFO Julie Joncas and ably supported by David Smallwood, Bob Liacopoulos, and others. Thank you.
It's a truism of management that you can't cut yourself out of a deficit. And indeed, the hard-won success is in large part due to substantial revenue streams from diversified sources. So for example, our office for external education contributed an impressive $17 million in net revenue this fiscal year. HMS earned $14.9 million in commercialization revenue, up from $9.3 million last year, and sponsored research funding rose $13.5 million as well.
These positive trends aside, we must be mindful of the uncertainties of inflation and an impending recession. And we must temper our optimism with realism and identify more strategies for growing our revenue, while maintaining a very close eye on costs, so that we can continue to support the exceptional work that you all do here at HMS.
But the bottom line says that we are now stronger and we are more resilient. Let me also share how we balance expenses and revenues for each of the major areas of our mission here — research, education, and service, which includes support to our affiliates in managing a huge network of nearly 12,000 faculty across 15 institutions.
Now, research is the largest component of the Quadrangle Harvard Medical School enterprise, accounting for over 50 percent of our budget. Research is expensive, and even with the considerable success of our faculty in raising grant dollars, subsidies from the school are essential for HMS to remain at the cutting edge of science.
Last year, the school invested $203 million to supplement the research enterprise of HMS, amounting to a subsidy of 41 percent. We've provided significant school dollars to bolster individual scientific projects, investigators, and the 11 basic and social science departments that comprise the Blavatnik Institute.
I will continue to put my full weight behind generating additional resources to keep revving our research engine. Our educational programs have grown substantially over the last few years. Under the inspired leadership of Dean for Medical Education Ed Hundert and Dean for Graduate Education Roz Segal, we've seen significant curriculum reform and expanded student services.
While growth in master's programs and external education have been generating margin, last year the school still invested some $30 million, or 19 percent of costs, to bolster our educational offerings. And then finally, HMS provides an extensive academic and administrative support system for the larger HMS affiliate community, which includes the appointments and promotion process, training and clinical and translational research methods through the Harvard Catalyst, which is run by Lee Nadler, and overseeing academic and research integrity, as well as compliance with NIH ethical and responsible research practices.
These efforts required a school commitment of some $57 million last year, or 43 percent of our total costs, and that is considerably more than the affiliates contribute financially for their participation in the Harvard Medical School ecosystem. We are one community.
We're fortunate at HMS to have very generous resources to invest in these different aspects of our mission. From endowment earnings, philanthropy, discretionary school accounts, and affiliate contributions, last year Harvard Medical School invested $290 million to bolster research, education, and affiliate support.
Let me speak to the endowment, and I want to dispel the myth that we have vast sums of cash that we can just spend whenever we want. I'm going to dispel the myth. It's essential that we recognize we depend on a steady and predictable distribution of the earnings on the endowment every year to support our programs.
Interest on the endowment represents roughly 26 percent of our overall budget. So please understand why we cannot use the endowment as a piggy bank or an ATM machine. If we spend the principal, reducing the endowment, as was happening in the decade before, our annual distribution shrinks, and we will be forced to curtail our annual support of the many activities that keep Harvard Medical School at the forefront of science, education, and service.
The endowment supports us in perpetuity, and we hope to be around forever. Now, beyond these numbers, let me illustrate how one specific investment has amplified our scientific impact. Harvard Medical School professor of neurobiology Gary Yellen — I think I saw him here — he first became intrigued by the so-called ketogenic diet at a Halloween party some 15 years ago.
Now, most people leave Halloween parties thinking they need to go on a diet, but this was a candyless, candy-free Halloween party. It was hosted by the Mass General for children with drug-resistant epilepsy. The low-sugar, low-carb, ketogenic diet, it turns out, reduces the severity and frequency of seizures.
Though not well understood, the diet works by modifying how the brain metabolizes energy. So Gary asked himself, how is it that metabolism has this particular effect on the brain? That question then became a significant focus of his lab.
He then learned from a colleague that Nathalie Agar, an associate professor of radiology and neurosurgery at HMS, uses a specific type of mass spec in her lab at the Brigham and Women's Hospital, and if viable on the scale of the brain, could generate a more detailed map of metabolites than ever seen before.
So Nathalie was eager to collaborate with Gary, and it was the perfect time for them to apply for a Dean's Innovation Award. And that program was one of the first significant investments we made at the start of my deanship, and it has provided vital seed money to research projects examining some of the most profound and basic questions in biomedicine.
Through the innovation awards program, Harvard Medical School has infused an extra $24 million into the HMS community to support 92 projects involving 169 project leaders. The majority of these projects involve fundamental curiosity-driven science led by faculty in one of the 11 basic and social science departments that comprise the Blavatnik Institute here at Harvard.
Gary and Nathalie's award gave them some half a million dollars beginning in September of 2018 to purchase crucial instrumentation, reagents, higher postdocs, and engineer solutions. They have since secured nearly $2 million in follow-on funding from the National Institutes of Health to carry on their work. And that's what the Innovation Awards program was meant to do.
Now, the key details of brain cell metabolism that are emerging from their studies are changing the way we think about aging and cancer, neurodegenerative disease, and beyond. And Gary and Nathalie aren't alone. Of the 23 projects that were funded in that first wave of innovation awards, more than half to date have received follow-on funding from external sources. So we prime the pump, and we see a return.
From Sloan Devlin and Jun Huh's work tracking the trillions of microbes that live in our intestines to Christine Seidman and Sarah Morton's research on congenital heart disease, all of the awardees projects show us that when we invest directly in brilliant minds, when we embolden researchers to follow their curiosity and to collaborate, we have the potential to transform science. And that's what we do here at Harvard Medical School.
Now, this slide illustrates the investments in fundamental quad science research through our grant programs, our core faculty support, facilities, upgrades, to support science, support for PIs and trainees, together totaled nearly $210 million of additional funding during my first five years as Dean. And this is presented by that navy blue band that's encircling the chart.
These funds represent investments that were enabled by the $200 million gift from the Blavatnik Family Foundation, as well as importantly generous commitments that the university made to me in becoming Dean.
It's the ingenuity of our scientists, our brilliant faculty, our postdocs, our students, our other trainees, together with targeted strategic investments in collaboration and community that allow HMS to contribute scientifically more as a community than the sum of our individual parts. And that is why investments in research are so important.
For example, our Foundry awards bolster existing core facilities, but also catalyze the development of new technologies, like the initiative in biomedical computer vision, which will provide innovative image data analysis to HMS Quad investigators starting somewhat later this year.
This year, the Foundry will support a new HMS gnotobiotic facility, an important resource for studies relevant to the gut microbiome and its role in disease. And this facility is a major resource for studies ranging from immunology to neurobiology, and it's open to anyone at HMS.
Our Center for Computational Biomedicine, under the direction of Robert Gentleman, is enabling greater collaboration across Harvard's many investigators in healthcare policy and economics. Currently, PIs from different departments, different schools across Harvard, struggle to gain access to the same valuable databases, such as Medicare and Medicaid information.
Robert and his team are creating systems that enable faculty to share these large data sets. It's expediting research. It's saving money. It's fostering collaboration and community. The Center for Computational Biomedicine is also helping faculty leverage computation to transform their labs, and they're offering workshops to empower students with critical computational skills.
These and other steps are delivering on one of my earliest priorities as Dean, which was to enhance our computational infrastructure to benefit everyone's research. Critical to this progress, Chief Information Officer Deborah Corwin Scott has overseen a major modernization of our IT and data storage infrastructure at great investment.
Together with Principal Data Architect Doug Skillins, they've launched a gargantuan effort to unite data streams from 45 sources across Harvard Medical School. The result is the Delphi data warehouse, which securely houses administrative and educational information so HMS community members can access it via dashboards and reports, data feeds.
I am deeply grateful to Deborah and Doug for prioritizing this tremendous work. It's part of an ongoing effort to make essential data more readily available throughout the school. Now, on top of the more than $200 million invested to promote the creativity and productivity of individual scientists and laboratories on the Quad, our strategy includes harnessing philanthropy and targeting resources to encourage collaboration across laboratories, across departments, across institutions.
It is my fervent belief that by spearheading collaborative science, we create a more exciting, engaging community that leverages the power of brilliant intellects to come together to address major questions and to tackle problems that no single lab is going to solve. For example in 2020, the Bertarelli Foundation decided to support Harvard Medical School to convene researchers across the community to tackle rare cancers that otherwise don't receive adequate attention.
The Bertarelli Rare Cancer Fund, which is under the direction of Professor Ed Harlow, has now awarded some $8 million to 15 principal investigators across the HMS community, buoying the HMS Ludwig Center's cooperative cancer research model and inspiring deeper ties between laboratories at the medical school and our hospital affiliates.
The Bertarelli Rare Cancer Fund has turned up remarkable findings about the pathophysiology and prevention of both rare cancers and, indirectly, common cancers. For instance, Vamsi Mootha, who's an HMS professor of systems biology based at Mass General, he discovered that a rare thyroid tumor, which is called Hurthle — I looked it up — Hurthle cell carcinoma. I've worked on that.
But it's caused — I think I have it right. Vamsi will correct me. But it's caused by a mutation in the machinery that generates power for the cell, and thereby implicating mitochondrial mechanisms in efforts to comprehend the basic sort of genetic mechanisms of cancer. Now, other collaborative efforts, like the Harvard Center for Cryo-Electron Microscopy, continue to convene local institutions around this pioneering frontier technology.
A nationwide IRB agreement, which was spearheaded by Harvard Catalyst, now has 1,000 participating sites enabling multi-site studies to begin within weeks, instead of months, while continuing to ensure appropriate oversight protections for patient research participants.
While our commitment to fostering fundamental research and nurturing the achievements of individual scientists and laboratories remains the bedrock of our investments, we've layered on top of our basic research community an infrastructure that encourages further translation and enables greater impact on human health.
The HMS Therapeutics Initiative, led by Mark Namchuk, has launched a comprehensive strategy to encourage therapeutics development and to promote the kind of academic and industrial collaborations that are vital to ensuring that scientific discoveries find their way out of the laboratory and into the real world.
Now, one key program that advances the impact of our science is Q-FASTR, the Quadrangle Fund for the Advancement and Seeding of Translational Research. And nearly half of the laboratories on the Quad have sought Q-FASTR funding, which indicates a widespread interest in the program. And I'll focus on one project that is now quickly gaining traction.
In the United States, about 3,000 people concentrated in the Ashkenazi Jewish population have a mutated gene that causes Usher syndrome type 1F. This is a disorder that's characterized by profound congenital deafness and a progressive blindness, and there's no treatment for Usher 1F.
Patients can get cochlear implants. They can assist with hearing. But there's no way to prevent or mitigate their vision loss. So Bertarelli Professor of Translational Medical Science David Corey set out to take a previously successful vehicle of gene therapy and adopt it to this particular condition.
He recognized, however, that the relevant coding sequence for the gene response was too large to be compatible with the delivery mechanisms, so he applied for and received a 2018 Q-FASTR development grant of $250,000 to test if smaller versions of the coding sequence of the gene would work.
And indeed, he identified a mini gene that did the trick and prevented hearing loss in mice. This critical step provided the foundation for a $1 million Blavatnik Therapeutics Challenge award, which has been used to further test prevention of vision loss in mice, fish, and primate models.
The goal of the Blavatnik Therapeutic Challenge awards — it's a $20 million commitment from the Blavatnik Foundation — is to achieve licensable intellectual property and potentially create new companies within a very near-term time frame of two years.
And indeed, very recently, Harvard's Office of Technology Development, led by Isaac Kohlberg, negotiated and signed a sponsored research agreement with a leading company that will focus on testing David's mini gene in their models. And we hope that this is going to lead to a licensing deal and subsequently to the development of a new gene therapy for blindness.
Now, David is also the confounder of a new startup in the space of hearing, the company which already regularly uses the HMS core facility, MicRoN, is one of four new tenants that have been accepted into the new $8 million Blavatnik Harvard Life Lab Longwood, which is incubator space where academic and industry scientists will coexist.
At their new Blavatnik Life Lab home, the company will have ready access to all the HMS cores, directly influencing the effectiveness of their work. Now, I want to thank everyone who has worked on the Blavatnik Life Lab, especially I call out Executive Director of the Harvard Program in Therapeutic Science and the Laboratory of Systems Pharmacology Laura Maliszewski for realizing the vision for this space, which I know was a colossal undertaking. I encourage you all to attend the grand opening celebration on October 27. Another party.
I'm really in awe of the fantastic work that our therapeutics team has done to ensure that our entire discovery and development pipeline, from ideation to Q-FASTR support to the Blavatnik Therapeutic Challenge funding and beyond, is sustainable and maximizes our ability to achieve translational success at Harvard Medical School.
Roughly $9 million has been invested to date in Q-FASTR projects, and these have yielded over $85 million in follow-on funding. That's more than a nine-fold return on investment, with more to come.
And we also just announced the 2022 Blavatnik Therapeutics Challenge awards and Q-FASTR awards this week, so congratulations to all of this year's recipients. Now, our investments in Q-FASTR and the Blavatnik Challenge awards are predicated on the core principle that we have an obligation to make our science relevant.
Our HMS mission dictates that we measure success based on enhancing health and well-being for all, and not on profits generated, a critical distinction. Now that said, we welcome robust returns on our investments. We won't turn them down.
And this year, HMS researchers generated over $24 million in revenue from intellectual property, a significant uptick from years past. Now, such revenues can ensure ongoing investments in our basic science, which together with the success of our translational programs holds promise to sustain the catalytic financial commitments that we can make to our research enterprise.
Our success to date has galvanized interest around pathways for translation, and last December, the initial donor who made Q-FASTR possible stoked the fire by giving us another $10.5 million. Now importantly, there's an educational component that is central to the therapeutics initiative.
Our therapeutics graduate program is celebrating its 10th anniversary this year, and I want to give a resounding thanks to executive director Catherine Dubreuil and faculty leads Tim Mitchinson and David Golan for nucleating such a motivated life sciences community of graduate students around the prospect of therapeutics. This program is more and more popular each year, and I'm eager to see what our graduates are going to go on to accomplish.
Now after research, our second major target for investment to ensure excellence is education. Over the last several years, under the leadership of Dean for Graduate Education Roz Segal, we have revised and updated advising and student support systems for the large and growing number of doctoral and master's students who bring their considerable talents to Harvard to earn their graduate degrees.
HMS is home to roughly 75 percent of the students pursuing a Harvard Graduate degree in the life sciences, and I'm proud to say that our interfaculty programs between Harvard Medical School and the Graduate School of Arts and Sciences have been ranked number one across the board in all fields of biomedicine.
These programs are known not only for their excellence, but for being the most attractive magnet for the spectacular students who will become the scientific and medical leaders of the future. Now, with applications to our nine master's degree programs increasing by over 200 percent in the past five years, and with more than half of all PhD students performing their research at affiliate hospitals, it's abundantly clear that our graduate education programs are a pivotal component of the entire Harvard Medical School ecosystem.
We know that our doctoral programs produce outstanding scientists that populate leadership positions around the country and the world. Think Jennifer Doudna, a Nobel laureate, and many others. Likewise, our master's programs are mission critical for empowering mid-career professionals to take HMS skills and values and to disseminate them widely.
Consider, for example, Vincent Bain, a masters of bioethics student who graduated last May. Now, Vincent is now the chaplain bioethicist at the Walter Reed National Military Medical Center, where he is guiding soldiers experiencing a variety of health care issues, including injuries from combat.
Vincent may influence chaplain's roles and effectiveness in hospital and ethics committee settings nationwide. Investing in people like Vincent equates to investing in the humanization of medicine, and that is always a worthwhile endeavor.
Healthcare professionals nationally and internationally are learning with HMS through a growing range of offerings provided by our office for external education. These include live, virtual, and self-paced online programs, in-person workshops, evidence-based written and interactive websites and content.
This year, the Dean for External Education David Roberts and his team engaged with YouTube on the launch of a new continuing education channel that provides clinicians with skills training and a new way to remain updated on the best care practices.
And finally, our Program in Medical Education, under the leadership of Dean for Med Ed Ed Hundert, provides our medical students with the most well-rounded and contemporary experience possible. The essentials of the profession course now emphasizes current issues in health equity.
HMS has reintroduce the summer of research at the end of the first year, beginning with next year's incoming class, and that represents the first major structural change to the pathway curriculum in seven years.
And we are reimagining the Harvard MIT Health Sciences and Technology or HST curriculum, under the direction of Wolfram Goessling. Now, when HST was founded over 50 years ago by legendary Harvard and MIT professor Irving London, the program aimed to partner engineering and clinical medicine.
We are now re-engineering the curriculum to prepare our students to be the physician innovators of the future by exposing them to a wide array of advances in subjects including artificial intelligence, health technology, clinical informatics, and more.
So I'm excited about the educational terrain that's unfolding in front of us. Through the HMS Office for Community-Centered Medical Education, which is situated in the Program in Medical Education and our Center for Primary Care, we're developing very meaningful relationships with the neighborhoods of Roxbury, Mission Hill, Jamaica Plain.
Through The Family Van, run by Nancy Oriol, and many other points of connection with community-based organizations, our students are gaining direct experience with real-world needs and becoming adept in assessing and addressing the social determinants of health. They're also receiving health equity training that will make them better doctors as well as more compassionate and civic-minded human beings.
Now, one of the more ambitious and potentially transformative programs that we're contemplating is a new curriculum track that's focused on healthcare leadership and transformation, aiming to position HMS at the apex of a progressive primary care training effort in this country, and it will equip graduates with the skill sets to become change agents in our healthcare ecosystem, delivering better health at lower cost.
Based on principles of value-based practice and leveraging our Center for Primary Care and its leadership with Russ Phillips, we strive to establish HMS as not only the preeminent research medical school, but we'd like to be number one in primary care, as well.
And importantly, we continue to seek philanthropy to support financial aid so that no medical student graduates with such burdensome debt that their career choice is dictated more by economics than by idealism and the desire to serve.
Following our investments in research and education, the third area of focus I want to discuss is our promotion of culture and community. Faculty represent a huge and precious constituency of HMS. Their well-being, like that of trainees and students and staff, is critical.
I'm aware of the struggles that many of our faculty face, particularly junior faculty, and have faced, especially during the pandemic. We have endeavored to offer some relief to our scientists on the Quadrangle in the form of extra research support, a personal salary bonus, and an extended tenure clock.
But we know that the pandemic has hit you hard, and we will continue to support you in the years to come. I'm also very concerned about our faculty and the hospital affiliates, many of whom were drawn to the excitement of an academic career at one of our flagship hospitals and promised protected academic time for scholarly pursuits and teaching.
We are hearing from many faculty that the pressures to generate revenues for clinical service are cannibalizing the protected academic time, leaving them struggling to achieve the scholarly publications and output that's necessary for promotion.
I can state unequivocally, the leaders of our flagship affiliates deeply understand the challenges that are facing academic medical centers. They remain dedicated to advancing the academic and educational mission of Harvard Medical School.
However, they are facing formidable obstacles, and I can only say, please know, HMS leadership is working together with the leaders of Mass General Brigham, BI Lahey, Boston Children's, Dana-Farber, and others to identify creative strategies that will preserve and protect the academic excellence that's made Harvard Medical School and its illustrious clinical affiliates a bastion of biomedical innovation and compassionate healthcare.
We endeavor as well to have a representative faculty and a student body that reflects the cultural richness and the diversity of the patients we serve. We want all members of our community to succeed to their fullest potential, which is why we have placed such a high priority on advancing diversity and inclusion.
Despite the pandemic, we successfully executed a cohort hire, an innovative collective inter-departmental search for junior faculty with a proven record of scientific excellence, and demonstrated commitment to our institutional values of diversity and community.
We've welcomed a cadre of four amazing new faculty into the Blavatnik Institute, while Boston Children's Hospital has added to additional faculty as an extension of the cohort hire. We're also making good on the recommendations that were articulated by the program and medical education anti-racism task force by implementing annual anti-bias training on admissions committees, launching medical curriculum reform, and more.
The new Black Staff Caucus developed by staff members themselves is addressing the shared goals and challenges of staffers across HMS. It recently received grants from the Harvard Culture Lab Innovation Fund as well as the President's Administrative Innovation Fund.
Our community investments are building better pipelines, too. We have expanded our faculty promotion criteria to include a significant supporting activity for diversity and inclusion. We are forging closer connections with pre-med advisors at historically Black colleges and universities, and we're embracing a new program, started by HMS student Victor A. Carmen-Lopez, that allows young Indigenous people to shadow a variety of physicians at the Brigham and meet with deans, admissions officers, and more.
Such pipelines are allowing a diverse array of people to engage with HMS and to realize their ambitions in novel and profound ways. Physical spaces. Physical spaces are also important to foster culture and community. I hope that we all treasure the new HMS Countway Library spaces for socializing, for collaboration, and for strong coffee. It's super important.
These spaces, they are the result of a substantial renovation that actually won a 2022 Library Interior Design award from the International Interior Design Association, and plans are underway for a major renovation of Gordon Hall that's going to allow us to accommodate more flex work.
We're also preparing for what the campus needs to look like in 20 years, and two initial steps have been the identification of the Vanderbilt and the neighboring site as an opportunity for renovation and expansion. Stay tuned.
Now, many of us invest in culture and community in exceptional ways through personal service, and our students, our postdocs, our trainees, they're leading the charge. I want to call special attention to Nathan Mallipeddi, a second-year MD student, a son of immigrants from India, and a proud, triumphant lifelong stutterer.
After suppressing, even fearing his stutter for much of his childhood, Nathan is now speaking up for the millions of people, both nationally and around the world, who manage this invisible disability. In May, he won the prestigious grand prize Harvard Social Impact award at the President's Innovation Challenge awards ceremony, which recognized his work as the co-founder, CEO, and chairman of Myspeech, a nonprofit devoted to increasing access to stuttering therapy resources and a sense of belonging for people who stutter.
I cannot tell you how proud I am of Nathan. His work has captured the public's attention, and President Biden even sent him a letter commending his innovative service. I'm also proud of Frankie Heyward, neuroepigeneticist extraordinaire, founder of the HMS Black Postdoctoral Association, and the National Black Postdoctoral Association.
I'm proud of Gaurab Basu, an HMS instructor in medicine and co-director of the Center for Health Equity Education and Advocacy at the Cambridge Health Alliance. He was a recipient of last year's inaugural Equity, Social Justice, and Advocacy award for his commitment to addressing structural racism and the effects of climate change on public health.
And I'm proud of MD students Amanda Jowell and Arian Mansur, who have spearheaded an effort to bridge the HMS community with the Harvard Square Homeless Shelter community, mobilizing volunteers to serve there weekly and to connect guests with sustainable housing and employment opportunities.
Now, as a physician and as a parent, I feel particularly concerned about the state of mental health in this country and throughout the world. We simply need to do more to help people who are experiencing the pain and disability of mental illness. Children and adolescents, people of color, and members of the LGBTQIA+ community are at particular risk.
Last December, US Surgeon General Vivek Murthy warned of a devastating mental health crisis among adolescents, and we are witnessing it. HMS will be part of the solution. We've just received a $5.5 million grant from the Manton Foundation to develop education and training programs to make mental health care more widely accessible to children and adolescents.
A new curriculum inspired by the collaborative care model for depression aims to install more mental health tools in a range of primary care settings, bringing together external education, global health and social medicine, and our program in medical education. This project is a truly original interdisciplinary approach to filling in the gaps in our mental health training, education, and service.
And finally, I'd like to touch on a new role that I'm particularly thrilled to see HMS embrace. It's an expansion of our traditional role as the hub of a dynamic ecosystem. We now are a convener of trans-institutional endeavors.
Now, the Massachusetts Consortium on Pathogen Readiness, MassCPR, is prime example. Now in its third year as a multi-institutional research collaboration, MassCPR involves all four Massachusetts medical schools, all their teaching hospitals, affiliated institutions, MIT, and some local biopharma companies.
MassCPR investigators continue to convene and collaborate with extraordinary dedication, and that augurs very well for the upcoming MassCPR scientific symposium, which will be held on October 24, where far more than 800 collaborators representing 17 institutions, they've been invited to come together in person, realistically for the first time.
Our students have fully participated in COVID-19 research as well. Take Katherine Nabel, an MD-PhD student in Jonathan Abraham's lab. In January, she published a fabulous paper in Science, a seminal paper relating to antibody evasion caused by mutation in SARS-COV-2 receptor binding domain.
Or Vanessa Dor, a physician from Haiti who's studying vaccine hesitancy in Haitian populations through our Masters of Medical Sciences in Global Health Delivery. All of this work, not only helping scientists understand and manage our current pandemic, it's priming us for future infectious disease challenges.
And we just learned that the Massachusetts Department of Public Health is being awarded a large grant from the CDC to form the New England Pathogen Genomics Center of Excellence, with MassCPR and Harvard Medical School as two of the major partners.
The New England Pathogen Genomics Center of Excellence will be one of five centers established nationally to improve innovation in technical capacity in pathogen genomics, molecular epidemiology, bioinformatics, with the goal of better preventing, controlling, and responding to microbial threats of public health importance.
Now, including the HMS component of the CDC grant, our community is anticipating an infusion of an additional $21 million that will ensure the vitality of MassCPR well into the future. Remarkably, we've already been challenged to test the effectiveness of the MassCPR collaborative model. Nesli Basgoz, an HMS Associate Professor of Medicine at the General, after identifying the first case of human monkeypox in the US, was able to work with her colleagues to characterize the host response and the virology of human monkeypox infections, leveraging MassCPR infrastructure to share samples and data across several institutions within 48 hours of that first diagnosis.
And with polio on the rise in several major US cities, a perilous future awaits unless we can act steadily and collaboratively. Now, as further evidence of our citizenship in the university and the greater Boston life sciences community, HMS is a critical partner in the newly-formed Kempner Institute for the Study of Natural and Artificial Intelligence.
This is a Harvard-wide effort, but it's co-directed by Professor of Neurobiology Bernardo Sabatini, and this will advance pioneering work at the intersection of artificial intelligence and neuroscience. The result will be a new generation of scholars, trainees who are steeped in an intellectual tradition that they themselves will be creating.
Thus far this afternoon, I have taken you through our investments in research, education, culture, and community, which have solidified Harvard Medical School as a leading institution regionally, nationally, and globally, and which have established a solid foundation of resilience for the decades ahead.
However, it's important we cannot rest on what we have done to date. We have to continue to strive to become even more responsive to the world's emerging threats and challenges and stronger. For this vision of the future, I have taken inspiration from our cherished friend and colleague Paul Farmer, who we lost earlier this year.
Paul wisely pointed out that universities can be critical agents of social change. They should not be insulated from the world's problems, he said. Rather, they should be active drivers of solutions to society's most urgent needs.
Paul loved Harvard Medical School. He developed many, if not most of his foundational ideas and moral commitments in the context of this environment, constantly bringing his students into the inner circle of his efforts and persuading them to elevate the role of global health research and intervention in their postgraduate activities.
On October 1, this Saturday, we will be holding a memorial and a symposium in Sanders Theater in Cambridge to honor Paul's moral vision, his academic legacy, and the social movements he fought for. I invite all of you to join us, and I look forward to seeing many of you at this special event.
There, we will also celebrate the newly created Farmer scholarship, which will provide need-based financial aid to outstanding students who have an interest in global health and social medicine. We are committed to ensuring that Paul's moral vision and values become even more clearly reflected in the life and work of Harvard Medical School and Harvard University.
And I'm working with colleagues in the Department of Global Health and Social Medicine and the university to raise a significant endowment to support the department's efforts in perpetuity. We were privileged to count Paul as a colleague. We were privileged to be in Paul's presence.
But I want to come back to our current community. We are equally privileged to be part of this wonderful and amazing community. This community encompasses so many brilliant and dedicated scientists and clinicians and trainees and workers, and I have to say, to be in your presence right now, it is a privilege.
We are all privileged to serve this extraordinary institution. What we do here radiates in seen and unseen ways throughout our local community, our national and our global communities. Our research, our educational efforts, our service, these all have global echoes, and it is our job as scientists, clinicians, teachers, to answer this call to service.
Harvard Medical School has its shortcomings — historically, at this very moment. And while I have learned so much in my five-plus years as Dean, I know I've made mistakes. I know I have so much more to learn to be more effective at stewarding this great institution.
But I think that's all the more reason why I aspire to embrace, and I beseech all of you to aspire to embrace our core values. Excellence in the pursuit of scientific knowledge, the generous conveyance of collective wisdom to others, and selfless service to those in need.
I am proud to be serving with all of you, and I thank you all so much for bringing your whole spirit of service to our important work. Finally, on that note, let us invest in the joy of being together. So let's get together in a few minutes. Community party on the Quad. I guarantee you, it's going to be a fun and celebratory event. I'm going to be there to answer any of the questions that you might have at that time. Thank you very much. Let's party.