Faculty Committee on Strategic Planning for Continuing Education
Faculty Committee on Strategic Planning for Continuing Education
Background and Process
In September 2011, Dean Flier charged a group of faculty and senior administrators, chaired by Richard Schwartzstein, MD, to think creatively about the future of continuing education at Harvard Medical School (HMS) with the goal of making strategic recommendations about improving existing activities and venturing into new opportunities.  A final report was presented to the Dean in September 2012. 
Over the course of this year, 50 faculty and senior school administrators met regularly to discuss continuing education from the standpoints of best pedagogical practices, faculty development, financial and administrative issues, and opportunities for expanded or new ventures, such as those related to distance education and executive education.  The Committee considered not only the practices and activities of HMS's Department of Continuing Education (DCE), but other synergistic continuing education activities taking place within the Medical School community, including those targeted at the lay public, and the continuing education landscape nationally. Four subcommittees examined these topics in detail, each producing reports that were presented to the Dean and a steering committee.
Recommendations
The steering committee's deliberations coalesced around three main themes, including: (1) having HMS continuing education be known for not only its content expertise, but also its innovative pedagogy; (2) expanding audiences through new types of courses or content delivery methods; and (3) providing enhanced infrastructure to ensure continued excellence and compliance with Accreditation Council for Continuing Medical Education (ACCME) standards.  Out of these guiding principles emerged seven major recommendations:
1.       HMS should aspire to become nationally known for delivering courses that combine cutting edge content with a format that facilitates enduring knowledge via pedagogical best practices for adult learners.
2.       HMS should enhance the academic status of the Department of Continuing Education (DCE) through support for improved assessment, evaluation and research activities so that the department is better prepared to take a more active national role regarding accreditation and policy making.
3.       HMS should seek to expand audiences beyond those that have traditionally participated in accredited CME activities, with a focus on online communities, international learners, individuals interested in executive education, non-physician health care professionals and the lay public. All programs, regardless of audience, should meet the high academic standards of HMS.
4.       HMS should initiate, develop and sponsor school-wide curricular offerings that focus on biomedical and executive education topics with the following goals: to enhance education and collaboration among HMS affiliated institutions, to fill gaps in the range of content addressed by current CME courses, and to engage new audiences.  These courses are not intended to compete with existing hospital or department-based offerings.
5.       HMS must invest in an infrastructure consisting of the right people (faculty and staff), services, technology, and facilities to support continuing education activities, in order to ensure maintenance of ACCME accreditation, to stay competitive in both accredited and non-accredited continuing education activities, and to launch new, high-profile ventures.
6.       HMS must enact a more transparent and viable financial model for all continuing education activities.
7.       The Dean should implement a governance structure to oversee HMS continuing education both academically and administratively.  This structure should optimize synergies among continuing education activities (beyond accredited CME), to help realize a broadened vision for HMS continuing education.
Steering Committee Members
Chair
Rich Schwartzstein, MD, Ellen and Melvin Gordon Professor of Medical Education and Director of the Academy, HMS, BIDMC
Members
Liz Armstrong, PhD, Director, Harvard Macy Institute and Clinical Professor of Pediatrics, BCH
Robert Barbieri, MD, Kate Macy Ladd Professor of Obstetrics, Gynecology and Reproductive Biology and Head of the BWH Department of Obstetrics, Gynecology and Reproductive Biology, BWH
Wesley Benbow, Associate Dean for Finance, Chief Financial Officer, HMS
Gretchen Brodnicki, Dean for Faculty and Research Integrity, HMS
Elliot Chaikof, MD, PhD, Johnson and Johnson Professor of Surgery and Head of the BIDMC Department of Surgery, BIDMC
Jules Dienstag, MD, Carl W. Walter Professor of Medicine and Dean for Medical Education, HMS, MGH
David Golan, Professor of Biochemistry and Molecular Pharmacology, Dean for Graduate Education and Special Advisor to the Dean on Global Programs, HMS, BWH
Peter Howley, MD, PhD, Shattuck Professor of Pathological Anatomy, HMS
Alan Leichtner, MD, Associate Professor of Pediatrics, CHB
Robert Mayer, MD, Stephen B. Kay Family Professor of Medicine, Faculty Associate Dean for Admissions, HMS, DFCI
Barbara McNeil, MD, PhD, Ridley Watts Professor of Health Care Policy and Head of the Department of Health Care Policy, HMS, BWH
Rick Mills, Executive Dean for Administration, HMS
Lisa Muto, PhD, Associate Dean for Institutional Planning and Policy, HMS
Barrett Rollins, MD, PhD, Linde Family Professor of Medicine and DFCI Chief Scientific Officer, DFCI
Staff
Megan Halligan, Coordinator, Institutional Planning
Aili Lewis, Director of Institutional Planning
Cat Sherrill, Project Manager, Institutional Planning
Subcommittees
Executive Education
Finance and Administration
Networked Learning, Technology and Global Connections
Pedagogy and Faculty Development
Read the
Full Report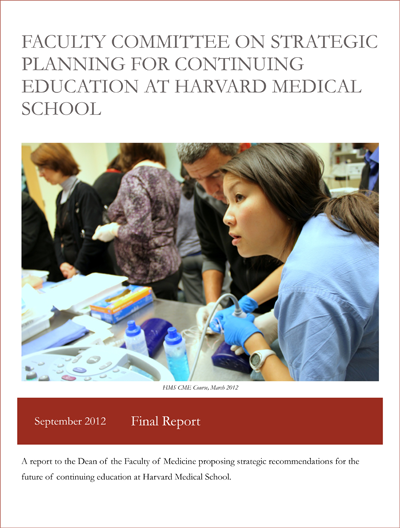 from the Faculty Committee on Strategic Planning for Continuing Medical Education. Read more »