2007 Strategic Planning Process
2007 Strategic Planning Process
The HMS Strategic Planning Process of 2007-2008, conducted during a time of significant economic change in the U.S.,  was designed to assess the School's processes, goals and aspirations, looking ahead five to 15 years.  The mandate was to identify  areas for improvement and growth, and to recommend plans for development in teaching and research.  Members of the Quad faculty, teaching affiliates, and the broader Harvard community engaged in a collaborative effort and made recommendations based on their findings.  Their report, detailed below, was published in 2008.
To HMS Faculty, Staff, and Students,
It is with great pride that I present our strategic planning report, which concludes the first phase of a yearlong planning process. This report embodies the intensive, collaborative efforts of a great many individuals across the HMS and Harvard University communities, and I am extremely grateful to all those who contributed to this process.
We have identified five areas of focus for strengthening HMS:
revitalizing the educational mission of the School;
seizing opportunities in biomedical research to increase human well-being;
lowering institutional barriers to collaboration;
creating a more unified, supportive, and inclusive community; and
increasing and coordinating strategic investments in tools and technologies.
We have already made progress in a number of these areas, including:
increasing financial aid;
filling new and existing leadership positions to advance our educational mission, increase collaboration, and evolve the culture at HMS; and
identifying and tackling important new opportunities in biomedical research.
Our collective work has earned the respect and regard of the broader University and our colleagues and supporters, and has established a framework for thinking creatively about the development of biomedical sciences and the social sciences in health at HMS that will outlive this plan.
It is perhaps ironic that we present this report just as we face an economic crisis that is unprecedented in recent history. Not surprisingly, this situation affects the University as well, as President Drew Faust explained in her recent letter to the Harvard community.
Despite the challenging financial context, I believe that HMS is in a particularly strong position, in part because the strategic planning process will serve as a platform for critical decision making in the months and years ahead. We have drawn closer together as a community and are a much stronger institution as we go forward because of this joint exercise. And since we have learned a great deal about our strengths and weaknesses and have prioritized our opportunities for moving ahead, we are well positioned to make a strong case to potential supporters.
While the current financial environment will necessarily affect the pace at which we are able to advance our goals, the planning we have embarked upon at HMS will strengthen us during this period of financial turmoil and will help us to advance our teaching and research priorities.
We are fortunate that HMS is a strong and secure institution. Although we will need to make some hard decisions and difficult tradeoffs in response to pressures on our funding sources, we should feel confident that our history of prudent fiscal management makes us well positioned to address the serious fiscal concerns confronting institutions throughout the country and the world. There is little doubt that we will continue to move HMS in new and exciting directions.
During the first year of my deanship, I have come to appreciate the enormous strengths of the HMS community—the intelligence, creativity, and generosity of spirit of the faculty, staff, and students and their commitment to the School and its important mission. I am proud to lead such an inspiring institution, and I believe that our dedication, unity, and belief in our collective power will strengthen us during this challenging time and contribute to our success in overcoming any obstacles that may come our way.
Our strategic planning process was at its heart an investment in ourselves—and I believe that we could not make any better investment. I hope that in reading the strategic planning report, and in working with me to implement it, you will come to believe the same.
Sincerely,
Jeffrey Flier, MD
Dean of the Faculty of Medicine
Our
Mission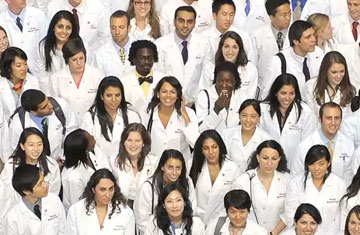 To create and nurture a diverse community of the best people committed to leadership in alleviating human suffering caused by disease.