Rainer Fuchs, PhD
Rainer Fuchs, PhD, Chief Information Officer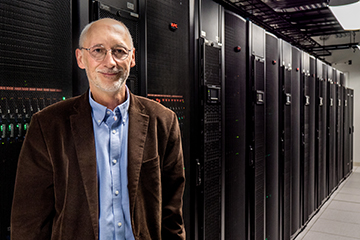 As chief information officer for Harvard Medical School, Rainer Fuchs provides vision and leadership to guide the School's information technology department's mission to deliver the technological foundation, resources and expertise required to support and enhance HMS' global preeminence in biomedical education and research.
Before joining HMS in 2012, Dr. Fuchs spent almost 20 years in the biopharmaceutical industry, including 12 years with Biogen Idec, where he held the position of vice president of research and development information technology. He was also creator and executive director of the Biogen Idec Innovation Incubator (BI3) and launched three drug discovery companies.
His experience at the interface of life science and information technologies includes senior leadership positions in life science informatics at Aventis, Ariad and Glaxo Wellcome. Prior to his work in industry, Dr. Fuchs was a bioinformatics scientist at the European Molecular Biology Laboratory in Heidelberg, Germany. Dr. Fuchs was trained in Germany and holds a doctorate in biochemistry from the University of Darmstadt and a master's in microbiology from the University of Frankfurt.