HMS, HSDM, HSPH Graduates Celebrate Class Day 2012
HMS Keynote Speaker Tells New Doctors to "Use That Voice"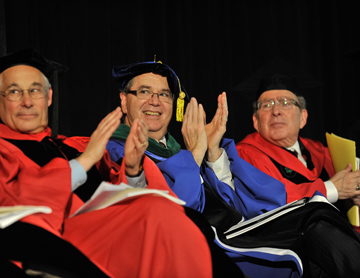 After what seemed like weeks of rain, graduates of Harvard Medical School and Harvard School of Dental Medicine gathered with family members and faculty under sunny skies on the HMS quadrangle May 24 for the annual Class Day ceremony. Graduates of the Harvard School of Public Health celebrated nearby in the Kresge courtyard. HMS Keynote speaker Donald Berwick, who recently led the U.S. Centers for Medicare and Medicaid Services, told graduates that in a contentious and sometimes confusing time for medicine, a physician's "true compass" should always be the oath to care for all patients.   Below are excerpts from addresses by Berwick and other Class Day speakers on the 224th year of HMS and the 143rd year of HSDM.
Harvard Medical School Keynote Speaker Donald Berwick
"It is time to recover and celebrate a moral vocabulary in our nation — one that speaks without apology or hesitation of the right to health care — the human right — and, without apology or hesitation, of the absolute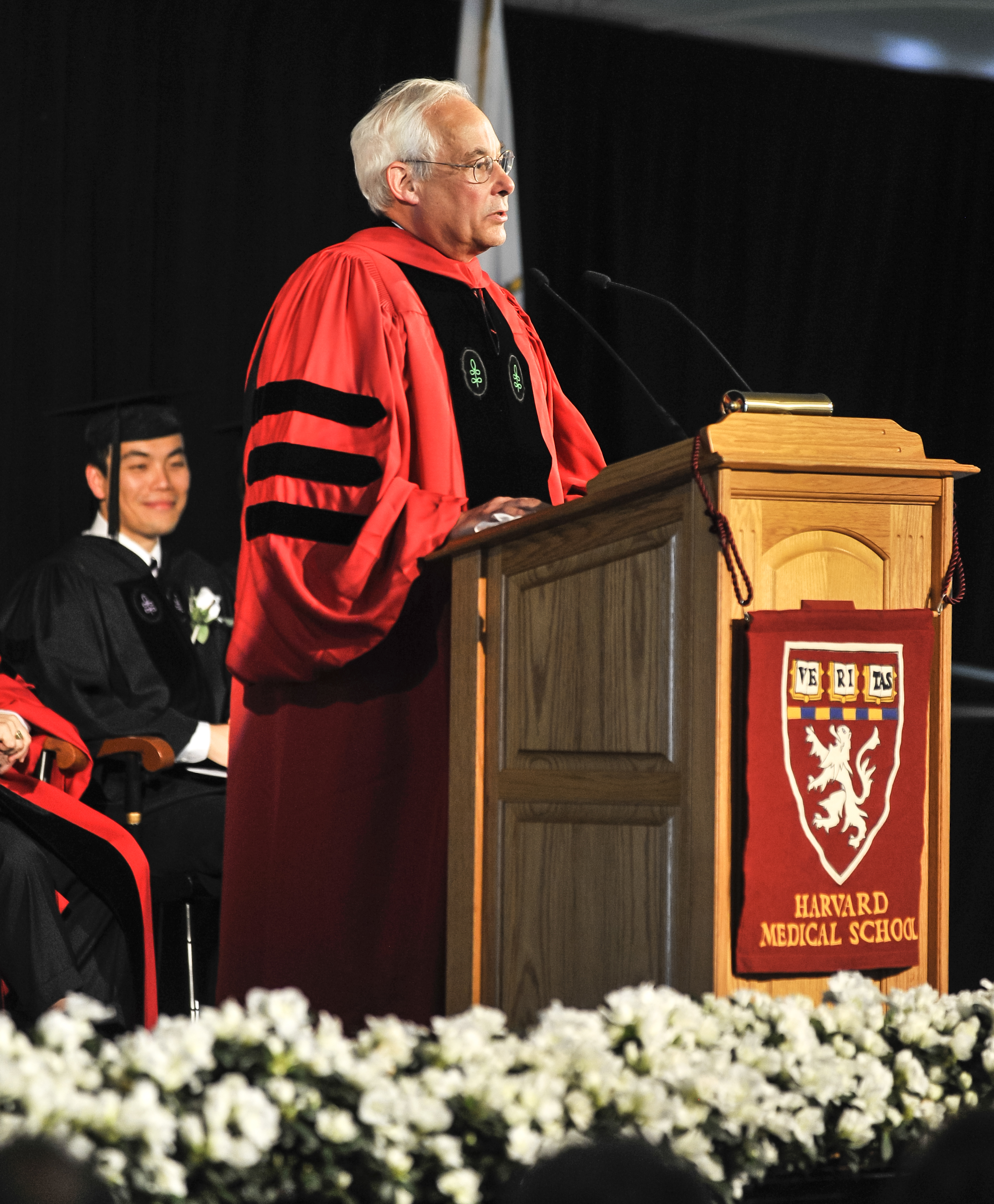 unacceptability of the vestiges of racism, the violence of poverty and blindness to the needs of the least powerful among us."
"Now, you don your white coats, and you enter a career of privilege. Society gives you rights and license it gives to no one else, in return for which you promise to put the interests of those for whom you care ahead of your own. That promise and that obligation give you voice in public discourse simply because of the oath you have sworn. Use that voice. If you do not speak, who will?"
Harvard Medical School Dean Jeffrey S. Flier
"Class of 2012, yours is a time of exhilarating change that is vast in scope: Today, all health is global. You will, I am certain, have the opportunity to ease human suffering throughout the world to a degree that is wholly unprecedented.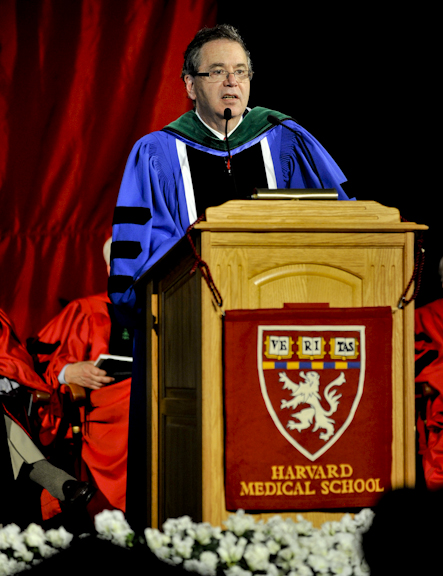 Yet, pathogens know no borders, and the threat of drug-resistant disease continues to loom large. However, as you confront future epidemics, you will be far more able to communicate and collaborate in an instant with experts around the world. Your generation is intensely interconnected; and you share a keen awareness of the need for quality health care in every corner of the world."
Harvard School of Dental Medicine Dean Bruce Donoff
"Two major events will forever remind me of you, the Class of 2012. First, and unbelievably, it is now my 45th reunion year. Second—and please bear with me for a moment—is the life and recent death of Ralph Steinman. I met Ralph on my third day at Harvard, in 1963. He was a medical school classmate from Canada, who graduated with the Class of 1968. Ralph died last October, just three days before the announcement that he had received the Nobel Prize in Medicine for his groundbreaking work in immunology. He was a Nobel Prize winner who never knew it—yet he would be the first to proclaim that impact is more important than recognition. What mattered to Ralph Steinman was his work: developing a vaccine against human cancer. Indeed, his life's work was about life itself.
And that is the major attribute for which I will remember you, the Class of 2012. Like Ralph Steinman, whose death occurred during your final year, you have a deep passion for improving the lives of others, especially those with the greatest need."
Harvard School of Public Health Dean Julio Frenk
"I am proud of the contributions made by our community of public health leaders — faculty and students alike — over the past 100 years and today. While I do not know how, precisely, you will improve the quality of people's lives around the world in the years ahead, I have no doubt that you are destined to do great things. You have a passion for your fellow human beings. You burn with a mission to pursue knowledge and ideas that will empower millions of people to lead healthier lives in the years ahead. And you have the generosity of spirit to be outstanding colleagues and mentors to the public health students who will follow you in the years ahead."
Harvard School of Public Health Commencement Speaker Gerald Chan
"My first advice to you, graduates, is to enrich your lives with ideas, even big ideas. Read, reflect and ruminate (the new three Rs). Observe and deduce, postulate and verify, look for connections. Be curious, be open-minded, reframe problems, have the courage to differ with conventional wisdom, do not dismiss your intuition. Discuss, debate and discourse with others. Look into history, watch current affairs, study the sacred texts, observe humanity. These are the mental habits conducive to the spontaneous generation of ideas. A life is rich when it is rich with ideas."
Harvard Medical School Students
Imani Rafiki Anwisye
"We've been humbled by the honor of sharing the most intimate details of a fellow human's trials, triumphs, fears—bonding in a sacred trust that transported us from the world of the cognitive to something a bit too deep for words. We've been moved by the privilege of witnessing our first birth as the new life emerged daring and bold declaring to the world with their first cry that they had successfully made it through their first major test and were here to stay. We've been sobered by the intense ways that the human spirit can be crushed, silenced, broken. Who will forget those souls who, battered by circumstances of the world, no longer felt a reason to live?"
Jeffrey Daniel Hurwitz Wessler
"We all know that medical school prepares us to join the inspiring world of medicine. But what isn't as widely known is that medical school also provides a secondary course in humility. Woven into the fabric of our four years of classes, clerkships and clinical electives are a series of moments. When strung together over four years, these moments—which are often very personal, sometimes very powerful, and nearly always embarrassing—offer a curriculum that teaches us a key lesson: not to take ourselves too seriously."
Harvard School of Dental Medicine Student David Burrell Guthrie
"I think our class has been a model for finding professional success while maintaining a sense of balance in our personal lives. This class has a wide variety of interests, abilities and achievements beyond dentistry. In fact, the history of our profession is full of people who share our own broader outlook. Sometimes one's expertise in a totally unrelated field sparks critical insight to solving the problem at hand."
Harvard School of Public Health Student Kevin Koo
"Behind us, the Kresge building, the theoretical foundations of our knowledge, our veritas; in front of us, the Countway library, the house of scholarship; on one side, the medical campus and the hospitals, our partners in protecting and improving the health of the public; and on the other, the community, reminding us of our commitment to public service.
It's no accident or surprise that we meet in this space today because our time at the Harvard School of Public Health has not been exclusive to any one of these domains; rather this place is the union, indeed the nexus of them all."
 
Donald Berwick
Class Day 2012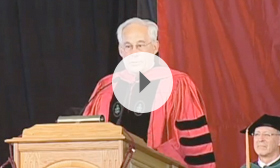 Keynote speaker Donald Berwick, who recently led the U.S. Centers for Medicare and Medicaid Services, told graduates that in a contentious and sometimes confusing time for medicine, a physician's "true compass" should always be the oath to care for all patients.