Graduation
Commencement and Class Day 2018 Roundup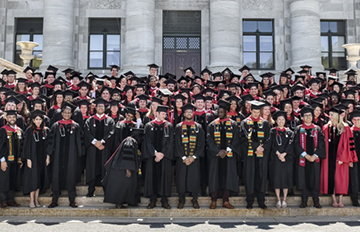 Into the Future
More than 200 HMS/HSDM graduates gathered under a whimsically arched tent to celebrate their new degrees as they look forward to beginning the next phase of their careers as researchers, educators and caregivers. Read full story.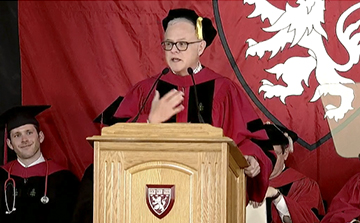 Make It Matter
Two decades after graduating from HMS, award-winning television writer/producer and public health advocate Neal Baer returned to the Quad to deliver a message drawn from his own experience: "Tell your stories. Make them matter." Read full story.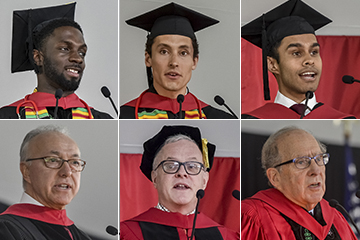 The Great Society of Medicine​
This year's Class Day speakers offered a wide range of ways for the new HMS graduates to think about—and revolutionize—how health care is delivered in the U.S. Read excerpts and full speeches.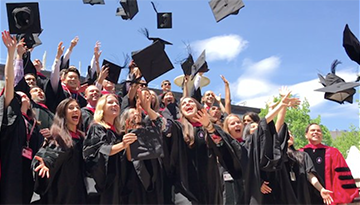 Congratulations, HMS and HSDM Class of 2018!
Harvard Medical School/Harvard School of Dental Medicine Commencement and Class Day took place Thursday, May 24, 2018. On this day of ceremony and festivities, graduating students were granted their degrees and celebrated their accomplishments.
---
Watch the Ceremonies
Full video is available of Class Day 2018.
Class Day
on the Quad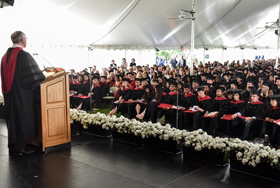 HMS and HSDM graduates celebrate before stepping off the Quad and into their future as leaders, scientists and healers. View slideshow
Commencement 2018
Photo Gallery

HMS and HSDM grads celebrate their achievements at Harvard Yard. View slideshow
#HarvardMed18
Use #HarvardMed18 to tag any of your social posts as your celebrate graduation.
Follow Facebook, Twitter and Instagram for posts by the HMS social team from Harvard Yard and the Quad.
Use the Snapchat geofilter to share this year's Class Day events. Feel free to use our standard geofilter for your snaps as well.