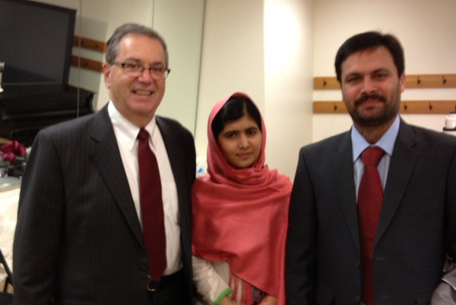 Last week, I participated in an event that I am sure will be among the most inspiring and memorable experiences I will have as dean of HMS. I was invited by the Harvard Foundation to participate in presenting the 2013 Peter J. Gomes Humanitarian of the Year award to Malala Yousafzai in a ceremony at Sanders Theater. This remarkable young Pakistani woman, now 16, burst onto the world stage one year ago, when she was seriously wounded by an assassin's bullet to the head, while riding to school in a bus in Swat, Pakistan. She was targeted because she refused to bow to threats from local Taliban who sought to keep young women from receiving an education. Malala's father, who is committed to education for both boys and girls, received repeated threats to the entire family, but they bravely chose to persist in spite of the danger.
Malala's wounds were life-threatening, but thankfully, she received excellent neurosurgical care from a highly skilled Pakistani army neurosurgeon. After stabilization, and still in a coma, she was transferred to a hospital in England, where she completed a striking recovery and rehabilitation. She and her family have resettled in England, where, in addition to pursuing her studies, she makes many speaking appearances on the need for education for girls around the world, for gender equality and for educational opportunity more generally.
Malala spoke to a packed house at Sanders Theater. Her words were remarkable for their clarity and passion, even more so given her age and recent experiences. Before Malala's acceptance speech, Dr. Paula Johnson of HMS offered wonderful comments on the importance of education for girls around the world.
I also had the honor of presenting an award to Dr. Junaid Khan, the neurosurgeon from Peshawar who performed Malala's life-saving surgery. He had not seen Malala since she left Pakistan for England. Dr. Khan's award came at the suggestion of Malala and her family, reflecting their incredible values.
I was thrilled to be able to sit between Malala and Dr. Khan at dinner later that evening at Winthrop House, joined by many Harvard leaders and students. Our conversation during dinner revealed Malala to be wise beyond her years, even strikingly so. She displays moral passion and brilliance, yet somehow mixed with a calm self-confidence and a great sense of humor. She told me loves science, and all her subjects, but plans to study political science (perhaps at Harvard!). She is co-author of "I Am Malala," a book that will be published in October. I look forward to reading it.
I  have the opportunity to meet so many wonderful people in my role at HMS. Malala Yousafzai is remarkable among them. She is an inspiration to us all, and if she chooses such a path, she may become an important figure in world history. Just a hunch.