Diversity at Harvard Medical School
Statement by Jeffrey S. Flier, Dean of the Faculty of Medicine
Diversity: A Cornerstone of Excellence
As reflected in Harvard Medical School's mission statement, building a diverse and inclusive group of leaders, faculty, staff and students, on the Quad and within the community of affiliated hospitals and institutions, is of paramount importance to our common mission: to advance health through teaching, research and service. To foster innovation, and to build and bring about fresh, creative solutions that address the health needs of a pluralistic society, we must ensure that intellectually challenging problems are thoroughly examined through vigorous debate by individuals who together reflect the broadest possible range of experiences and perspectives.
Diversity: A Prerequisite for World Leadership
As a standard-bearer for intellectual rigor, HMS must aspire to diversify the ranks of academic medicine. In attracting the best and brightest minds, in training tomorrow's national and international leaders, and in setting standards of excellence in all that we do, HMS leaders, faculty, staff and students must embrace the principles of equal opportunity and inclusion—and substantially increase our efforts to recruit, retain, nurture and promote those who represent the best of this world. School leaders must actively and persistently champion diversity as a critical core value, broadly defined with respect not only to race and gender but also to other characteristics that provide for the robust academic environment that leads to excellence.
Diversity: An Imperative to Transform the Culture
Merely attracting more minority and women faculty to HMS will not be enough. HMS must continue its commitment to building programs and systems that will ensure equity and the steady advancement through the academic and professional ranks of the very best faculty and staff from all backgrounds. This can be achieved through mentoring, training and support programs, aggressive recruitment, an array of pipeline programs and the strategic management of career transitions. Building upon this commitment, leadership at all levels must do all it can—visibly and continuously—to welcome and support a diverse community of scientists, clinicians, administrators, staff, trainees and students. Sustained effort coupled with monitoring, transparency and accountability will be vital to our progress.
Diversity
at HMS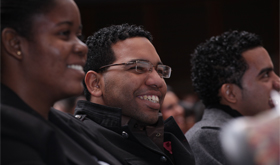 The Office for Diversity Inclusion and Community Partnership was established to promote the increased recruitment, retention and advancement of a diverse faculty.
Our
Mission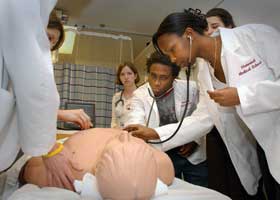 To create and nurture a diverse community of the best people committed to leadership in alleviating human suffering caused by disease