Dean's Corner - The Dean's Perspective
Recent Dean's Dispatches
Past as Prologue?
In his latest blog post, Dean Flier discusses how Lessons from the NIH "golden era" may benefit medical education and research.
Wounded, Deeply
For millennia, a fundamental responsibility of physicians has been caring for the wounds of their patients. Applying salve and ointment, removing dead or diseased tissue, covering and binding with bandages, these are the actions most associated with trauma care. Read the full entry.
Reflections on Three Decades of Discovery
"Research was critical to my own experience as a medical student, and as HMS dean I have made it a priority for our students."  Read the full entry.
Wall Street Journal Editorials
Read Dean Flier's editorial on health care reform in the U.S.
Read Dean Flier's editorial on health care quality and cost discipline.
Speaking Engagement Highlights
Dean Flier spoke at Massachusetts General Hospital as they celebrated their acheivemant as #1 hospital in the country by US News and World Report.  Read the full text of his address.
Each year we honor the distinguished recipients of the Warren Alpert Foundation Prize at a symposium in the Martin Conference Center.  Read Dean Flier's blog post regarding the 2012 prize recipients.
Our
Mission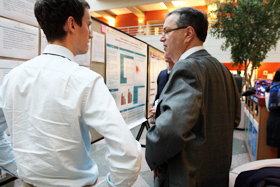 To create and nurture a diverse community of the best people committed to leadership in alleviating human suffering caused by disease.