The future of where and how we work is changing on a global scale. HMS recognizes that flexible work (flexwork) is an important strategic tool to:
Achieve institutional goals.
Attract and retain talent amid an increasingly competitive landscape.
Empower employees and increase work/life balance.
Maintain business continuity in case of disruption.
Support a diverse and inclusive work environment.
In addition, HMS employees have indicated a clear desire to extend flexwork options long term:
In a fall 2020 survey, 87 percent of 846 respondents from administration, education, and dry research areas said they would like to work remotely two or more days per week post-pandemic if given the choice.
In a fall 2021 survey, 96 percent of 355 individuals surveyed within administrative departments indicated they anticipated being on campus an average of zero to two days a week, working the remaining days remotely if able and given the choice.
For all the above reasons, HMS Dean George Q. Daley and Executive Dean for Administration Lisa Muto have designated flexwork as a top management priority for the School.
HMS is committed to finding additional opportunities to continue to gain community feedback on the status of hybrid and remote work.
Why Flexwork?
Committing to flexwork long term will enable HMS to:
Create and support an environment and culture that better reflects our mission, community values, and diversity statement.
Position itself as a workplace of choice for both job seekers and current employees.
Reduce our carbon footprint and create a more sustainable campus.
Plan for changes today that reflect the vision of where and how we work tomorrow.
Buttress School efforts with supportive, forward-looking University policies.
Optimize space planning and technology to collocate hybrid teams, support new work models, and enable space efficiencies.
Why Now?
The HMS Flexwork Initiative was formally initiated in fall 2020. To date, we have:
Completed the long-term visioning phase of the Flexwork Initiative (Sept. 2020 to July 2021).
Launched the flexwork planning and implementation phase (July 2021 to future state), which includes:

Transitioning long-term visioning into planning and implementation, with a distinct focus on people and physical supports.
Continuing to gather community and stakeholder feedback while identifying opportunities to implement flexwork supports in pursuit of our long-term vision.

Identified opportunities for efficiency in on-campus administrative real estate, providing an ideal opportunity to:

Explore flexspace models for administrative units that expect to be on a hybrid schedule.
Launch a feasibility study for potential flexspace in Gordon Hall (spring 2022).
How Does HMS Define Flexwork?
There are many types of dynamic and flexible work arrangements as defined by Harvard Human Resources. These arrangements can include hybrid and remote work, flexible hours, compressed work week, reduced hours, and job sharing.
HMS has defined the following workplace models: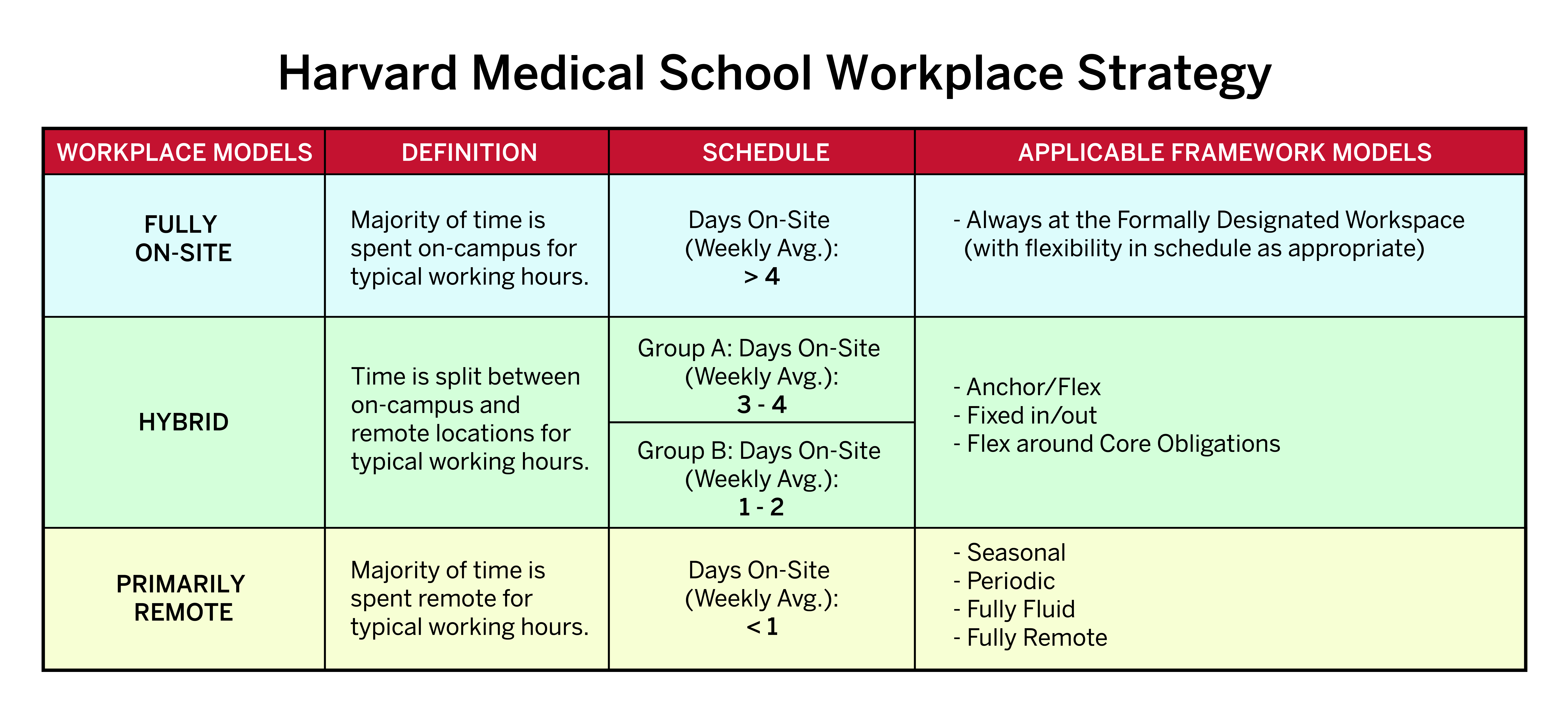 Particular areas of focus for the HMS Flexwork Initiative are the hybrid and primarily remote work models. In fall 2021, as part of the Flexwork Initiative, HMS department/unit leaders began applying these flexwork models to their teams equitably, without bias, and based on their unique business needs, the operational needs of the School, and the nature and duties of an individual's role and job requirements as part of their team. HMS leadership fully supports the flexwork model decisions made by local department/unit leaders and encourages testing, learning, and adapting as part of this process. It is also important to note that many units delayed the implementation of their flexwork plans until spring 2022. School leadership understands that units are likely to adapt their plans as they implement them and determine what is working and where improvements should be made.
Resources for Staff
Resources for Managers and Leaders
Return to Campus Information
We have transformed the HMS coronavirus website into a new resource focused on Returning to Campus: Information for the HMS Community. There, you can access information on current guidelines on masks and face coverings, physical distancing, events and gatherings, testing, vaccines, and safety protocols, as well as information on parking, public transportation, dining, and other campus services. A list of frequently asked questions with information specific to returning to campus is also available.