Daniel D. Federman (1928-2017)
Daniel D. Federman (1928-2017)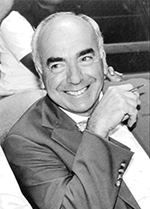 Dr. Federman was a towering presence at Harvard for nearly 70 years, graduating summa cum laude from Harvard College in 1949 and magna cum laude from HMS in 1953. He spent almost his entire professional career devoted to our community, serving as the Carl W. Walter Distinguished Professor of Medicine, Dean for Medical Education, and in other key roles in the labs, classrooms, and offices at Harvard Medical School, Massachusetts General Hospital, and Brigham and Women's Hospital.
His contributions to Harvard Medical School, to medicine, and to improving lives everywhere are the stuff of legend. From his groundbreaking work in endocrinology and clinical work in the treatment of thyroid cancer, to his landmark book "Abnormal Sexual Development," creation of the New Pathway model of student-centered instruction, and, most recently, partnership with our medical students and alumni, he saved lives, comforted families, transformed careers, and changed HMS and medicine for the better.
Please click here to view a special tribute video that was created a few years ago to honor Dan's legacy at HMS.
In lieu of flowers, Dan had requested that any gifts in his honor be sent to HMS to support financial aid for medical students. You can make a gift online by clicking here.