Find your Class
Classes ending in 3 or 8
Check back frequently. Additional details will be posted as Reunion gets closer. The majority of Reunion information will be provided electronically, so update your email address at key.harvard.edu.
Submit Your Reunion Report Entry By Dec. 1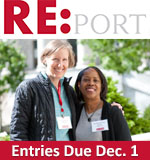 Every member of your class with a valid mailing address will receive a Reunion Report, which includes contact information, along with photos and essays. Some of your biographical information is pulled directly from our database to pre-populate your entry. This information will be included in your Reunion Report, so please verify or correct your entry.
Information about your Reunion Report can be found on your class web page:
IMPORTANT DATES 
December 1: Reunion Report submissions deadline
February 14: Registration opens
May 23: Registration closes
May 31 - June 2: Reunion
June 30: Reunion class gift deadline
*The core Reunion program will be held May 31–June 2, but Reunion Committees will be planning additional class-specific activities that may occur outside these dates. Programming details will be communicated as soon as they are confirmed.
2018
Reunion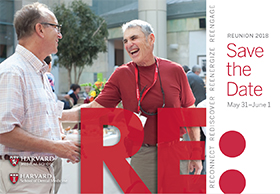 Classes ending in 3 or 8, Reignite the curiosity you enjoyed as a student. Start planning to Reconnect with your classmates and Rediscover the campus during your Reunion May 31 - June 2.

To provide you with the best Reunion experience the Office of Alumni Engagement reserved rooms at special rates at premier Boston venues. Click here for details »