Class of 2008
Class of 2008: 10th Reunion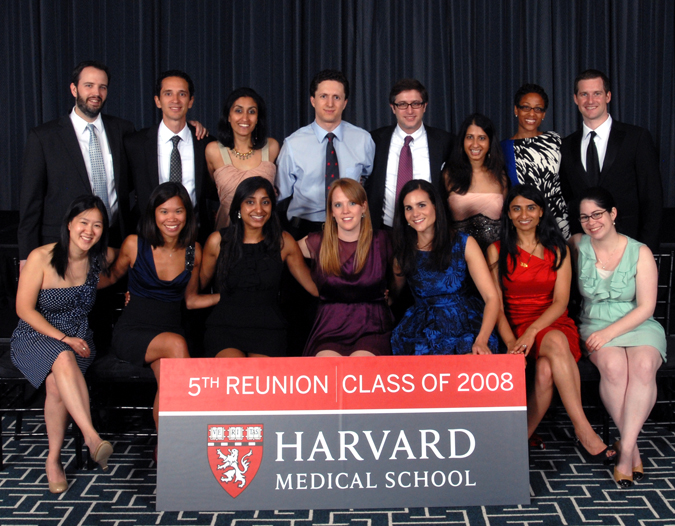 The majority of Reunion information will be provided electronically. Please check back frequently for updates! To ensure you receive important announcements, please visit key.harvard.edu to claim your HarvardKey, the University's replacement for alumni.harvard, and update your contact information.
DOWNLOAD YOUR CLASS SCHEDULE
Reconnect with your class and enjoy class-specific programs. Click here to download a full schedule of events »
REGISTER TODAY!
$50 registration fee
Online registration closes on May 23.
Onsite registration will be available May 31-June 1.
There are two easy ways to register:
Online, by credit card:
Click here to access your secure class registration site»
You will need your HarvardKey to login.
If you need a registration form mailed to you, please call the Office of Alumni Relations at 617-384-8520.
The Reunion Report Site is Now Closed. 
Thank you to everyone who submitted their entry to the Reunion Report. Your book will be mailed to you in May 2018. 
To make your voluntary payment for the Reunion Report click here »
Questions about Reunion? Call 617-384-8520.
---
We're currently recruiting members of your class to help organize and celebrate your Reunion. For more information on how to join, please contact your 10th Reunion coordinator, Julie Griffin-Carty.
2018
Reunion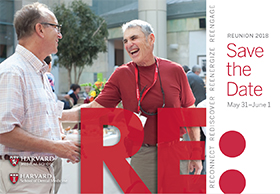 Classes ending in 3 or 8, Reignite the curiosity you enjoyed as a student. Start planning to Reconnect with your classmates and Rediscover the campus during your Reunion.

To provide you with the best Reunion experience the Office of Alumni Engagement reserved rooms at special rates at premier Boston venues. Click here for details »
IMPORTANT
DATES 
May 23: Registration closes
May 31 - June 2: Reunion
June 30: Reunion class gift deadline
Committee
Daniel Cassarella, DMD 
Priscilla Hanudel, MD
Lauren Henderson, MD
Melissa Pena, MD
Kristy Rialon, MD