Class of 1997
Class of 1997 20th Reunion
DOWNLOAD YOUR CLASS SCHEDULE
Reconnect with your class and enjoy class-specific programs. Click here to download a full schedule of events »
REGISTER TODAY!
$90 through May 24
$110 registration fee day of Reunion, June 1 - 2
To register go Online, by credit card:
​Click here to access your secure class registration site »
You will need your HarvardKey to login.
Questions about your registration? Please call the Office of Alumni Relations at 617-384-8520.
The Reunion Report Site is Now Closed. 
Thank you to everyone who submitted their entry to the Reunion Report. Your book will be mailed to you in May. To make your voluntary payment for the Reunion Report click here.
---
DATES TO NOTE
May 24: Online Registration closes 
June 1-3: Reunion 
June 30: Deadline for Reunion Giving
2017
Reunion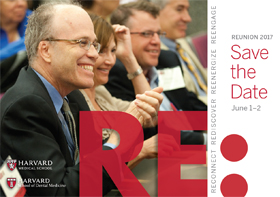 Classes ending in 2 or 7, Reignite the curiosity you enjoyed as a student. Start planning to Reconnect with your classmates and Rediscover the campus during your Reunion in June.

To provide you with the best Reunion experience the Alumni Relations Office reserved rooms at special rates at premier Boston venues. Click here for details »
Committee
Sitaram Emani, MD
Joel Gelfand, MD
Chi-Cheng Huang, MD
Steve Kalkanis, MD
Elena Martinez Stoffel, MD
Allison McDonough, MD
Geoff McDonough, MD
Mireya Nadal-Vicens, MD
Shona Pendse, MD