Class of 1966
Class of 1966: 50th Reunion
If you preordered your photo during registration or at the Gala, you should be receiving it in the mail shortly.
To order a copy of the formal photo of your class click here.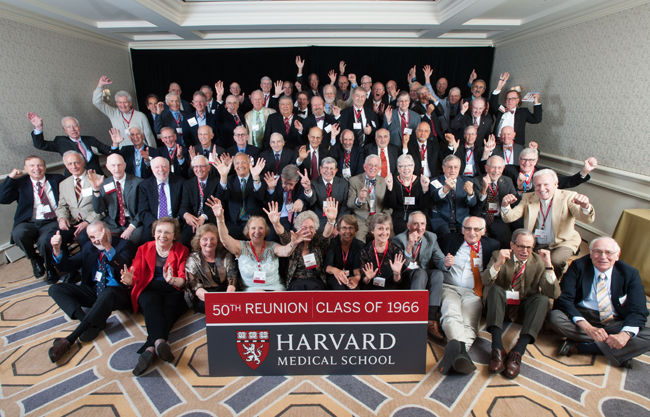 Thank you to all who attended the 2016 Reunion and Alumni Week.
If you weren't able to return to the Quad, or if you want to relive the fun, event photographers were there to capture all the special moments. Videos are also available from the Dean's Address and the Annual Business Meeting of the HMAA.
All the photos taken by our photographers at Reunion (except the class photos taken at the Gala) are available for free download here »

To download an image, click the download button located under the photo. Your download will begin immediately.
Highlights
Attendee List »
Dean's Address Video »
HMAA Annual Business Meeting Video »
Reunion Honor Roll »
Committee
Jay Kaufman, MD
Chair
Laurence Beck, MD
Robert Binder, DMD
Bruce Cutler, MD
Suzanne Fletcher, MD
Joel Friedman, MD
Thomas Gettelfinger, MD
Larry Gettleman, DMD
Jonathan Glass, MD
Robert Greenes, MD
Charles Hatem, MD
Edward Hughes, MD
Barbara McNeil, MD, PhD
Lyle Micheli, MD
Scott Nelson, MD, MPH
Bob Owen, MD
Michael Rie, MD
John Schott, MD
William Shipley, MD
Phillip Stubblefield, MD
Frank Welsh, MD
William Wood, MD