External Workshops and Courses
External Workshops and Courses
Below is a list of upcoming events and workshops that may be of interest. Many of these workshops are taught by HMS faculty and staff. For an extensive listing of courses held at these various institutes, see the Related Links menu on the sidebar.
EMBL-EBI Training Course: Advanced RNA-Seq and ChiP-Seq Data Analysis
When: May 11-14, 2015
Where: European Bioinformatics Institute, United Kingdom
Registration Deadline: March 27, 2015
Lectures will give insight into how biological knowledge can be generated from RNA-seq and ChIP-seq experiments and illustrate different ways of analyzing such data. Practicals will consist of computer exercises that will enable the participants to apply statistical methods to the analysis of RNA-seq and ChIP-seq data under the guidance of the lecturers and teaching assistants. Familiarity with the technology and biological use cases of high throughput sequencing is required, as is some experience with R/Bioconductor.
CSHL Course: Single Cell Analysis
When: June 3-16, 2015
Where: Cold Spring Harbor Laboratory
Registration Deadline: March 15, 2015
The goal of this two week course is to familiarize students with the most recent cutting edge technologies for characterization of single cells. Important in this process will be highlighting the advantages to analysis of single cells in isolation and in their natural microenvironment. Sections of the course will be taught by scientists who are expert in particular areas of single cell analysis.
EMBL Master Course: Bioimage Data Analysis 
When: June 7-13, 2015
Where: EMBL Heidelberg, Germany
Registration Deadline: April 16, 2015
This course will focus on computational methods for analysing images of single molecules, cells and tissues, to boost the learning process of participants who have an immediate need to deploy image analysis in their own research. For this, the course extends from basic principles to the actual implementation of workflows using scripting. By increasing their image analysis literacy, participants will greatly enhance the scope, creativity and achievements of their research projects. Expert knowledge will be gathered to create a world-leading course for image analysis in the field of biology.
EMBO Practical Course: Advanced electron microscopy for cell biology 
When: June 9-18, 2015
Where: Bordeaux, France
Registration Deadline: March 31, 2015
This EMBO Practical Course offers the opportunity to acquire a portfolio of cutting edge EM methods; allowing the participants to integrate EM tools and readouts into the workflow of their own cell biological research projects. The practical course focuses on teaching the theoretical background and the latest practical developments in the field. They include (i) state of the art fixation including cryo-methods, (ii) correlative light and electron microscopy, (iii) molecular mapping (immuno-EM), iv) three-dimensional EM imaging using tomography and serial imaging, and (v) advanced quantitative image analysis (stereology, nanomorphomics). A further "unique selling point" is the training we provide in project/experimental design, often adapted to each of the students projects.
EMBL Advanced Course: Fluorescence Imaging Techniques
When: June 28-July 3, 2015
Where: EMBL Heidelberg, Germany
Registration Deadline: April 1, 2015
This six day practical course covers advanced light microscopy techniques and participants will learn how to derive qualitative and quantitative insights on molecular mechanisms in cells and developing organisms. Invited guest researchers together with experts from the EMBL and microscopy professionals will foster an intense information flow with a balance of lectures and practical workshops. The focus of the course will be on the use of fluorescence microscopy to obtain quantitative information about protein dynamics in living samples.
EMBO Practical Course: High-throughput protein production and crystallization
When: June 29-July 8, 2015
Where: Marseille, France
Registration Deadline: April 7, 2015
Determination of the 3D structure of proteins is a must when it comes to explore the details of their functions and/or their interactions. Production of soluble proteins and protein crystallization are the main challenges we have to face in our daily research. Genomics consortia have largely contributed to the development of high-throughput methods that are now integrated in our laboratories and undoubtedly boost our research activities. The goal of this EMBO Practical Course is to provide PhD students and young researchers with the current knowledge in the use of these innovative methods for high-throughput soluble protein expression and crystallization.
EMBO Workshop: Neural circuits and behavior of Drosophila
When: July 5-10, 2015
Where: Kolympari, Greece
Registration Deadline: May 1, 2015
Drosophila is emerging as one of the primary model systems for the genetic investigation of neural circuits and behaviour. This EMBO Workshop will focus on recent technical and conceptual developments in the field, including genetic methods for identifying and manipulating specific cell types, optogenetics, electrophysiology, EM reconstructions, and automated analysis of behaviour.
CSHL Course: Proteomics
When: July 14-27, 2015
Where: Cold Spring Harbor Laboratory
Registration Deadline: March 31, 2015
This intensive laboratory and lecture course will focus on cutting-edge proteomic approaches and technologies. Students will gain practical experience purifying and identifying protein complexes and posttranslational modifications. The aim of the course is to provide each student with the fundamental knowledge and hands-on experience necessary for performing and analyzing proteomic experiments. The overall goal is to train students to identify new opportunities and applications for proteomic approaches in their biological research.
EMBL Advanced Course: Super-Resolution Microscopy
When: July 20-25, 2015
Where: EMBL Heidelberg, Germany
Registration Deadline: April 23, 2015
This six day advanced course on fluorescence super-resolution microscopy will cover the theory and practical application of current super-resolution microscopy techniques to biological questions. The participants will have sufficient time to use current super-resolution microscopes for Localisation Microscopy (e.g. dSTORM /GSDIM) and STED Microscopy with samples prepared during the course. At the end of the course, the participants will be able to plan an experiment using super-resolution microscopy, acquire high quality data at the microscope and analyse the images with state-of-the-art computational methods. Invited guest researchers together with experts from the EMBL and Leica Microsystems will ensure that all aspects are covered in depth.
Online: iBiology Microscopy Course
This course is available for FREE online.
View Course HERE.
Light microscopy has become one of the most useful tools in the life sciences. Following the traditions of great courses on light microscopy, such as those offered by the Marine Biological Laboratory, EMBO, and the NCBS in Bangalore, this free online comprehensive course begins with the basics of optics, proceeds through transmitted light microscopy, covers the various methods of imaging fluorescent samples, describes how cameras work and image processing, and concludes with some of the latest advances in light microscopy. In addition to lectures, we also provide labs (filmed at a microscope) and short tips, so as to cover pragmatics of how to use microscopes. Assessments are provided for each lecture. Enjoy learning microscopy!
Mission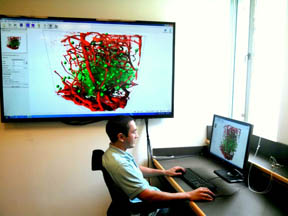 To support and stimulate the development and dissemination of tools and technologies to ensure that HMS maintains world leadership in critical areas of biomedical research.