External Workshops and Courses
External Workshops and Courses
Below is a list of upcoming events and workshops that may be of interest. Many of these workshops are taught by HMS faculty and staff. For an extensive listing of courses held at these various institutes, see the Related Links menu on the sidebar.
 
EMBO Workshop: Neural circuits and behavior of Drosophila
When: July 5-10, 2015
Where: Kolympari, Greece
Registration Deadline: May 1, 2015
Drosophila is emerging as one of the primary model systems for the genetic investigation of neural circuits and behaviour. This EMBO Workshop will focus on recent technical and conceptual developments in the field, including genetic methods for identifying and manipulating specific cell types, optogenetics, electrophysiology, EM reconstructions, and automated analysis of behaviour.
CSHL Course: Proteomics
When: July 14-27, 2015
Where: Cold Spring Harbor Laboratory
Registration Deadline: March 31, 2015
This intensive laboratory and lecture course will focus on cutting-edge proteomic approaches and technologies. Students will gain practical experience purifying and identifying protein complexes and posttranslational modifications. The aim of the course is to provide each student with the fundamental knowledge and hands-on experience necessary for performing and analyzing proteomic experiments. The overall goal is to train students to identify new opportunities and applications for proteomic approaches in their biological research.
EMBL Advanced Course: Super-Resolution Microscopy
When: July 20-25, 2015
Where: EMBL Heidelberg, Germany
Registration Deadline: April 23, 2015
This six day advanced course on fluorescence super-resolution microscopy will cover the theory and practical application of current super-resolution microscopy techniques to biological questions. The participants will have sufficient time to use current super-resolution microscopes for Localisation Microscopy (e.g. dSTORM /GSDIM) and STED Microscopy with samples prepared during the course. At the end of the course, the participants will be able to plan an experiment using super-resolution microscopy, acquire high quality data at the microscope and analyse the images with state-of-the-art computational methods. Invited guest researchers together with experts from the EMBL and Leica Microsystems will ensure that all aspects are covered in depth.
EMBO Practical Course: Structure, dynamics and function of biomacromolecules by NMR
When: July 31-August 7, 2015
Where: Germany
Registration Deadline: May 15, 2015
The intention of the course is to provide practical training in important aspects of using solution state NMR spectroscopy for studying the structure, dynamics and function of biomolecular macromolecules. The emphasis will be on setting up experiments on the spectrometer (optimizing parameters, pulse programs), on processing and analyzing the NMR data and on structure calculations in a hands-on fashion. Topics covered include: triple resonance pulse seuqences, RDCs, NMR relaxation measurements and data analysis, PREs, structure calculation and validation.
EMBO Practical Course: Image processing for cryo electron microscopy
When: September 1-11, 2015
Where: London, United Kingdom
Registration Deadline: May 11, 2015
The aim of the course is to teach the basic principles and practical aspects of image processing to bioscientists and structural biologists wishing to determine macromolecular structures by cryo electron microscopy (EM). The course will concentrate on processing of single particle images, and will be aimed at advanced PhD students and postdocs using cryo EM images for structural analysis.
CSHL Course: The Genome Access Course (TGAC)
When: September 2-4, 2015
Where: New York Genome Center
Rolling Admission
The Genome Access Course is an intensive two-day introduction to bioinformatics. The core of the course is the analysis of sequence information framed in the context of completed genome sequences. The course also features methods to assist the analysis and prioritization of gene lists from large scale microarray gene expression and proteomics experiments.
MBL Course: Computational Image Analysis in Cellular and Developmental Biology
When: October 11-21, 2015
Where: MBL, Woods Hole, MA
Application Deadline: June 12, 2015
This 10 day course offers theory and hands-on training in the design and implementation of image processing software required for the quantitative and mechanistic analysis of light microscopy data in cellular and developmental biology. An additional subject in the course will be software design, addressing both the implementation of optimized algorithms and sharable code, including programming in teams. This course is targets students with fairly advanced knowledge of programming.
EMBL Introductory Course: Statistical Bioinformatics using R and Bioconductor
When: October 12-15, 2015
Where: EMBL Heidelberg, Germany
Registration Deadline: July 20, 2015
This beginner level course provides a basic training in statistical bioinformatics analysis using R and Bioconductor. The course topics include an introduction to R and Bioconductor, exploration of data using appropriate graphics, basics on statistical testing as well as regression and principal component analysis. A particular focus will be on tools to facilitate downstream analysis.
CSHL Course: Programming Biology
When: October 12-27, 2015
Where: Cold Spring Harbor Laboratory
Registration Deadline: July 15, 2015
Designed for lab biologists with little or no programming experience, students will leave the two-week Programming for Biology course with the bioinformatics and scripting skills necessary to exploit this abundance of biological data. The prerequisite for the course is basic knowledge of UNIX; some scripting experience is helpful. Lectures and problem sets from previous years that cover this background material are available online and students can study this material before starting the course.
EMBL Advanced Course: Digital PCR
When: October 22-23, 2015
Where: EMBL Heidelberg, Germany
Registration Deadline: July 23, 2015
Real-time PCR has been adopted as the gold standard for nucleic acid target quantification in genomics research and is increasingly used for clinical analysis. However, there are some applications, such as precise measurement of copy number variation, low-abundance sequence detection, detection of rare mutations, including distinguishing rare sequences in tumours, and low-level gene expression analysis, where real-time PCR shows limitations. Digital PCR overcomes those limitations by enabling researchers to directly quantify nucleic acids, without the need for a standard curve, and provides higher precision than real-time PCR. This course will show you how to plan, perform, and analyze digital PCR experiments and how digital PCR can help your research to overcome the limitations of real-time PCR.
CSHL Course: Advanced Sequencing Technologies and Applications
When: November 10-22, 2015
Where: Cold Spring Harbor Laboratory
Registration Deadline: July 15, 2015
This intensive 2 week course will explore applications of next generation sequencing technologies, with a focus on commercially available methods. Students will be instructed in the detailed operation of several revolutionary sequencing platforms, including sample preparation procedures, general data handling through pipelines, and in-depth data analysis. A diverse range of the types of biological questions enabled by next-generation sequencing technologies will be explored including DNA re-sequencing of known cancer genes to compare tumor and normal DNA, de novo DNA sequencing and assembly of bacterial genomes, RNA-sequencing, and others that are tailored to the student's research areas of interest. Guest lecturers will highlight their own applications of these revolutionary technologies. 
Online: iBiology Microscopy Course
This course is available for FREE online.
View Course HERE.
Light microscopy has become one of the most useful tools in the life sciences. Following the traditions of great courses on light microscopy, such as those offered by the Marine Biological Laboratory, EMBO, and the NCBS in Bangalore, this free online comprehensive course begins with the basics of optics, proceeds through transmitted light microscopy, covers the various methods of imaging fluorescent samples, describes how cameras work and image processing, and concludes with some of the latest advances in light microscopy. In addition to lectures, we also provide labs (filmed at a microscope) and short tips, so as to cover pragmatics of how to use microscopes. Assessments are provided for each lecture. Enjoy learning microscopy!
Mission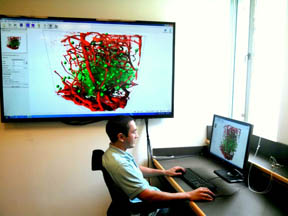 To support and stimulate the development and dissemination of tools and technologies to ensure that HMS maintains world leadership in critical areas of biomedical research.