Directory
Committee Members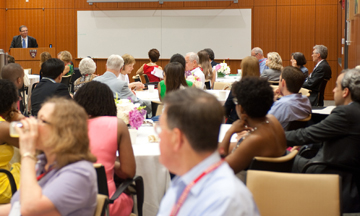 2015 Committee Members
W. Gerald Austen, MD
Carl N. Brownsberger, MD
Roman W. DeSanctis, MD
David S. Fischer, MD
Harris Hyman, MD
David G. Nathan, AB '51, MD
Ernest H. Picard, MD
Mitchell T. Rabkin, AB '51, MD
Robert H. Resnick, MD
Bruce J. Sams Jr., MD
Eleanor Gossard Shore, AB '51, MD, MPH '70
Joseph S. Barr Jr., MD
Peter V. Barrett, MD
Melvin C. Britton Jr., MD
Roger J. Bulger, AB '55, MD
Robert J. Dobrow, MD
Lawrence M. Fishman, AB '55, MD
Stuart L. Fischman, DMD
Michael M. Frank, MD
Rex L. Jamison, MD
Robert E. Kleiger, MD
M. David Kurland, MD, SM '94
Albert B. Levin, MD
Anthony B. Nesburn, MD
Eric L. Radin, MD
Jane G. Schaller, MD
William B. Stason, MD, SM '75
Richard J. Wurtman, MD
William W. Babson Jr., MD
Bruce A. Chabner, MD
William G. Couser, AB '61, MD
Clyde S. Crumpacker II, MD
Mina Farhad, AM '58, PhD '63, MD
Horst S. Filtzer, MD
Morris A. Fisher, MD
Henry Philip Godfrey, AB  '61, MD
Martin L. Greene, AB '61, MD
Timothy E. Guiney, MD
Marc J. Gurwith, MD
Glenn E. Haughie, AB '61, MD, MPH '70
Charles Kenyon, MD
W. Michael Kuehl, AB '61, MD
Karen S. Kuehl, MD
Barry W. Levine, MD
John J. McNamara, MD
James A. Nelson, AB '61, MD
Gilbert S. Omenn, MD
Kenneth R. Ratzan, MD
Alan A. Rozycki, MD
Henry E. Schniewind Jr., AB '61, MD
Harold C. Sox Jr., MD
Jeffrey A. Stein, AB '60, MD
Samuel Strober, MD
Cary Akins, AB '66, MD
Clarence W. Applegate, MD
Michael I. Bennett, AB '66, MD
Stephen A. Colchamiro, DMD
Malcolm Cox, MD
John A. K. Davies, AB '64, MD
John B. Emans II, AB '66, MD
S. Jean H. Emans, AB '66, MD
Richard I. Fisher, MD
Joan H. Goldberg, AB '66, MD
Peter L. Gross, AB '66, MD
Frederic E. Hyman, MD
Michael B. Millis, AB '66, MD
James M. Rabb, AB '66, MD
David H. Bor, MD
Claire V. Broome, AB '70, MD
Homero R. Garza, MD, MPH '76
Paul W. Ladenson, MD
Edward M. Lukawski, AB '71, MD
Ramon F. Martin, MD
Reed E. Pyeritz, AM '71, PhD '72, MD
Jessie L. Sherrod, MD
Mark C. Shields, AB '70, MD
Laura L. Tosi, MD
Scott T. Aaronson, MD
Thomas J. Cavin, AB '76, MD
Sharon Ann Clark, MD
Lewis R. First, AB '76, MD, SM '85
Julia A. Haller, MD
Griffith R. Harsh IV, AB '75, MD
Virginia T. Latham, MD
Joseph Madsen, MD
John B. Pick, DMD
Charles Simmons
Mary E. Sunday, MD, PhD '82
Elizabeth S. Kaufman, MD
Evan Loh, AB '81, MD
Elizabeth L. Petri Henske, MD
Melissa Welch, MD
Janey L. Wiggs, MD
Ginat Wintermeyer Mirowski, MD, DMD '86, MMSc '88, PD '88
Christine M. Albert, MD, MPH '97
David M. Altshuler, MD, PhD '90
Philip Blazar, AB '86, MD
Harold J. Burstein, AB '86, MD, AM '94, PhD '94
Jennifer L. Carter, MD, MPH '91
Benjamin T. Davis, MD
Carol A. Dean, MD
Thomas J. Gill IV, AB '86, MD
Anne R. Hansen, MD, MPH '95
Tiron C. Pechet, AB '85, MD
Eileen E. Reynolds, AB '86, MD
Benjamin Scheindlin, MD
Priscilla J. Slanetz, MD, MPH '91
Erica R. Thaler, MD
Ann Celi, MD, MPH '02
Paula Goodman Fraenkel, AB '91, MD
Marissa M. Howard-McNatt, MD
Emily Oken, MD, MPH '03
Monique A. Rainford, MD
Walter M. Ralph Jr., MD, PhD '95
David H. Roberts, MD
Rodney J. Taylor, AB '91, MD
Steven J. Wang, AB '91, MD
Ritu S. Batra, AB '95, MD, MPH '00
Aradhana M. Venkatesan, MD
Sean A. Wright, MD
Blair Johnson Wylie, MD
John Voorhees Wylie Jr., MD
Robert J. Casey III, MD
Dan Kramer, MD, MPH '14
Carlos Julio Ledezma, MD
Margot L. Phillips, MD
Robert Michael Daly, Jr., MBA '07, MD
Lauren Gilstrap Milley, MD
Amara L. Mulder, AB '03, MD
2014 Committee Members
K. Frank Austen, MD
Richard C. Burnstine, MD
C. Peter Crowe Jr., MD
William L. Green, MD
Charlotte G. Neumann, MD
Thomas F. O'Brien , MD
Miles F. Shore, MD
James F. Upson, MD
James E. Barrett Jr., MD
Robert S. Blacklow, MD
Norman A. Clemens, MD
Karl Engelman, MD
Alan J. Friedman, MD
Paul Friedmann, MD
Donald B. Giddon, DMD, PhD
Arthur L. Herbst, MD
David Korn, MD
S. Bert Litwin, MD
Kilmer S. McCully, MD
Bucknam McPeek, MD *
David Rush, MD
Paul E. Sapir, MD
James J. Sidd, MD
Carolyn Aldredge, MD
David Chapin, MD
Boyd Eaton, MD
Steve Hulley, MD
Joe Hurd, MD
Jay Jackman, MD
A.W. Karchmer, MD
Bob Lawrence, MD
Bob McCarley, MD
Georges Peter, MD
Joel Rubenstein, MD
Steve Schroeder, MD
Peter Steinglass, MD
Tom Vernon, MD
Lowell Young, MD
Robert C. Bast Jr., MD
Curt R. Freed, MD
Michael A. Gimbrone Jr., MD
Donald A. Goldmann, MD
Stephen V. Hall, MD
Edward P. Hoffer, MD
Leonard B. Kaban, MD
Morton G. Kahan, MD
Jonathan E. Kolb, MD
Robert J. Mayer, MD
William E. Seaman, MD
George E. Thibault, MD
Kenneth W. Chin, MD
Mark W. Clark, MD
Howard H. Goldman, MD
Eleanor T. Hobbs, MD
Amy A. Pruitt, MD
Christopher M. Rose, MD
Gloria E. Singleton-Gaston, MD
Mary H. Briggs, MD
Anne F. St. Goar, MD
Eve J. Higginbotham, MD
Nancy E. Oriol, MD
Deborah B. Prothrow-Stith, MD
Rhonda E. Rand, MD
Dan H. Rome, MD
Andrew Satlin, MD
Richard M. Schwartzstein, MD
Judith K. Stein, MD
Bartholomew J. Tortella, MD
Cherie Warner, MD
Susan M. Witkie, MD
Erik H. Gaensler, MD
Edward M. Hundert, MD
John E. Jordan, MD
Richard T. Kenney, MD
Stephanie J. Marioneaux, MD
Richard N. Mitchell, MD
Martin R. Prince, MD
Peter L. Slavin, MD
Alan C. Yeung, MD
Daniel Bloomfield, MD
Glenn Chertow, MD
Bob Giugliano, MD
Michael Givertz, MD
Eric Isselbacher, MD
Pablo Lapuerta, MD
Ann Lindgren, MD
Charlotte Mao, MD
Domenic Zambuto, MD
Timothy J. Friel, MD
Jason R. Gee, MD
Lauren O. Glickman, MD
Alisa B. Goldberg, MD
Joshua M. Hauser, MD
Stella K. Kim, MD
Marc S. Sabatine, MD
Theresa L. Shanahan, MD
Lori B. Daniels Krummen, MD
Craig D. Norquist, MD
Matthew F. Reeves, MD
Elissa B. Rottenberg, MD
Bradley A. Sharpe, MD
Elizabeth A. Comen, MD
Julie H. Levison, MD
Wei Lin, MD
Jennifer Y. Chen, MD
Joanna Mimi Choi, MD
Ariela L. Marshall, MD
Brenda Anders Pring, MD
Sewit Teckie, MD
Tian Zhang, MD
Classes ending in
0 or 5
Thank you to all who attended the 2015 Reunion! We look forward to seeing everyone in 2020!
Reunion
Giving
Many alumni stretch their normal giving, or give for the first time, to present a class gift that will make a substantial impact on HMS and its students.
Learn more »
2014 Recap
Thank you to our nearly 600 guests!
If you weren't able to return to the Quad, or if you want to relive the fun, event photographers were there to capture all the special moments and videos are available from select symposia, the Dean's State of the School, and the Annual Business Meeting of the HMAA. Click here »