Voices
Autumn 2015, Volume 88, Number 3
The Voices Issue, Autumn 2015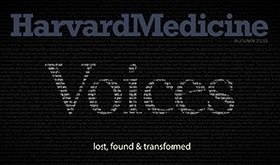 Harvard Medicine tunes in to the complexities of the voice and vocal structures—what it means to lose voice, regain voice, or change voice to reflect an inner self. Video introduction.
Harvard Medicine Editorial Staff
Editor: Ann Marie Menting
Design Director: Paul DiMattia
Assistant Editor: Susan Karcz
Since 1927
Harvard Medicine, formerly the Harvard Medical Alumni Bulletin, has sought to capture the work of the Harvard Medical School community and to highlight its contributions to human health.