Classes of 2010-2012
Honor Roll of Donors: Fiscal Year 2013
Please select your graduation year below to see which members of your class made a gift.
---
Class of 2010
Raised: $2,545 for HMS, 16% participation
Laura M. Chiang, MD
Robert M. Daly Jr, MD
Lauren G. Gilstrap, MD
Kenneth R. Gundle, MD
Stephen J. Huffaker, MD
Emily R. Kane, MD
Chao Li, MD
Marsha C. Lynch, MD
Eric C. Makhni MD, MD
Sara E. Mixter, MD
Amara L. Mulder, MD
Kush M. Parmar, MD, PhD~
Sean M. Penwell, MD~
Evan L. Rachlin, MD
Daniel P. Seeburg, MD
Ryan J Smart, MD
Michael D. Smith, MD
Sophia M. Soni, MD
Carolyn O. Walsh, MD
Mauro W. Zappaterra, MD, PhD
Legend
~ Dean's Council Member + Ezekiel Hersey Council * Deceased
---
Class of 2011
Raised: $1,100 for HMS, 11% participation
Chitra P. Akileswaran, MD
Matthew C. Baker, MD
Aretha D. Davis, MD
Dan M. Drzymalski, MD
Adrienne B. Gropper, MD
James S. Guseh II, MD
Stephanie A. Hanson, MD
Elizabeth C. Kwo, MD
Andrew C. McKown, MD
Kristin J. Nierenberg, MD
Obianuju J. Obi, MD
Erika A. Pabo, MD
Adnan Prsic, MD
Andrew J. Schissler, MD
Katherine H. Walker, MD
Marc E. Walker, MD
Belinda A. Waltman, MD
Laura E. Warren, MD
Samuel L. Zager, MD
Legend
~ Dean's Council Member + Ezekiel Hersey Council * Deceased
---
Class of 2012
Raised: $1,270 for HMS, 16% participation
Sheila P. Abdallah, MD
Carolyn W. April, MD
Jasmine B. Barrow, MD
Christine E. Bookhout, MD
Ian A. Buchanan, MD~
Kristin M. Castillo, MD
Lindsay W. Cole, MD
Michael A. Dyer, MD
Wesley H. Greenblatt, MD
Hermioni N. Lokko, MD~
Mayce Mansour, MD
William S. McClelland, MD
Timothy J. McGlaston, MD~
Ejike N. Okoro, MD
Chensi Ouyang, MD~
Jason R. Rafferty, MD
Paulvalery Roulette, MD
Shira S. Simon, MD~
Bethany L. Strong, MD~
Edward W. Swanson, MD
Sonali D. Talsania, MD
Erika M. Walsh, MD
Adam S. Was, MD~
Rebecca A. Wehrly, MD
Legend
~ Dean's Council Member + Ezekiel Hersey Council * Deceased
---
All gifts and pledges received July 1, 2012, through June 30, 2013, have been reviewed carefully to ensure that each gift is properly recognized. Occasionally, despite best efforts, a name may be listed incorrectly or omitted. We sincerely apologize if this is the case. Please alert us to such errors by contacting Shaké Sulikyan, Senior Director of Annual Giving, at shake_sulikyan@hms.harvard.edu or (617) 384-8454.
Honor Roll
of Donors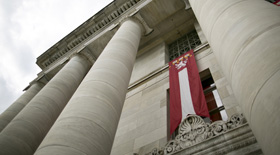 We are honored to acknowledge and thank the many donors who have chosen to support the School through individual, corporate, and foundation giving.
Alumni
Website
The Harvard Medical Alumni Assocation is keeping nearly 10,000 living alumni connected. What can we do for you?
Visit the HMAA online for information about keeping connected, getting involved, events, and lifelong learning. Click here »