Stories
Stories
Landmark $90 million gift from Ludwig Cancer Research will enable life-changing advances
This gift reflects a portion of a $540 million gift—reportedly among the largest private gifts for cancer research—divided equally among six Ludwig Centers at academic institutions throughout the U.S. Read more »
---
Evergrande Center creates new hub for studying immunologic diseases
The new Evergrande Center for Immunologic Diseases at Harvard Medical School and Brigham and Women's Hospital (BWH) joins leading experts focused on studying the role of chronic inflammation in normal health and during disease. Read more »
---
Fondation Bertarelli's $9 million gift aims to unravel complexities of the human brain
Fondation Bertarelli expands the Bertarelli Program in Translational Neuroscience and Neuroengineering at HMS and EPFL and establishes the Bertarelli Catalyst Fund for the Dean of HMS, with the goal of enabling key research opportunities at the School. Read more »
---
Paralysis: Gordons push for better treatments, possible cure
Ellen R. Gordon, GSA '69, and her husband, Melvin J. Gordon, AB '41, MBA '43, are bolstering their advocacy and commitment to advancing research in this field with a gift of $5 million to Harvard Medical School and Spaulding Rehabilitation Hospital through the Cele H. and William B. Rubin Family Fund. Read more »
---
250 genomes, 125 diverse human populations
With support from the Simons Foundation, David Reich, AB '96, PhD, professor of genetics at HMS is sampling two individuals from 125 populations across the globe to elucidate the history and natural selection of human populations and to identify important parameters in the search for disease-causing genes. Read more »
---
Amplifying anti-aging research
The work of David Sinclair, PhD, professor of genetics and co-director of the Paul F. Glenn Laboratories for the Biological Mechanisms of Aging at Harvard Medical School, is being advanced by a gift from Mathilde and Bertrand Thomas via the Caudalie Foundation. Read more »
---
Nancy Lurie Marks Family Foundation strives to unravel the mysteries of autism
The Nancy Lurie Marks Family Foundation (NLMFF) is committed to unraveling the secrets of the disease and improving the lives of people with autism with a gift of more than $500,000 to fund research by Bernardo Sabatini, BS '91, MD '95, PhD '99, Takeda Professor of Neurobiology at HMS, and his lab team. Read more »
---
Society master leads by example
In support of HMS's society structure and in an effort to perpetuate the concept of these "learning communities," Arky has established a $300,000 charitable gift annuity that will ultimately create the Marie and Ronald Arky, MD Endowed Mastership Fund for the Francis Weld Peabody Society at Harvard Medical School. Read more »
---
Alumnus propels the power of critical thinking
Lowell Young, MD '64, credits Harvard Medical School with helping to build a foundation for his professional success. To support the next generation of medical students as they develop their own analytic abilities and to express his gratitude for the education he received at HMS, Young established a charitable gift annuity (CGA). Read more »
---
Lifting the burden of student debt
Phyllis Gardner, MD '76, P '09, '17, and her husband, Andrew Perlman, MD, PhD, P '09, '17, both believe that the students attending Harvard Medical School will shape the future of science and medicine. To support the next generation, the pair have given $150,000 to the scholarship fund they established in 2010. Read more »
---
Estate gift supports cultivation of the best doctors, researchers, and students
Florence McGuire Roe, a dedicated philanthropist and art lover, named Harvard Medical School as a beneficiary of more than $100,000 from her estate. Read more »
---
Iconic HMS leader lends support to School priorities
Perhaps no one is more familiar with Harvard Medical School than Daniel D. Federman, AB '49, MD '53. His unrestricted gift of $100,000 allows Dean Flier to direct funds where they're needed most. Read more »
---
Hitting a home run for area students
The Red Sox Foundation and John Kaneb, AB '56, a Red Sox partner and CEO of HP Hood, have teamed up to support HMS's Project Success, which has been in operation for 20 years and offers paid, full-time, summer biomedical research internships to underserved 11th- and 12th-grade students in Boston and Cambridge who are interested in science and math. Read more »
---
Herbst encourages students to "ask why"
With his 55th reunion approaching, Arthur Herbst, AB '53, MD '59, decided that it was time to give back. By establishing the Arthur L. Herbst Endowed Research Fund with gift of $100,000 primarily from his IRA, he hopes to assist highly motivated students. Read more »
---
WWII veteran leaves lasting legacy with unrestricted support
Ralph M. Fox graduated from Harvard Medical School in 1942, a year marked by the looming crisis of WWII. Nearly every member of that class joined the reserves of either the Army or the Navy, and Fox was no exception; he served as a U.S. Navy medical officer. Today, Fox's legacy of service endures through a $100,000 bequest from his estate for unrestricted use by HMS. Read more »
I Am
Harvard Medicine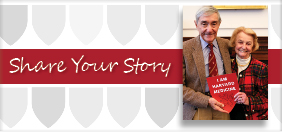 Whatever you are doing and wherever you are working around the globe, YOU are Harvard Medicine.

The Benefactor
Partners in Discovery
Download and read archived issues of our bi-annual publication to honor and acknowledge our most generous friends and supporters.