Leonard D. Schaeffer Professorship in Health Care Policy
Leonard D. Schaeffer Professorship in Health Care Policy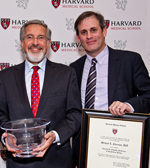 Made possible through the generosity of Leonard Schaeffer, the Judge Robert Maclay Widney Professor and Chair at the University of Southern California and member of the HMS Board of Fellows and Health Care Policy Advisory Council, the appointment honors extraordinary accomplishment in research at the intersection of economics and health care.
Schaeffer, who shares a passion with Chernew for understanding and solving the nation's pressing health care challenges, is a senior advisor to TPG Capital and a partner at North Bristol Partners, a privately held consulting company. He was the founding chairman and CEO of WellPoint, one of the nation's largest health insurance companies, and its predecessor company, Blue Cross of California, from 1986 through 2004, where he served as chairman through 2005. Schaeffer has held several prominent government positions, including administrator of what is now known as the Centers for Medicare and Medicaid Services and assistant secretary for management and budget of the U.S. Department of Health and Human Services.
Chernew, whose academic career is focused on understanding the factors that affect health care spending, evaluating innovative payment methods, and advising health care policy organizations, is committed, like Schaeffer, to controlling costs and improving quality of care.
Our
Mission
To create and nurture a diverse community
of the best people committed to leadership in
alleviating human suffering caused by disease