1.07MD Degree with Honors in a Special Field
1.07 MD Degree with Honors in a Special Field
The MD degree with Honors in a Special Field (cum laude, magna cum laude, summa cum laude) is awarded to graduating MD degree candidates who have performed original and meritorious investigation in a subject and have demonstrated ability, scholarship, and special knowledge of the field in which the chosen subject is a part. An original thesis, describing basic or clinical research or other scholarly investigation (e.g., social sciences, ethics, history of medicine) involving a minimum of four to six consecutive months (often more, in the experimental biological sciences) must be submitted for consideration and will form the basis for an oral examination.
The MD Honors Thesis must be distinct from any prior or concurrent graduate-level thesis (e.g., MPH, PhD).
Candidates for Honors in a Special Field should speak with one of their Society Fellows, complete a Statement of Intent no later than the first Monday of October in the expected year of graduation, and submit their full proposal to the coordinator of Honors in a Special Field (located in the mezzanine of Cannon Society). The thesis submission deadline is during the first week of February. Oral examinations are held in March and the first half of April.
HST/London Society students are required to submit their completed theses to the HST Program for evaluation and submission to the Honors process.
A student must be in good academic standing in the MD program to be considered for a degree with honors.
Our
Mission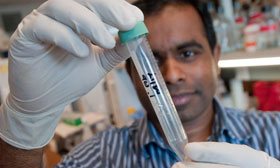 To create and nurture a diverse community of the best people committed to leadership in alleviating human suffering caused by disease