FAQ
Common Questions About Financial Aid
I am a prospective student. When do I start the financial aid application process?
Prospective students do not need to submit any application materials to the financial aid office until they have been admitted into HMS. Admitted students will receive financial aid application instructions with their letters of acceptance from the Admissions Office.
What is the deadline to apply for financial aid?
The financial aid deadline for incoming students is April 1st. Award decisions for on-time, completed applications will be processed and mailed out by April 30th.
The financial aid deadline for continuing students is May 15th. On-time applications will be processed with award notifications emailed in July.
Timely submission of all application materials is essential as financial aid decisions are based on financial need and availability of funds: late applicants could jeopardize their access to limited sources of aid.
How does HMS make financial aid decisions?
For Students Applying for Institutional Funds:
HMS awards its own scholarships and loans, and federal campus-based loans according to a student's assessed financial need. That need is based upon an analysis of the parents', the student's, and the student's spouse's (when applicable) financial disclosures subjected to a national needs analysis formula. Need is met with a financial aid package consisting of two basic components: the first portion is the "unit loan" (a package of loans); the second portion is scholarship grant, offered to those whose need exceeds the established unit loan level. Applicants whose forms are submitted late are offered a package of remaining funds available.
Students entering HMS in August 2014 or later: institutional scholarship awards are capped at the level of required tuition and fees charges. Eligibility for institutional scholarship funding is limited to eight semesters of full tuition charges.
For Students Applying for Federal Funds Only:
Parent financial disclosures are not required when applying for most federal financial aid programs.
Please refer to the HMS Financial Aid Guidebook for more information on the financial aid application process.
I'm financially independent from my parents. Do I need to submit parent information?
Students who would like to be considered for institutional grants and loans must supply parent financial information regardless of age, dependency, marital status, tax status, income level or prior history of financial independence. Students who are age 29 and older may have their parent contribution reduced by a certain percentage based upon the student's age. Please refer to our student age policy for more details.
What if I have no contact with my non-custodial parent?
In cases when the whereabouts of a student's parent is unknown or the student has not had contact with that parent for a significant period of time, the Financial Aid Office may waive the requirement for that parent's financial information. To qualify for this waiver, the family situation must be documented by a third party professional who has long-term, personal knowledge of the family. Please refer to the Petition for Waiver of Non-Custodial Parent Information for more details.
I am a DACA-eligible student. Is financial aid available at HMS?
Yes, DACA-eligible students may apply for need-based institutional aid. Qualifying students receive aid packages similar to an international student.
Why do married students have to submit financial information from both their parents and spouse?
HMS considers all available family resources when determining a student's financial need for institutional funds. This policy ensures that the criteria in the awarding of need-based institutional funds are the same for all students. When considering a spousal financial contribution in this determination, HMS recognizes that some finances must be protected to cover the spouse's own living expenses. In many cases, the spouse's presence in the calculation does not result in an increased expected contribution.
Why was I offered scholarship by another medical school but not by HMS?
Schools may have different financial aid packaging policies according to the school's own resources and its applicant pool. You may have had a level of need which was scholarship-eligible at another school but not high enough to receive scholarship at HMS. It is also possible that the other school made a special recruitment incentive offer or merit-based award, which HMS does not provide.
My parents are not going to contribute to my medical education. How do I cover the expected parent contribution?
Students may borrow unsubsidized Direct loans and Graduate PLUS loans to cover their expected parent contribution. International students have the option of borrowing private outside loans to cover their family's contribution.
I have children. How do they affect my financial aid package?
Allowances toward child care expenses are considered in the needs analysis when determining a student's expected financial contribution toward educational costs. If the basic allowances for child care expenses exceed available income to cover these costs, the Financial Aid Office may be able to increase a student's budget for the shortfall.
In addition, the Financial Aid Office may increase a student's budget for reasonable daycare expenses. The student must submit supporting documentation of day care costs. These costs are split between the student and the student's spouse. In the case of a single parent, the entire cost may be applied as an increase to the student's budget. This increase in budget ordinarily is met with unsubsidized loans.
How do I appeal the financial aid award decision?
If your family's circumstances have changed since filing your financial aid applications, or if you think an unusual aspect of your case did not receive full consideration, you should make an appointment with your Financial Aid Officer to discuss your case. The Officer will give you guidance on what kind of documentation you must provide to request your appeal. If your case warrants an adjustment which is permissible within established policies, an administrative adjustment may be made with available funds. If your request cannot be met without amending established policy, your case may be referred to the HMS Financial Aid Committee. The Committee reviews the majority of appeal cases in April (newly admitted applicants) and October (currently enrolled students). If the Committee decides that an adjustment to your award is appropriate, it will be made using whatever funds are available at the time. The deadline for filing an appeal is April 15th and October 1, respectively.
How do I find out information about outside scholarships?
Students should visit the AAMC and the AMA for information on potential outside scholarship sources. Students are encouraged to check with their local towns for potential scholarship funding sources as well. The Financial Aid Office receives scholarship information from various organizations periodically throughout the academic year. Students are notified about these scholarship opportunities via email. In addition, the Financial Aid Office has available a scholarship reference book listing potential outside sources of funding.
How do outside scholarships affect my financial aid package?
Any outside award is first applied towards parent contribution and then toward loan reduction, starting with the least favorable loan in a student's financial aid package. The HMS scholarship is the last award that is impacted by receipt of outside scholarships.
Funding received from the Scholars in Medicine Office (SiM) for third and fourth year students is treated in a similar manner as an outside award. Second year students typically receive SiM funding during the summer months. Funding during the summer is not applied toward a second year student's financial aid package since second year students are not considered enrolled in traditional HMS coursework during this time.
What is the Federal Work-Study program and how do I qualify?
Work-Study is a federal student employment program which provides job opportunities in career-related positions for students who wish to earn funds to pay for school. The federal government subsidizes the wages of participating students so that the employer has to pay only 30% of the student's wages. A student's eligibility is based upon financial need. Students apply for work-study by first applying to HMS for financial aid and then subsequently submitting a Work-Study application. Participating students are responsible for finding their own jobs; information on available positions is available from the HMS Financial Aid Office. Your Financial Aid Officer can provide you with an estimate of your eligibility for Work-Study. A Work-Study award can be used to reduce your unit loan borrowing, or, upon request and when eligible, can replace a portion of the computed parent contribution. Ask for the Work-Study application materials in the Financial Aid Office.
A portion of my financial aid will cover my living expenses. When and how do I receive this money?
Students should complete a Refund/Cash Advance Request form to obtain money for living expenses. Students may stop by the Financial Aid Office to complete the form or they may submit their requests online.
First and second year students may request a refund for their fall living expenses in September. Students will need to place a separate refund request in January for their spring living expenses.  First year students have the option of requesting a cash advance in August upon matriculation of up to $1,000 (if living on-campus) or $2,000 (if living off-campus) to cover expenses incurred during the 1st month of school.
Third and fourth year students may request a cash advance of up to $4,000 in June to cover their July and August living expenses. Students will receive their full refund in September to cover their fall term living expenses. Students will need to place a separate refund request in December for their spring living expenses.
I need to purchase a computer. Are there financial aid funds available for this expense?
Students may borrow up to $2,500 in additional unsubsidized loans to purchase a computer, printer & software for school. A receipt of the computer purchase must be provided to the Financial Aid Office. Students interested in this option should speak with a financial aid staff member prior to the purchase. Note: requests for additional funding are limited to one such purchase increase during tenure at HMS.
I may not complete my M.D. program in 4 years. How does this decision affect my financial aid package?
Students who extend their program beyond the traditional 4 year curriculum at HMS to pursue an enrichment activity ordinarily are charged 4 consecutive years of full tuition and are charged a facilities fee for their 5th year. Students are eligible to apply for financial aid during their 5th year; this aid is in the form of loans only for students entering HMS in August 2014 or later. A student's fifth year budget is much lower since a reduced facilities fee charge replaces tuition. Note: Students extending their program for reasons other than an enrichment year may be assessed additional tuition charges. Living expenses mirror the fourth year graduating student budget. Students are required to speak with their financial aid officer to discuss how taking an enrichment year will affect their specific financial aid package.
What happens to my financial aid if I take a leave of absence (LOA)?
If a student takes a leave of absence after the semester has begun, tuition and housing charges may be prorated based upon when the student ceases enrollment at HMS. The Financial Aid Office will revise the standard budget to reflect the adjustments to tuition and housing charges as well as prorations to other costs, and will calculate an adjusted award. Students must contact the Financial Aid Office to set-up a mandatory loan exit interview counseling session. For more information on how a leave of absence impacts a student's financial aid package, please see the HMS Financial Aid Guidebook.
What is the average graduating debt of an HMS student? How does this compare with other schools?
The average graduating debt for the HMS Class of 2014 was $103,937. The national average for all medical schools was $176,348. The national average when comparing private medical schools was $190,053.
What loan forgiveness programs are available?
The HMS Financial Aid Office is pleased to offer two institutional loan forgiveness programs available only to HMS students! The first program is called the HMS Public Service Initiative. This program is designed to target graduating HMS students who have the intention of pursuing careers in public service.
The second program is called HMS HMS Alumni Loan Repayment Assistance Program (LRAP). This program is designed to provide debt-relief payments to alumni with modest incomes and high debt-to-income ratios. Please see the loan forgiveness section of the Financial Aid Website for more information.
In addition, many state and federal loan repayment programs are available to medical students. Please visit the AAMC for a listing of available loan repayment resources.
Where can I find more information about HMS's financial aid policies?
To learn more about HMS's financial aid policies, please refer to the HMS Financial Aid Guidebook.
Our
Mission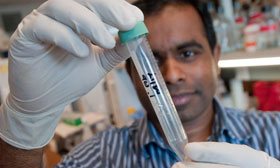 To create and nurture a diverse community of the best people committed to leadership in alleviating human suffering caused by disease