M.D. Tracks
The HMS Integrated Curriculum
---
Throughout its history, Harvard Medical School has influenced the design of medical school education. From Harvard University President Charles Eliot's  19th century reform—developing the concept of a medical school as we know it today—to the groundbreaking New Pathway curriculum of the 1980s, HMS has been in a continual process of growth and change. In 2006, HMS implemented enhancements to its curriculum to meet the needs of 21st century medicine by integrating clinical and basic science across the curriculum, developing new models for clinical education, and engaging students in an in-depth scholarly experience.
The curriculum begins in mid-August with Introduction to the Profession, an intensive two-week course designed to introduce students to the profession, the practice of medicine, and the experiences that lie before them as they embark on the process of becoming physicians. Students spend years one and two focused on the basic biological and population sciences that underline clinical medicine. In April of year two, students transition from the classroom to the clinical realm, and are joined by their HST classmates in years three and four. In year three, individual clerkships in the major disciplines of medicine (medicine, surgery, pediatrics, obstetrics and gynecology, psychiatry, neurology, radiology) unify in a "Principal Clinical Experience," which provides opportunities for longitudinal experiences with patients and faculty mentors as well as an interdisciplinary curriculum that integrates the scientific and clinical aspects of important diseases.
Throughout the four years of medical school, students work one-on-one with faculty mentors. In this vein, the capstone experience for our students is a several-year, faculty-mentored, in-depth scholarly experience culminating in a written work product. Such exploration of a topic in-depth allows students to participate with faculty in the excitement of discovery and scholarship. In the final year, students pursue special concentrations and participate in advanced clerkships with other institutions both domestic and international. The HMS Integrated Curriculum prepares graduates to function in an increasingly multicultural landscape undergoing radical scientific, social, economic and technological transformation. HMS seeks to ready students for this new world by providing them with the ideal educational environment and carefully integrated global experience to foster their growth as clinicians, scholars, discoverers, and leaders.
Our
Mission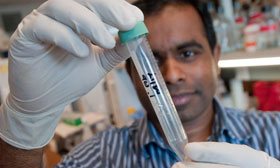 To create and nurture a diverse community
of the best people committed to leadership in alleviating human suffering caused by disease