Survey Results
Survey Results
Findings include (as of July 2):
85% of respondents are interested in participating in student-focused opportunities, the most popular being advising student with career paths similar to their own.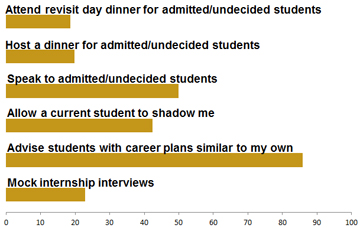 52% of respondents are interested in participating in peer-focused opportunities, including taking part in a committee representing their graduation decade, serving on their Reunion committee, or hosting alumni in their home.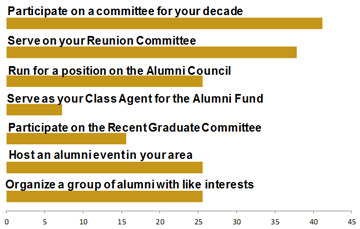 42% of respondents are interested in service-focused opportunities, including learning about volunteer opportunities and projects that fellow alumni are leading, especially in medically underserved areas.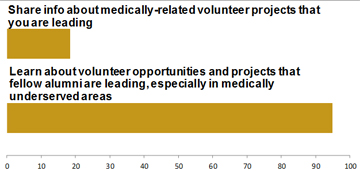 We listened:
Contact information for individuals who expressed an interest in working with current students has been shared with the Office of Student Affairs.
The Office of Alumni Relations has followed up with individuals who expressed interest in participating on a committee, serving as a Class Agent, or hosting an informal alumni event in their home. 
The Alumni Council is exploring online solutions that could allow alumni to sign up for volunteer opportunities, interact with students who have questions for alumni, as well as share information on service projects they are leading.