Simons Foundation
Simons Foundation grants reveal answers about autism

The genetic mutation that leads to Angelman syndrome is found in a region of DNA that in some people is duplicated and can lead to autism. Greenberg and his colleagues at Harvard Medical School have identified several novel substrates for the enzyme that when mutated causes Angelman syndrome, knowledge they hypothesize will lead to a greater understanding of how these factors contribute to some of the neurological and cognitive dysfunction associated with autism.
"Government funding for research is very tight right now so organizations that support basic research that is relevant to diseases is very valuable," says Greenberg. "SFARI is building a partnership around autism research that will really make a difference."
The Centers for Disease Control and Prevention estimates that roughly 1 in 110 children in the U.S. have autism. Howley's colleagues are looking at proteins that have been implicated in ASD and are working to unravel how these proteins interact and function in neurons. This work will help advance research toward the treatment and amelioration of this troubling and complex disorder.
"This is a new area of research for us and grants like these from the Simons Foundation are crucial to build research such as this so it can be funded by the NIH," says Howley.
The grants are awarded from the Simons Foundation Autism Research Initiative, SFARI, a research campaign whose mission is to improve the diagnosis and treatment of ASD "by funding, catalyzing and driving innovative research of the greatest quality and relevance.
Our
Mission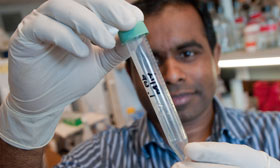 To create and nurture a diverse community
of the best people committed to leadership in alleviating human suffering caused by disease