News
The fourth-year medical student furrowed her brow, concentrating on the patient in front of her. Taking a deep breath, she slowly inserted a needle into the man's chest, guiding a catheter through a vein, then looked expectantly at her instructor.
"You got it on the first try," he said, much to her relief.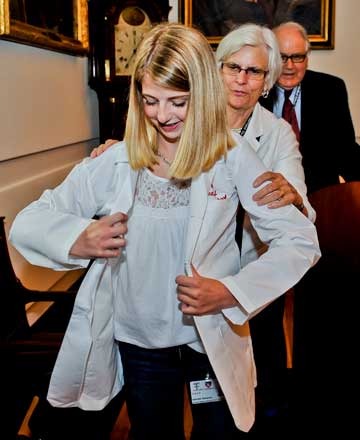 It's a typical scene from any Harvard Medical School student's life, except that the patient was a mannequin at Beth Israel Deaconess Medical Center's Carl J. Shapiro Simulation and Skills Center—and the medical student was anything but typical. She was Gabrielle "Gabby" Samsock, a 14-year-old Pennsylvania teen who, with the help of the Make-A-Wish Foundation, HMS and its affiliates, recently fulfilled her dream to be an HMS student.
"When we first meet kids, we ask them what they would choose if they could go anywhere, have anything, meet anyone or be someone," said Dana Antkowiak, marketing and communications coordinator for Make-A-Wish of Greater Pennsylvania and Southern West Virginia.
"Gabby's wish fell into the latter category, which makes up a very small percentage of the wishes we grant and tend to be unique," said Antkowiak, who explained that about half of the chapter's wish recipients request a trip to Walt Disney World.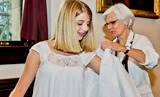 For the petite blond teen, however, becoming an HMS student for a week was a natural choice, one with deeply personal roots. Gabby was born with a rare congenital heart disorder called Shone's syndrome, which blocks blood flow to the heart and will eventually require Gabby to undergo a valve transplant. Several trips to Boston Children's Hospital for surgeries to treat the condition helped familiarize her with the Longwood Medical Area, and had a surprising effect on her career goals.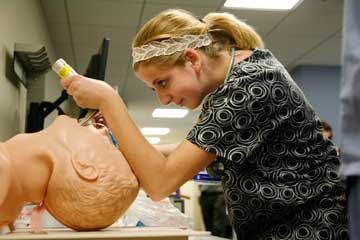 "I actually really like hospitals and medicine," Gabby admits. "Science is my favorite subject. I could sit in science classes all day and not get bored."
Enter Sheila Nutt, director of educational outreach programs at the Office for Diversity Inclusion and Community Partnership at HMS, who said she had never encountered the kind of request presented by the Make-A-Wish Foundation. "But the HMS community is one of compassionate healers, so helping make this young woman's dream come true seemed like a natural fit."
Drawing on the School's long history of collaboration, Nutt reached out to her friend and colleague Robert Kitts, an HMS instructor in psychiatry and attending child and adolescent psychiatrist at Children's. Kitts' reaction mirrored that of almost everyone involved in helping fulfill Gabby's wish: he was honored, enthusiastic and ready to make dreams a reality.
"We decided to try to recreate the experience of medical school for her in a week, from White Coat Day to graduation," he said, explaining that Gabby's experience began on the same day that first-year HMS students started their own campus orientation.
A challenge? Absolutely, but Nutt and Kitts had little trouble signing up volunteers, from cardiac surgeons at Children's, to robotics experts at the MIT's Stata Center, to real students at HMS.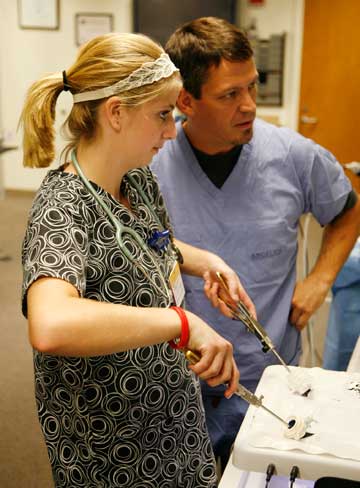 "I thought Gab's wish was admirable and inspiring and I wanted to help ensure it was a success," said Erin West, a fourth-year HMS student with an interest in both pediatrics and the psychosocial aspects of medicine. Along with several classmates, she took Gabby under her wing for the week, whether that meant accompanying her to classes or bonding over dinner at the teen's favorite restaurant.
Meanwhile, Nutt and Kitts had worked with colleagues to put together a week packed with learning experiences that included lectures on patient care at the Tosteson Medical Education Center, a tour of MIT and observing a surgery at Massachusetts General Hospital.
"Everyone throughout Harvard was so eager to help," said Nutt. "No one pointed out potential problems. Instead, they asked, 'What can we do to make this happen within the confines of a major medical center?' "
By Friday afternoon, Gabby was at Beth Israel Deaconess' Shapiro Center, learning to operate laparoscopic tools and undertaking a virtual gallbladder removal under the tutelage of simulation and skills specialist Darren Tavernelli. Her achievements—she is the youngest person to successfully complete a laparoscopic suture there—were made all the more impressive by the fact that she'd risen early that day to join fourth-year student Cyndie Seraphin in observing pediatric open-heart surgery at Children's.
"It was awesome!" Gabby said, her excitement belying her typically composed demeanor. "I just can't believe I got to do that." So awesome, in fact, that the experience reconfirmed her dream of becoming a pediatric cardiothoracic surgeon—the very type of specialist she has seen for years as a patient.
"It's been surreal to watch Gabby be at the hospital as a student, rather than a patient," said her mom, Melissa, who admitted she knew her daughter's wish would be something " a little bit off the wall, involving medicine."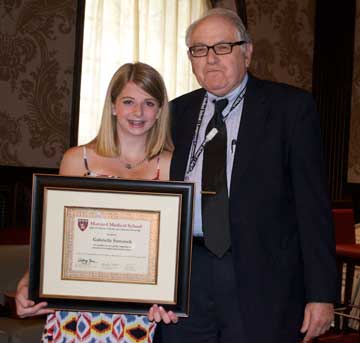 In a serendipitous twist, Nutt, Kitts and their colleagues had designed the cardiovascular-centric week without any advance knowledge of Gabby's career goals or her condition.
"We were all just so humbled by everything," said Kitts. "She chose spending a week with us as her wish, not meeting Justin Bieber." The feeling of gratitude was echoed on the evening of Gabby's "graduation" ceremony at Vanderbilt Hall.
"This week really floored me," Gabby said, as she accepted her certificate of achievement from Ron Arky, the Charles S. Davidson Distinguished Professor of Medicine and Master of the Francis Weld Peabody Society at HMS. "Thank you for truly making my wish come true," she said after emotional tributes from Seraphin, West and Arky. 
Later, Gabby celebrated as her fellow students surprised her with a musical revue that included a performance by West of Gabby's favorite Taylor Swift song, "Safe and Sound." Gabby wasn't the only one deeply affected by her experience at HMS.
"It means so much to have gotten to know you this week," Arky told her. "You've inspired all of us, and I hope I will watch you receive your real diploma someday."     
Gabby, who is just beginning her freshman year of high school and plans to fit extra biology classes into a schedule already filled with dance classes, friends and babysitting, agreed. "I want to go to HMS even more now," she said. "And maybe to Harvard or MIT for undergrad."
It's possible that Gabby's time at HMS could be the first installment of a twice-in-a-lifetime experience.