News
Daunting are the demands on junior faculty, from research and clinical care to teaching and family. In an ongoing effort to assist HMS junior faculty in career development and to help emerging talent climb the professorial ladder, the Office for Diversity and Community Partnership (DCP) in February conferred fellowships upon five rising stars.
The two-year, $100,000 fellowships come at a pivotal point in the recipients' career development, freeing them from clinical and teaching obligations to pursue research. Competition is stiff for the fellowships, which are awarded by the Harvard Catalyst Program for Faculty Development and Diversity (PFDD) and the DCP in collaboration with HMS, its affiliated institutions and the Harvard University Office of the Provost. In 2011, the five Faculty Fellows, as they are known, were selected from among 46 applicants by a committee of faculty and CEOs from HMS-affiliated institutions.
At a celebratory breakfast in February, Dean Jeffrey S. Flier extolled the recipients' "promising lives and careers" before a gathering of department chairs, mentors and former fellows.
"These fellowships," Flier said, "are a testament to the collaborative spirit of our community—and to its commitment to nurturing tomorrow's leaders in medicine and science."
Fellows conduct mentored research projects and participate in career development activities. They present their findings at the DCP-sponsored Minority Health Policy Annual Meeting through poster and oral presentations.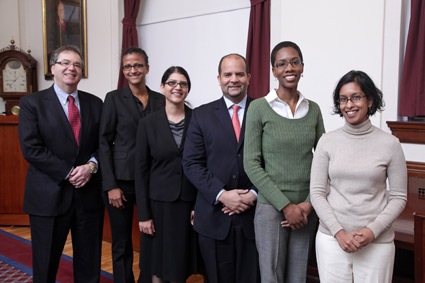 2011 Faculty Fellows
Following are the 2011 fellows and their research projects. The first is a PFDD Fellow; all others are DCP Fellows.
Patricia Sylla of the Department of Surgery at Massachusetts General Hospital will evaluate the safety and efficacy of transanal endoscopic rectosigmoid resection for rectal cancer, a type of Natural Orifice Translumenal Endoscopic Surgery (NOTES).
Sudha Biddinger of the Division of Endocrinology at Children's Hospital Boston aims to determine how diabetes modifies the response to statins using mouse models of Type 1 and Type 2 diabetes, potentially setting the stage for further studies of statins and lipoprotein metabolism in patients with Type 1 diabetes.
Sarosh Rana of the Department of Obstetrics, Gynecology and Reproductive Biology, Beth Israel Deaconess Medical Center, will investigate whether measuring angiogenic biomarkers in pregnant women with symptoms of preeclampsia results in a more accurate, quicker diagnosis of the condition, and whether alterations in these markers correlate with adverse pregnancy outcomes.
Aaron Styer of the Department of Obstetrics, Gynecology and Reproductive Biology at Massachusetts General Hospital will investigate the utility and application of microRNA (miRNA) technology to improve the diagnosis, treatment and surveillance of uterine fibroids, which have a disproportionately higher incidence in African-American women. This project aims to delineate the impact of ethnicity-specific fibroid miRNA expression on clinical outcomes.
Mary Townsend of the Department of Medicine at Brigham and Women's Hospital aims to build upon epidemiologic methods relevant to research on aging, a multi-dimensional outcome that encompasses survival, chronic diseases, mental health and physical and cognitive function.