News
Sustainability and Health at HMS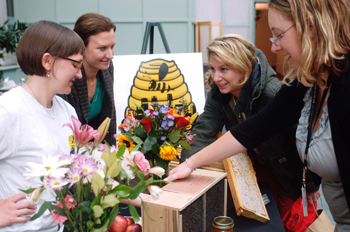 At events throughout April, Harvard's sustainability leaders raised awareness about environmental issues in celebration of Earth Day.
The third annual Green Carpet Awards, held April 12 at Sanders Theater in Cambridge, was the central university-wide event honoring sustainability team projects and leaders. HMS boasted seven Green Carpet awards for individual achievement and one team project winner for a recycling project.
HMS Manager of Campus Operations Vincent Mazzone and the custodial team received the team award for piloting a recycling program for polystyrene foam coolers across HMS's North Campus. Mazzone's team collected around 100 coolers per week for recycling and plans to expand the program across the HMS campus. Mazzone estimates that the program removes the equivalent of a 25-foot-long compacter's worth of polystyrene foam from the trash each week.
"One thing other schools might not know about recycling is that it's a lot easier to do than you expect. You don't have to reinvent the wheel," said Mazzone. "When we first looked into polystyrene foam recycling we thought we would have to bring in an outside machine to recycle it and that it would be expensive. The great thing about this project is that the single-stream compactor that we already use to recycle plastic, paper and cardboard can handle polystyrene foam. Now we're removing it from the waste stream."
On April 23, the Longwood campus kicked off a week-long celebration focused on the connection between health and the environment, beginning with a showcase of sustainable foods at the Courtyard Café. More than a dozen food vendors talked with students, staff and faculty about sustainable practices in food growing, packaging and composting.
"Everyone can find something that they're interested in this week," said Alicia Murchie, sustainability program manager for Harvard University's Longwood campus. "We're highlighting the connection between healthy food and the environment, but we also want to include all the green vendors that the medical school works with, from office and lab equipment suppliers to the bakers of the bread served in our cafeterias."
Speakers throughout the week included Herbert Benson, HMS Mind/Body Medical Institute Associate Professor of Medicineat Massachusetts General Hospital, and Noah Wilson-Rich, a bee researcher and urban bee-keeping consultant . Benson spoke about the connection between nature and relaxation; Wilson-Rich discussed the connections between bee—and human—health and the environment.
Wilson-Rich also hosted a booth for Best Bees, the company he founded for honey-bee research and honey production. The exhibit spurred attendee Moira Sheehan, an HMS research associate in surgery—clinical veterinarian, to consider setting up hives with the help of Best Bees, she said. "Beekeeping is an interesting topic to me, and this fair is a great way for people to learn how they can get involved in helping the environment." Sheehan said.
Murchie is encouraged by the high turnout during the week and the 45 percent recycling rate at the school. She hopes to lead a new energy reduction program in HMS labs in the fall. "You can really contribute in a lot of different ways," said Murchie. "Everyone can join in the effort if they open their minds and think about what they can do on an individual level whether at home or at work."
For more information about sustainability at HMS, contact Alicia Murchie at sustainability@hms.harvard.eduor visit www.green.harvard.edu/hms.    
HMS Green Carpet Individual Award Winners:
Genoa Wall – Building sustainable habits in her work community, Genoa provides resources to help others reduce their impact, provides reusable dishes and utensils, and has set up a place to collect grocery bags.
Janine Knudsen – Janine was the founder of the first annual Longwood Bike fair, which provided information about bike commuting, purchasing, maintenance and safety.
Jen Bellows – Co-chairs the HMS Green Team and enforces behavior changes pushing the office to green office certifications.
KJ Thomas – Aside from co-chairing the HMS Green Team, KJ pushed his office to Leaf 1 and volunteers at many HMS sustainability events.
Mayrev Moreshet – Mayrev supplies helpful knowledge and motivation to co-workers, and advocates for fair trade products, especially with regards to fish on the red list.
Robert Christiano - Bob has been instrumental in enacting numerous sustainability measures at HMS and repeatedly champions environmental efforts.  Some of the measures he has facilitated include single stream recycling; electronics and battery recycling; Styrofoam recycling; dining hall composting; the Countway Community Garden; and the HMS Freecycle room.
Earth
Day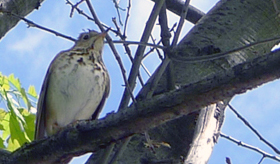 Sustainability leaders for the Longwood Medical Area emphasize the connections between health and the environment.