News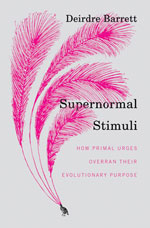 Deirdre Barrett
Supernormal Stimuli
W.W. Norton & Company
In the 1930s, the Dutch researcher Niko Tinbergen discovered that songbirds that lay pale blue, dappled eggs preferred to sit on plaster eggs that were painted bright blue with black polka dots. As a result of this and other experiments, Tinbergen coined the term "supernormal stimuli," referring to an exaggerated stimulus that elicits a stronger response than the original. Examples of this phenomenon can be found throughout the animal kingdom, and humans are no exception, writes Deirdre Barrett, HMS assistant clinical professor of psychology in the Department of Psychiatry at Cambridge Health Alliance. Barrett casts a wide net, examining why stimuli as varied as cheeseburgers, pornography and war lead to self-sabotage as we are blindly steered by our innate instincts. Cheeseburgers and other unhealthful foods, for example, appeal to our impulse to seek out once-rare nutrients like fat and sugar, but in this age of plenty, obeying that urge has led to an obesity epidemic. Barrett argues that we have one advantage over the songbird, however: we are smart enough to recognize when our natural impulses are being manipulated and therefore have the opportunity to exercise self-control.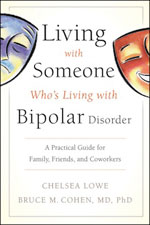 Bruce M. Cohen and Chelsea Lowe
Living with Someone Who's Living with Bipolar Disorder: A Practical Guide for Family, Friends, and Coworkers
Josey-Bass
For every person suffering from bipolar disorder, there are many loved ones suffering along with them. As a psychiatrist specializing in the treatment of the disorder, Bruce Cohen, the Robertson-Steele professor of psychiatry at McLean Hospital, recognized early in his career the importance of including loved ones in the treatment of his patients. Bipolar disorder is a complicated, often-misunderstood illness, writes Cohen, and family members are best equipped to help the patient cope when they have plenty of information. To that end, Cohen and coauthor Chelsea Lowe, have created a guide with the needs of friends and family members in mind. The book is divided into two parts: the first describes the nature of the disease, and the second describes the skills, techniques and resources necessary for living with someone who has bipolar disorder.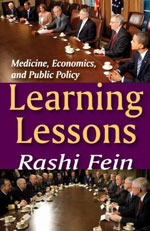 Rashi Fein
Learning Lessons: Medicine, Economics, and Public Policy
Transaction Publishers
Rashi Fein, HMS professor emeritus of economics of medicine, shares insights about the policy process gleaned from more than 50 years of experience as a scholar and policy adviser. Originally trained as an economist, Fein established himself in the policy arena by learning as he went rather than by adhering to a particular theory. Through sharing personal anecdotes from his career, he challenges people in policy development to consider their work from many different perspectives, using as broad a range of interests and fields of knowledge as possible. He urges these experts to avoid policies that are too constrained. Fein is not afraid to let his readers learn from both his successes and mistakes as he discusses the ways in which policy advisers can approach problems and make decisions.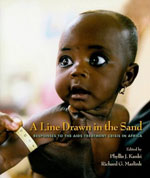 Phyllis J. Kanki and Richard G. Marlink, editors
A Line Drawn in the Sand: Responses to the AIDS Treatment Crisis in Africa
Harvard Center for Population and Development Studies
Advances in treatment have made HIV/AIDS in the United States predominantly a chronic condition rather than a death sentence. The latest and most effective treatment strategies are largely unavailable in Africa, however, which is where most of the world's HIV/AIDS patients live. Editors Phyllis Kanki, HSPH professor of immunology and infectious disease, and Richard Marlink, the Bruce A. Beal, Robert L. Beal, and Alexander S. Beal professor of the practice of public health at HSPH (also see From the Ground Up), have collected stories from four African nations where doctors, researchers, patients, and advocates are doing everything they can to reverse Africa's fate. The book includes accounts from Botswana, whose president declared war on the epidemic, and Senegal, which has been held up as a model for HIV/AIDS response, along with Nigeria and Tanzania. By including stories of individual change-agents and patients, along with color photographs, Kanki and Marlink make a large-scale problem personal.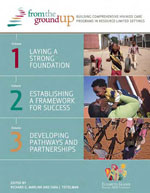 Phyllis J. Kanki and Richard G. Marlink, editors
From the Ground Up: Building Comprehensive HIV/AIDS Care Programs in Rescource-limited Settings
Elizabeth Glaser Pediatrics AIDS Foundation
This three-volume collection, edited by Phyllis Kanki and Richard Marklink (also see A Line Drawn in the Sand), describes in detail the best practices and lessons learned from HIV/AIDS professionals all over the world, with a special focus on sub-Saharan Africa. Each volume is named after an essential step in HIV/AIDS program implementation—"Laying a Strong Foundation," "Establishing a Framework for Success," and "Developing Pathways and Partnerships"—and chapters are grouped by topic. Like A Line Drawn in the Sand, From the Ground Up includes profiles and photographs of people on the front lines of the HIV/AIDS epidemic, lending a personal touch to the text. Also included is a searchable CD-ROM that contains the entire text.