News
Rattner Named Warshaw Family Professor of Surgery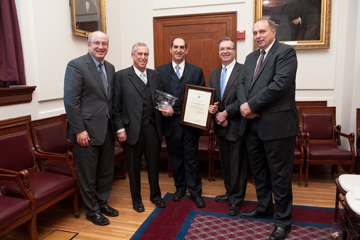 David William Rattner, a founding member of the Massachusetts General Physicians Organization and the Center for Innovative Minimally Invasive Therapies, has been selected as the first incumbent of the Warshaw Family Professorship in Surgery. He has held leadership roles in numerous national surgical organizations, including the Boston Surgical Society, the Society for Surgery of the Alimentary Tract, and the Society of American Gastrointestinal Endoscopic Surgeons.
Rattner earned his Doctor of Medicine degree from the Johns Hopkins School of Medicine and pursued his surgical training at Massachusetts General Hospital (MGH). He was appointed to the staff of the hospital's Department of Surgery in 1986 and named chief of the Division of Gastrointestinal and General Surgery in 1999. He became a professor of surgery at Harvard Medical School in 2003, and currently directs the MGH Advanced Minimally Invasive Surgery Fellowship.
The author of more than 150 original publications and 80 book chapters, Rattner has been invited to speak at prominent meetings across the globe. His major research efforts have included the pathogenesis of acute pancreatitis, the operating room of the future, and translumenal gastrointestinal surgery.
After receiving the Strategic Initiative Award from the Center for Innovative Minimally Invasive Therapies in 2007, Rattner's team developed three new surgical procedures that are currently in human clinical trials.
Supported by MGH, the professorship is named for Andrew L. Warshaw, surgeon-in-chief and chairman emeritus in the Department of Surgery at MGH and the W. Gerald Austen Distinguished Professor of Surgery at Harvard Medical School.. Upon his retirement, it will be known as the Andrew L. Warshaw Professorship in Surgery.