News
Professor Ito Captures Congressional Gold Medal
Susumu Ito, the James Stillman Professor of Comparative Anatomy Emeritus at HMS, was honored with the Congressional Gold Medal in November for exemplary service during World War II. Ito, a forward observer for his artillery unit, was part of a now legendary 1944 mission to rescue the Lost Battalion of the 36th Division, surrounded by German forces in the Vosges Mountains.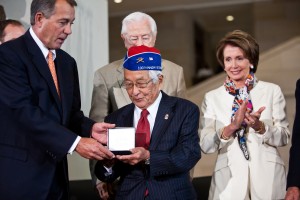 The Congressional Gold Medal is one of the highest of all civilian honors, presented for outstanding service to the nation. At a ceremony at the U.S. Capitol, Ito and thousands of Japanese American soldiers of the 100th Infantry Battalion, the 442nd Regimental Combat Team and the Military Intelligence Service were honored, with Ito and two others chosen to represent these three units.
Ito, the child of California sharecroppers—who were interned by the U.S. government with other Japanese Americans during the war—is  an expert on acid secretion by gastric parietal cells and the rapid repair of the gastric mucosa after its destruction. Ito joined HMS in 1960 as an associate in anatomy. Promoted to professor in 1969, he received his named professorship in 1982 and retired in 1990. Now 92, Ito still enjoys using the electron microscope to read lab tissue samples.
"For my fellow Nisei veterans and me, to serve in the military was an honor and opportunity to demonstrate our patriotism," Ito said. "We who are still able to be here accept the Congressional Gold Medal with pride and humility."
Watch a video of Ito on CNN.