News
Poussaint and Cosby, Partners Again
HMS psychiatrist, educator and social commentator Alvin Poussaint, HMS faculty associate dean for student affairs, has been honored for his work in support of children and families at Tufts University with the Eliot-Pearson Award for Excellence in Children's Media. His co-recipient at the Feb. 25 event was his former collaborator, the entertainer, educator and author Bill Cosby.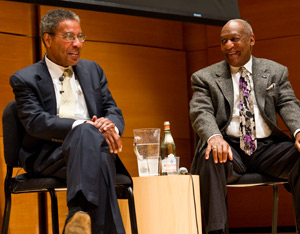 The so-called Abby award, co-sponsored by Tufts' Communications and Media Studies (CMS) Program and the Eliot-Pearson Department of Child Development, is given biennially to individuals, organizations or companies with a commitment to innovation, diversity, nonviolence and developmentally appropriate media. Nominees "work to create media that are free of gender, racial and ethnic stereotypes and that make a real difference in the lives of children," said CMS Director Julie Dobrow.
"I was very honored to receive such an award from this distinguished program at Tufts," Poussaint said.
An expert on race relations, families and parenting, Poussaint has long lent his voice to the prevention of child exploitation in the media. He was a production consultant to "The Cosby Show," in which Bill Cosby both starred and produced. Now a senior adviser for the Campaign for a Commercial-Free Childhood, Poussaint previously served as the media center director for the Judge Baker Children's Center, an HMS affiliate.