News
Pezcoller Award Honors Cancer Geneticist
Pier Paolo Pandolfi, the George C. Reisman Professor of Medicine, has won the Pezcoller Foundation-American Association for Cancer Research (AACR) International Award for Cancer Research. The $100,000 prize, announced Jan. 12, recognizes his outstanding work in the field of cancer genetics as well as in developing mouse models for cancer research and co-clinical testing of novel therapeutics.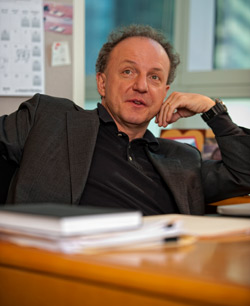 Pandolfi has made important contributions to the understanding of the molecular mechanisms and genetics underlying the pathogenesis of leukemias, lymphomas and solid tumors. A professor of medicine and pathology, he is also director of research at the Beth Israel Deaconess Cancer Center, director of the cancer genetics program, and chief of the division of genetics.
According to AACR chief executive officer Margaret Foti, Pandolfi's work has had a significant impact on understanding the basis of acute promyelocytic leukemia (APL), now considered curable. "His laboratory's mouse models for various subtypes of APL have shown efficacy when utilizing different drug combinations," she said. "Clearly, this innovative research is leading to progress in the treatment of other types of cancer."
The Pezcoller award, now in its 14th year, is presented to an individual of international renown who has made a major scientific discovery in basic or translational cancer research. Pandolfi will deliver a lecture, "The Non-Coding Revolution: A Coding-Independent Function of Gene and Pseudogene mRNAs Regulates Tumor Biology," at the AACR's 102nd Annual Meeting on April 4 in Orlando, Fla.