News
Olympic Healer Heads to London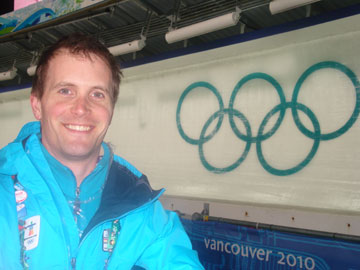 Not all of the elite athletes in London for the Olympics are competing in the games. A few of them, including a Harvard Medical School Fellow, are serving as sports medicine physicians.
Erik Brand, 2011-2012 Sports Medicine Fellow in the HMS Department of Physical Medicine and Rehabilitation at Spaulding Rehabilitation Hospital, was recently selected to serve at the 2012 Olympic Games.
Brand was chosen from among 250,000 volunteer applicants for the London Organizing Committee, host of the Olympic Games. He hopes to be stationed at the rowing/canoe venue. Brand has a history at the elite level of athletics, both as a rower and as a medical provider.
"As a rower at the University of Washington and Oxford, I was fortunate enough to spend six years training alongside athletes and coaches of the highest caliber," Brand said. "As a sports medicine physician, this experience helps me relate to my patients because I speak their language and understand the demands of training and competition. Through sports medicine, I have an opportunity to express my belief in the value of sport and exercise and serve the Olympic ideal."
As a member of the University of Washington crew, Brand helped the Huskies complete a historic sweep at the National Championships in 1997, and won Pacific 10 Conference championships in 1996 and 1997. While earning a master's degree in England, he helped Oxford break the seven-year winning streak of Cambridge in 2000.
As a medical student Brand also had an assistantship with the Australian Olympic Rowing team as they trained for the 2006 Commonwealth Games, and as a resident he was an observing team physician for the U.S. rowing team at the 2012 Junior World Championships. He also has Olympic experience as a transportation services volunteer at the 2010 Winter Olympic Games in Vancouver.
During his sports medicine fellowship at HMS, Brand has worked at Spaulding and at the Massachusetts General Hospital Sports Medicine Service, training under team physicians for the New England Patriots, Boston Red Sox, Boston Bruins and New England Revolution. He has also delivered talks on rowing biomechanics at MGH Sports Medicine and the Mayo Clinic.
After the Olympics this summer, Brand plans to pursue a career in sports medicine, helping athletes of all descriptions use exercise as a form of medicine.