News
New Neuroscience Consortium Announced
Massachusetts Gov. Deval Patrick, the Massachusetts Life Sciences Center and seven global biopharmaceutical companies announced on Wednesday the formation of the Massachusetts Neuroscience Consortium. The announcement took place in the Massachusetts Pavilion at the 2012 BIO International Convention. Speakers included Patrick; Susan Windham-Bannister, president & CEO of the Massachusetts Life Sciences Center; James Hoyes, president, EMD Serono; Jeffrey Flier, Dean of Harvard Medical School; and patients.
The Consortium is a new model designed to leverage the rich biomedical environment in Massachusetts in order to accelerate early-stage research available to the pharmaceutical industry, introducing academic researchers to the challenges of targeted research, and facilitating industry-academic collaborations.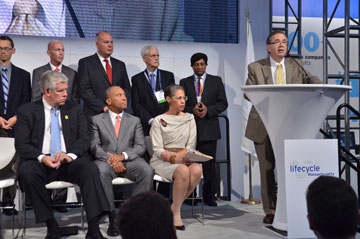 "The academic research community is committed to understanding these neurologic conditions at the most basic and fundamental molecular level, and most importantly, to translating that depth of understanding into clinical application," said Flier. "Basic discovery and translational science are essential to our success, and we in academia have the infrastructure to do it."
Participating companies have each pledged $250,000 to the Consortium, for total initial funding of $1.75 million. Members of the Consortium will solicit and review proposals from academic research institutions for pre-clinical neuroscience research. The first solicitation is expected to open in the fall of 2012. All Massachusetts academic and research institutions will be eligible to apply for grant funding through the Consortium. The Massachusetts Life Sciences Center will administer the Consortium.
"As a research community we are struggling to address the growing demands of neurological disorders," commented Adrian Ivinson, director of the Harvard NeuroDiscovery Center, who was instrumental in launching this initiative.
"This consortium is a powerful example of the willingness of academic groups, companies and government to try something new. By stepping outside of our traditional research silos and embracing a new collaborative model, we hope to make progress where individually we have failed to. It is noteworthy that the Consortium represents not only a public, private collaboration between government, academia and companies, but also provides a venue for competing companies to identify common challenges and work together to address them, Ivinson said."
Participating companies include Abbott, Biogen Idec, EMD Serono, Janssen Research & Development, LLC, Merck, Pfizer and Sunovion Pharmaceuticals Inc.