News
In Memoriam: Maurice Pechet, MD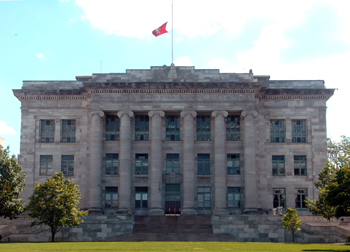 Maurice Pechet, MD, died in his sleep in Cambridge, Mass., on March 5, 2012. He was 95.
Pechet received a BS in 1939 and an MS in 1940, both from the University of Alberta, Canada. He was awarded a PhD in chemistry from Harvard University in 1944 and an MD from Harvard Medical School in 1948. He joined the staff at Massachusetts General Hospital in 1948 and became an instructor of medicine there in 1952.
For 70 years, Pechet was part of the HMS family, holding a number of posts on the faculty at Harvard University and HMS, and mentoring generations of students and biochemists. He served at MGH for a half century as physician and endocrinologist. His work was the foundation for much of modern steroid chemistry, including the synthesis of aldosterone, important in the early understanding of the endocrine system, and the development of prednisone, which is used throughout the world to treat many conditions.
Pechet is survived by his wife, Kitty, and his four sons, Taine, Tamin, Tavan and Tiron.
A memorial service was held at Harvard's Lowell House; funeral services were private. In lieu of flowers, those wishing to contribute may make a donation to the Maurice Pechet Fund for Lowell House, payable to Harvard University, and mailed to Lowell House Office, Lowell A22, 10 Holyoke St., Cambridge, MA 02138.