News
Medical Student Named Rhodes Scholar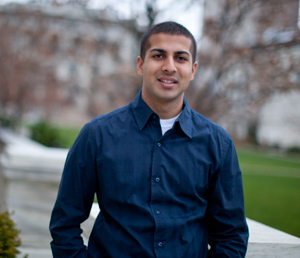 An HMS student is among the four Harvard students and 32 American men and women named as Rhodes Scholars on Nov. 20. Each will begin study next fall at the University of Oxford in England.
HMS first-year Aakash Shah was chosen from among 837 students nominated by 309 colleges and universities nationwide.
Created in 1902 by the will of British philanthropist Cecil Rhodes, the scholarships cover all costs for two or three years of study at Oxford. Winners are selected on the basis of high academic achievement, personal integrity, leadership potential, and physical vigor, among other attributes.
Shah was nominated for the Rhodes by his undergraduate alma mater, Ursinus College in Collegeville, Pa., becoming that institution's first Rhodes Scholar. He graduated from Ursinus in May with bachelor's degrees in biology, neuroscience and inequality studies, and minors in chemistry and sociology.
"I was able to pursue my passion for medicine from multiple perspectives—the basic sciences, the social sciences, and the humanities—at Ursinus," Shah said. "As a Rhodes Scholar, I want to synthesize the insights from my various experiences and learn how to translate them into effective health policy solutions."
Shah was on the varsity track team at Ursinus and addressed his classmates as a commencement speaker. Off campus, he worked with United Students Against Sweatshops in Mexico and studied environmental health problems in Indian slums.
"During college, several of my mentors encouraged me to apply for the Rhodes," he said. "After looking over all that the scholarship had to offer, I was excited and decided to throw my name into the hat."
Upon receiving word that he had won, Shah said: "I reacted to the news with a rush of emotions—I was at once surprised, humbled, grateful, and excited."
At Oxford, Shah plans to complete either a master's in comparative social policy or a second bachelor's in philosophy, politics and economics. He hopes ultimately to work at the interface of medicine, academia, and policymaking to help construct more equitable and efficient health care policies.
Adapted from a story by Steve Bradt for the Harvard Gazette