News
JCSW Elects New Chair Members
The Joint Committee on the Status of Women (JCSW) now has new leadership, with four new chair members on board for the 2012-2013 academic year.
During their one-year term, the new chairs and vice chairs will continue their mentoring activities to advance both staff and faculty careers, develop and implement orientation programs for new members and enhance programming that will provide continuing medical education credits to faculty who attend JCSW events.
Rhonda Bentley-Lewis, HMS assistant professor of medicine and manager of trainee affairs in the Massachusetts General Hospital Multicultural Affairs Office, is serving as faculty chair; Michael Cahalane, HMS associate professor of surgery and acting chief of acute care surgery and critical care at Beth Israel Deaconess Medical Center, is serving as faculty vice chair; Jessica Murphy, reference archivist at the Countway Library of Medicine, is serving as staff chair; and Wendy Brown, access and reference assistant at the Countway Library of Medicine, is serving as staff vice chair.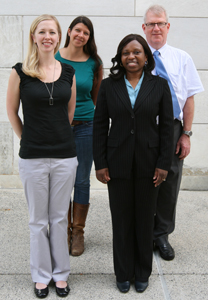 This year, JCSW was the recipient of the 2011-2012 Sharon P. Clayborne Staff Diversity Award. The award recognizes individuals at HMS and HSDM who have made significant strides in advancing diversity. JCSW's election of Bentley-Lewis, the first African-American faculty chair, and Cahalane, the first male faculty vice chair, demonstrates the award criteria.
From 2010 to 2011, JCSW membership increased by 122 percent, with an outstanding record of membership retention. In the past year, the group has grown to include more than 200 staff, student, post-doc and faculty members.        
In the coming year, JCSW plans to continue working closely with the Consortium of Harvard Affiliates for Child Care as part of their strategic goals. The primary purpose of the consortium is to provide education and information on resources available to working parents within HMS and affiliate hospitals. One of its notable achievements during this past year was securing funds through MASCO to develop and pilot a Family Child Care Network.
The next JCSW meeting is on September 18. For further information on joining JCSW and for a complete list of subcommittees and goals, please visit JCSW, or send email to JCSW_AdminAssist@hms.harvard.edu.