News
Ideas Pour in for Primary Care Education
The Carl W. Walter Amphitheater in the Tosteson Medical Education Center was a case study in infectious enthusiasm on April 7 as Harvard medical students, residents,  faculty and even a few undergraduates gathered to brainstorm how the medical school's MD curriculum and residency training programs might better equip physicians for careers in primary care.
HMS Dean Jeffrey S. Flier opened the town hall-style meeting, "thrilled," he said, by the privilege of watching the new Harvard Medical School Center for Primary Care take shape. "Things are happening in this community that were unimaginable even a year ago," he said.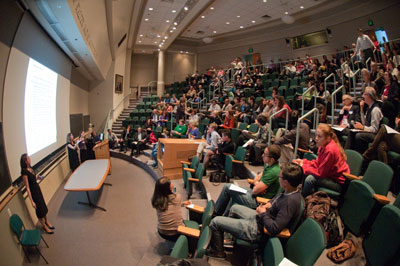 Flier expressed gratitude to interim co-directors David Bates, HMS professor of medicine at Brigham and Women's Hospital, Andrew Ellner, instructor in medicine at Brigham and Women's, and Russell Phillips, HMS professor of medicine at Beth Israel Deaconess Medical Center, as well as to Andrew Morris Singer, president and principal founder of Primary Care Progress, a grassroots advocacy organization that cosponsored the meeting.
Ellner introduced Primary Care Center's new interim executive director, Jill Bassett, who is charged with establishing infrastructure, directing administrative activities and fostering collaborative relationships across the School and beyond. Bassett was chief of staff to Massachusetts Secretary of Health and Human Services JudyAnn Bigby. Bassett, who holds a master's of science from the Harvard School of Public Health, previously served as program director for the HMS Center for Excellence in Women's Health.
After brief presentations—including proposed skills for the primary care physician of tomorrow—Rebecca Berman, HMS instructor in medicine at Massachusetts General Hospital, invited attendees to the microphone.
Scores of participants proposed ideas for consideration by the center's education committee, co-chaired by Berman and Sarah Fazio, HMS associate professor of medicine at Beth Israel-Deaconess. Suggestions ranged from the exploration of "lifestyle medicine" to innovative uses of information technology to the greater integration of HMS with community health centers.