News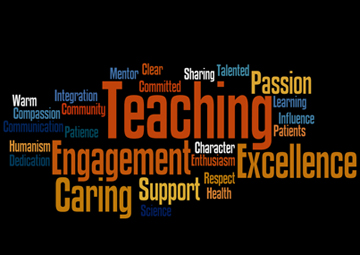 In the closing of the novel Charlotte's Web, author E.B. White wrote, "It is not often that someone comes along who is a true friend and a good writer."
Paraphrasing White at the Daniel D. Federman Teaching Awards ceremony this year, Jules Dienstag, the Carl W. Walter Professor of Medicine and dean for medical education at Harvard Medical School, said, "It is not often that someone comes along who is a good doctor and a great teacher, or who is a great administrator and a wonderful educator. Our awardees are both."
To name just one example, students of Carey York-Best, assistant professor of obstetrics, gynecology and reproductive biology at Massachusetts General Hospital, lauded her commitment to directly involving students in patient care, earning her a Charles McCabe, M.D. Faculty Prize for Excellence in Teaching.
Each year since 1982, the Program in Medical Education at HMS has honored faculty members who, "through their excellence in teaching, would impact and influence the professional lives of students long after graduation."
In 2012, the awards were renamed in honor of Daniel Federman, the HMS Carl W. Walter Distinguished Professor of Medicine and former dean for medical education, a celebrated teacher and role model.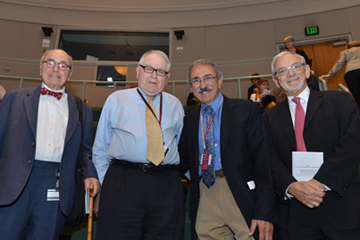 The Federman awards offer an occasion to show how central great teaching is to the mission of HMS and to celebrate the community's best teachers. Dienstag and a series of student and faculty presenters from HMS and affiliated teaching hospitals described the awardees as life-changing mentors who demystify the mysterious; share their passion for learning, teaching and caring for patients; and challenge students to learn, grow and surpass the highest expectations
Students, staff, faculty colleagues, family and former awardees gathered to celebrate the art and science of teaching and learning, and to honor educators whose impact in medical education is felt across the years and around the world.
The following faculty members were honored on May 5 at the Daniel D. Federman Teaching Awards ceremony:
2014 Harvard Medical School Donald O'Hara Faculty Prize for Excellence in Teaching
Cynthia M. Cooper, assistant professor of medicine, Massachusetts General Hospital
Alexander J. McAdam, associate professor of pathology, Boston Children's Hospital                                                                                          
2014 Harvard Medical School Charles McCabe Faculty Prize for Excellence in Teaching
Jeremy B. Richards, assistant professor of medicine, Beth Israel-Deaconess Medical Center
Carey M. York-Best, assistant professor of obstetrics, gynecology and reproductive biology,  Massachusetts General Hospital
S. Robert Stone Award for Excellence in Teaching at Beth Israel Deaconess Medical Center
Melanie Hoenig, assistant professor of medicine, Beth Israel-Deaconess Medical Center
J. Thomas Lamont, Charlotte F. and Irving W. Rabb Distinguished Professor of Medicine, Beth Israel-Deaconess Medical Center
Leo A. Blacklow Award at Mount Auburn Hospital
Beth A. Lown, associate professor of medicine, Mount Auburn Hospital                       
The Bernard Lown Award for Excellence in Teaching at Brigham and Women's
Hospital
Elizabeth Breen, assistant professor of surgery, Brigham and Women's Hospital                                 
Robert P. Masland, Jr., Award for Excellence in Teaching at Children's
Hospital Boston
Daniel S. Kamin, instructor in pediatrics, Boston Children's Hospital
Bulfinch Medical Student Teaching Award at Massachusetts General Hospital
Leigh H. Simmons, instructor in medicine, Massachusetts General Hospital
2014 Harvard Medical School Special Faculty Prize for Sustained Excellence in Teaching
Edwin J. Furshpan, Robert Henry Pfeiffer Professor of Neurobiology, Emeritus, Harvard Medical School
The Charles J. Hatem Award for Faculty Development at Harvard Medical School
Alan M. Leichtner, associate professor of pediatrics, Boston Children's Hospital
AAMC Humanism in Medicine HMS Nominee
Roseanna Means, associate clinical professor of medicine, Brigham and Women's Hospital
L. James Wiczai, Jr. Award
Karen Moberg, clerkship manager, Department of Medicine, Massachusetts General Hospital                     
Richard A. Gillis Award for Excellence in Medical Education
Patricia Cunningham, manager, Office of Health Sciences and Technology, Harvard Medical School