News
For Hinton Scholars, a Jump Start on Science
When Superintendent of Boston Public Schools Carol Johnson gave a keynote address to students at Harvard Medical School in September, she urged them to tackle science on campus with gusto. None of her listeners had yet applied to HMS, however, let alone enrolled. Their average age was 17.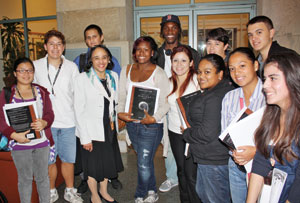 "Some of you in this room may be the first in your family to go to college," Johnson told the crowd of 10th, 11th and 12th graders, advanced placement biology students accepted to the HMS-sponsored Hinton Scholars Program. Given the enrichment opportunities Harvard offers, Johnson said, "You are not only going to college, but you will complete college—and some of you will go off to graduate school."
Applause broke out in the Tosteson Medical Education Center Amphitheater as parents, teachers and headmasters cheered on the participants, who hail from five Boston schools: Boston Latin Academy, Brighton High School, East Boston High School, Edward M. Kennedy Academy for Health Careers and the John D. O'Bryant School of Math and Science.
HMS faculty, researchers, tutors and lab assistants from both HMS and Northeastern University will help prep the public high school students for the 2012 advanced placement biology exam.
For the ninth year, Hinton Scholars will participate in labs led by graduate students. Their calendars, dotted with site visits to research labs and hospitals, also include small-group tutorials, career panel discussions, lectures and conferences. Students will attend a lecture on genetic sequencing by Ting Wu, HMS professor of genetics; visit the HMS mobile Family Van and the STRATUS Center for Medical Simulation at Brigham and Women's Hospital; and attend the spring Biomedical ­Science Careers Student Conference.
A panel of past participants and Harvard medical, dental and graduate students shared advice. "You have to be very committed," said one of last year's Hinton Scholars, who is now a senior at the t School. "I see life in a new way now."
The program, created by Joan Reede, dean for ­Diversity and Community Partnership, is named for the first African-American professor at HMS, William Hinton.
Said Superintendent Johnson: "Dr. Reede has really been instrumental, not just in selecting the right materials for our kids, but in opening the door to many opportunities in our schools with the greatest economic needs. The best way you can thank her is to do your very best work in science, graduate from high school and head to college—right here to Harvard."