News
Helping Hands for the Homeless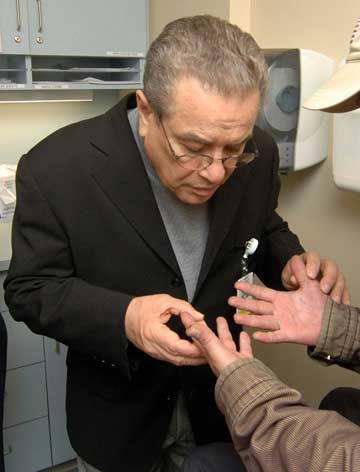 Ernesto Gonzalez, HMS professor of dermatology at Massachusetts General Hospital, was sensitized to the needs of the disadvantaged from an early age.  
As a child, Gonzalez's mother shared stories with him describing her experiences with homelessness. Growing up in Puerto Rico, he also experienced first-hand the challenges of poverty and discrimination.  Many events profoundly shaped the physician's awareness of, and empathy for, the underserved.
 "Although I am now in a position of privilege, I have strong advocacy and bonding for other people that continue to struggle" said Gonzalez, who subsequently decided to dedicate his professional life to helping others, especially the poor and disenfranchised.
In the late 1990s, Gonzalez was invited by his friend Jim O'Connell, founder and president of the Boston Health Care for the Homeless Program (BHCHP), to visit the facilities and learn more about the program.  Gonzales immediately identified a gap that he could fill.
 "There was no dermatologic service on the premises, and I thought that offering such a service at the BHCHP could reduce the dislocation and transport of homeless patients to a tertiary care facility" said Gonzalez.
For the past two decades, Gonzalez has quietly devoted one Friday afternoon each month to providing care to countless numbers of homeless men and women at the program's medical respite facility, the Barbara McInnis House.
 "The needs of the homeless population and my need to be an instrument of healing are perpetual" said Gonzalez.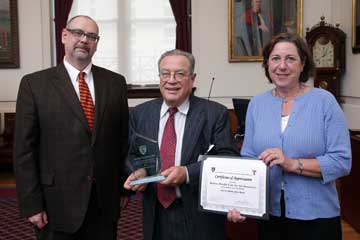 "The staff and patients at BHCHP have cherished the teaching and the care so humbly and excellently done by this master clinician.  I personally could not be more grateful for the longstanding and steadfast devotion of Dr. Gonzalez to the care of those who have so little.  He has been our true hero," said O'Connell.
Gonzalez has also transformed the BCHCP into a platform for hands-on teaching of compassionate care for trainees.  By establishing a clinical rotation at the BHCHP for dermatology residents in the HMS residency training program, he has provided trainees with first-hand exposure to community medical service and an opportunity to treat patients with complex dermatological problems in a unique health care setting.
  "Gonzalez has inspired residents from MGH and BWH to bring dermatological care to this population of impoverished people who suffer from a range of conditions from the common to the exotic, from infestation with lice and scabies to skin cancers to scurvy and pellagra" said O'Connell. 
In recognition of his many years of dedicated service to the BCHCP, Gonzalez was recently honored with the 2012 HMS Dean's Lifetime Achievement Community Service Award at a ceremony sponsored by the Office for Diversity, Inclusion & Community Partnership.
"In today's uncertain and often trying times, community service is more important than ever," said Joan Reede, HMS dean for diversity and community partnership.
"Service provides a vehicle for our students, trainees, fellows, faculty and staff to become aware of the needs of others and to provide their talents and skills through giving. This service comes in many forms, and one's contributions need not be heroic or hugely financial in scope; it is about giving of your time, your talents, and making a difference," Reede said.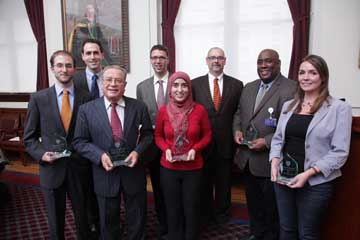 Other members of the HMS community recognized for outstanding service in 2012 included faculty recipient Alphonso Brown, assistant professor of medicine at Beth Israel Deaconess Medical Center; trainee Jason Andrews, research fellow in medicine at Massachusetts General Hospital; Duncan Maru, clinical fellow in medicine at Brigham and Women's Hospital;  Ryan Schwarz, clinical fellow in medicine at Brigham and Women's Hospital; student Altaf Saadi, HMS Class of 2013 for work at the Boston Area Rape Crisis Center, and HMS staff assistant Leah Van Vaerenewyck for her work with the PEN New England's Freedom to Write Prison Writing Program.
Brown, founder of the ICAN Medical Scholars Program at the Bowdoin Street Health Center in Dorchester, a four-year dynamic mentoring/instructional program for inner city high school students that provides career counseling and develops the skills and knowledge necessary for a career in medicine, said, "Our ultimate goal is to teach the next generation of doctors that anything is possible."
He also recently founded the ICAN Collegiate Scholars Program, a partnership with the health career opportunities program currently housed at Umass Boston.
"A lot of times when I tell people I counsel for a rape crisis hotline, people don't know how to react," Saadi said. "The work I've been doing at BARC is one of the most meaningful experiences I've had."  She said she has been moved by "how resilient human beings are and how triumphant the human spirit is."
"I am proud to be part of an institution that not only realizes the value and importance of community service, but also acknowledges those individuals who take the time to make someone else's life, living situation or community a better place.  For them it's not just a helping hand, it's a way of life," said Reede.
Click here for a full listing of HMS faculty, trainee, student and staff award recipients.
To learn more about the BCHCP, click here to view a video that describes the largest and most comprehensive health care program for the homeless in the nation.
Valerie Wensis contributed to this report.