News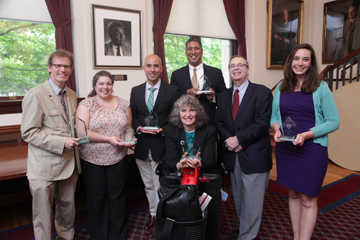 Whether coaching Little League to help mentor youngsters, adapting medical equipment for people with disabilities, running the Boston Marathon to raise funds for the homeless or building communities in Central America, this year's recipients of the Dean's Community Service Awards "exemplify what community service is all about," said Joan Reede, Harvard Medical School dean for diversity and community partnership, prior to presenting the awards at a special ceremony on June 19.
Clyde Lanford (Lanny) Smith, HMS instructor in medicine at Beth Israel Deaconess Medical Center, received this year's Lifetime Achievement Award. Smith is a longtime global community health organizer who founded Doctors for Global Health, a not-for-profit organization with an emphasis on health, human rights and community empowerment.
Community service is an integral part of the HMS and Harvard School of Dental Medicine missions. To honor this commitment, the Dean's Community Service Award was established in 1999 to recognize individuals whose dedication and commitment have made a positive impact on the local, national or international community.
There have been 98 awardees to date, including 39 faculty members (11 of whom have earned Lifetime Achievement awards), 21 trainees, 21 students and 17 staff members.
Award recipients were described as "indispensable members" of the communities they serve, said Jeffrey S. Flier, dean of the HMS faculty of medicine.  "You contribute greatly to a foundation of care that enables those communities to thrive," he said, adding that "your commitment to your respective communities also advances the mission of HMS and HSDM—which includes not only research and education, but also service."
The 2014 Community Service Award recipients include:
Lifetime Achievement Award
Clyde Lanford Smith, HMS instructor in medicine, Beth Israel Deaconess Medical Center
Faculty
Lisa I. Iezzoni, HMS professor of medicine, Massachusetts General Hospital
Boston Center for Independent Living
Trainee
Rafael Luna, HMS research fellow in biological chemistry and molecular pharmacology
Students
Luis Nicolas Gonzalez Castro, HMS Class of 2014, HMS clinical fellow in medicine, Mass General
Boston Health Care for the Homeless Program
Sara Martin, HMS Class of 2015
Starr Center at Malden High School
Staff
Danielle Thomson, education program developer, Harvard Catalyst