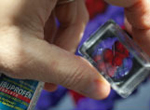 Adults who regularly take ibuprofen, a nonsteroidal anti-inflammatory drug, or NSAID, have about one-third less risk of developing Parkinson's disease than nonusers, a recent Harvard study found.
"There is no cure for Parkinson's disease, so the possibility that ibuprofen, an existing and relatively non-toxic drug, could help protect against the disease is captivating," says Alberto Ascherio, an HMS professor of medicine at Brigham and Women's Hospital and the senior author of the report in the March 8 issue of Neurology.
Parkinson's disease, a progressive nervous system disease, affects at least half a million people in the United States. It has been suggested that ibuprofen may reduce brain inflammation that may contribute to the disease.
Using data from more than 135,000 participants enrolled in two long-term studies, the team identified 291 cases (156 men and 135 women) of Parkinson's disease and analyzed the questionnaire responses of these participants to determine use of analgesics.
The scientists found that those who used ibuprofen two or more times per week were about 38 percent less likely to develop Parkinson's disease than those who regularly used aspirin, other NSAIDs, or similar agents, such as Tylenol.